JULY 2014, SKIATHOS, GREECE, 39:09.24N 23:29.56E

Restless of Auckland
Roland and Consie Lennox-King
Thu 3 Jul 2014 05:10
JULY 2014, SKIATHOS, GREECE, 39:09.24N 23:29.56E
In our last update we had visited Troy and planned to visit Gallipoli. We decided that Canakkale must attract thunderstorms, as we had several days with lightning and rain. The Canakkale/ Dardanelle Channel is the route for ships heading to and from Istanbul and the Black Sea, a very busy waterway.
5.6. We hired a taxi for a day trip to Gallipoli, on the Gelibolu peninsula, went on a car ferry across to the Peninsula, and then our taxi driver got lost. He knew where all the Turkish forts, cemeteries, and memorials are, but did not know where the ANZAC or British ones were. After asking directions, we found ANZAC cove, walked on the beach, and in the surrounding area, saw the sites of many well-known battles: Lone Pine, Bolton's Creek, Victoria Gully, Fisherman's Hut, the Nek, Shrapnel Gully, Pluggers Plateau, and Chanuk Bair. We went to the Australian memorial and the ANZAC memorial to the NZ Expeditionary Forces that came from the Uttermost Ends of the Earth. We saw examples of the zigzag trenches, one filled with water, and Roland almost stepped on a snake. We thought about the many horrors these soldiers faced. Of the 250,000 people that died in Gallipoli, remember that many were Turks, most of the visitors were Turks, remembering their dead. Next year will be the Centenary year, with many thousands of ANZAC descendants visiting , especially on Anzac Day the 25th April..
6.6. D-Day. We cleared out of Turkey, and set off south through the Dardanelles, to anchor in a bay near the Turkish and British Memorials, and set off to walk to the British Memorial. It turned out to be further than we expected, and we were lucky enough to get a lift from some farm labourers, in their open truck. We had a quiet night, with a few porpoises around.
7.6 We sailed away from Turkey, past a stream of ships in this crowded waterway, west to Limnos, Greece. We had a lovely breeze, and sailed 50nmiles in 9 hours. Lemnos is known as the island where Jason and his Argonauts dallied: the women had murdered their unfaithful husbands, and Jason and his crew supposedly impregnated all the women of the island! We anchored in a huge quiet bay, Ormos Kavos in Moudhrou, where the Allied fleets anchored before their attack on Gallipoli. The next day we sailed in a near gale round to Myrina harbour, to clear in to Greece. This spectacular harbour has an ancient fort on one hilltop, and a white cathedral at the hilltop on the other side of the walled entrance to the harbour. We climbed to the top of the fort for a sunset view of the bay, and walked through the small tourist town, getting provisions. It was a holiday, so we cleared in the next day, 10.6, paying E52.- For a 6-month transit log. Peter took us to dinner in a restaurant on the water, barely 50 feet away from where 'Restless' was anchored in a glorious sunset.
11.6 at 0540 we set off in a red sunrise towards the holy mountain of Greece: Mt Athos. On one of the 3 'fingers' pointing down from Khalkidhiki, Mt Athos at 2,033metres is famous for strong winds, but the day we sailed towards it, was sunny and windless. Once there were 200 plus cliffside monasteries on the Akti Peninsula, now about 20 are occupied, this is where the head of the Greek Orthodox church lives. No females are allowed to approach within a mile of the peninsula, a rule formulated in 1060. We sailed on to Ormos Tsarki, and anchored at Nisis Ammouliani, an island off Akti peninsula, by a beautiful white sand beach with deckchairs and umbrellas, and dolphins fishing around the rocks. We walked into the tourist village for an icecream, it was hot, and the water was 27.8'C.
13.6 we motored across to the second finger of the Khalkidhiki peninsula, Sithonia, and anchored in Kriftos bay on Nisis Dhiaporos island, in one of a hundred beautiful coves with white sand and turquoise water. We took our dinghy around to look at some of these bays and stunning beach houses, We woke one morning to the sound of planes and saw a large bush fire , which we later sailed past .Quite a sight to see whole pine trees bursting into flame . We slept one night in Porto Koufo, described in Heikell's Guidebook as one of the best natural harbours in the Med. This is one of the most beautiful areas in the world, only a short distance from Thessaloniki, second largest city in Greece, and within sight of Mt. Olympus, where the Greek Gods lived and played. It was reported a lightning bolt started the huge bushfire, but luckily a rainstorm put it out, and nobody was killed. "the gods at work"
16.6 we sailed and motored 36.7nmiles to the northern Sporades, and anchored in an almost enclosed bay at Ormos Planitis, on Nisos Pelagos. A huge superyacht, 'Vertigo' was anchored in the middle of the bay, having carefully entered through the narrow passage with 7metres depth. We followed her out through the entrance the next day, and had a quiet sail to Ormos Vasiliko, 15 nmiles away. 18.6 we sailed to Alonnisos island, and walked up the hill, where the ancient village was rebuilt after an earthquake. The water in the small harbours is clear turquoise, and people swim in and out of the many caves, are they also looking for mermaids? We have to keep a good lookout for swimmers, who swim far out from the beaches, no fear of sharks.
19.6 we motored to Skopelos, where 'Mamma Mia!' was filmed, lots of white sand beaches and clear water, lots of tourists. After a lunch stop at one of these bays, we headed into Skiathos island, and anchored in Siferi bay, around a headland from the busy harbour. Skiathos is a great place for a crew change, with dozens of planes and ferries, lots of tourist shops, and good supermarkets. The local children's game is standing at the edge of the runway, by the beach, as the planes come into land, over their heads. 20.6 We pulled our dinghy up the beach and walked 500 yards to the airport to collect our Scottish friend Keir. Later the same day we had a drink on the beach in a ruined windmill, walked Peter to the airport, and waved goodbye. We returned harbourside to a great meal in the same windmill-restaurant, and next day provisioned in the nearby supermarket. We found the perfect home for a Pirate-Queen, by a beach in a quiet cove in the old port.
22.6 We re-traced our route to the enclosed bay at Planitis on Kira Panayia, and were glad to see an 18ft dinghy sail in, with 2 young Austrians, we had last seen them in Canakkale, they are on their way to Croatia. Nuts!! 25.6 we motorsailed back to the Khalkidhiki peninsula, anchored at Porto Koufo on the middle 'finger', Sithonia. 26.6 We motored to the third 'finger' of the peninsula, Kassandra, and anchored in Ormos Paliourion, not a good anchorage in any kind of weather, but a gorgeous beach, full of Greek families enjoying the 29'C turquoise water. We walked up the hill, and then sailed back to Porto Koufo, as gale force winds were predicted we had a great meal in Tzitzikas taverna ashore, followed by a night with lightning flashing off the nearby mountains of Olympus.
28.6 We set off for a boisterous day's sail in 30 knots of wind, big seas on the quarter, a knot of current against us, and small porpoises swimming alongside. We reached a peaceful bay at Ormos Vasiliko on the island of Peristera, in the Northern Sporades, a 53.75nmile sail, covering only 40nmiles, after being set back by the current. 30.6 We provisioned at a lovely village at the water's edge in Steni Vala, and anchored in Ormos Tzortzi, a lovely beach, with taverna. A walk ashore took us to the archaeological site of ancient Ikion, Kokkinokastro, oldest known settlement of the Aegean islands, 100,000BC. We were told that whilst digging a new road, 2 tombs were found, and dated between 100,000 and 150,000 BC. We looked into a 5x5metre pit and saw stones set into an ancient wall. Archaeologists have also found traces of a port. Perhaps in 50 years time this site will open into another tourist attraction like Knidos, Ephesus, Pergamon, who knows what they may find?
2.7 We set sail west, circling the small villages and bays of Alonnisos, and saw a swordfish leap 3 times out of the water. We anchored at Koukounaries bay, on Skiathos island, near the harbour where, on 4.7 we will wave goodbye to Keir at the airport by the beach. Later that day C's brother Willem, wife Julie and daughter Monica, arrive from Perth for 3 weeks with us. We plan to show them the Sporades before sailing down inside the large island of Evia Across the Saronic gulf to Poros to see cousin Mia. We may even transit the Corinth canal together as we head west to the Ionian.
---
| | |
| --- | --- |
| | This email is free from viruses and malware because avast! Antivirus protection is active. |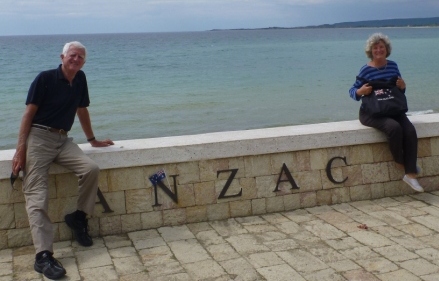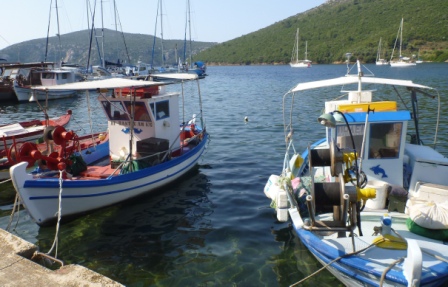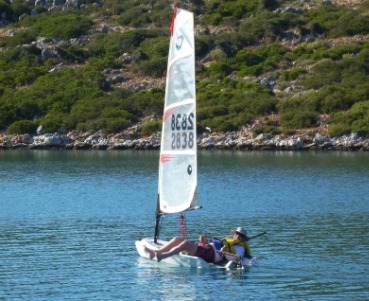 ---