June 2014, Çanakkale , near GALLIPOLI and TROY! 40:09.10N 26:24.20E

Restless of Auckland
Roland and Consie Lennox-King
Mon 2 Jun 2014 14:48
June 2014, Çanakkale , near GALLIPOLI and TROY! 40:09.10N 26:24.20E
We collected Maurits from Izmir airport by taxi, and brought him back to the boat. Sigaçik/ ancient Teos is a town with a fortress wall round it, and on Sundays the nearby farmers bring their vegetables to market, and the local women bake borek (spinach pie) and baklava.
20 May we set off north from Sigaçik in a perfect sailing breeze, which in true Med fashion did not last and we motored in to anchor in Mersin Korfezi, a large bay full of fish farms and modern windmills blotting the landscape ashore.
We left next morning in a breeze that increased to about 30knots as we rounded cape Karaabdullah, in sight of the Greek island of Khios/ Nisos. A good solid beat into the 'Meltemi' wind allowed us to make Karaada island, where we anchored in Donkey bay, with huge gusts of wind, that night and the next day and night. The donkey farmer swam out to see us, with a bunch of oleander flowers in his hand, and invited us ashore for Turkish cay/tea. He showed us his herd of about 30 donkeys with their foals, and a large group of goats. With a few words of Turkish and English, we shared tea with Mehmet, and he predicted the wind would decrease the next day, so we had a day of odd-jobs around the boat.
24.5 we set off by 0800 to sail 33nmiles north to the town of Foça, a large bay some 30 miles north of Izmir. The town supports a military base, holiday homes, and the ruins of a fortress. There were dozens of small fishing boats tied up in the bay, a large fishmarket, and many fish restaurants, all full of Izmirites. We joined them for dinner on the water's edge. The next day we had a beautiful reach in flat seas and 10 knots of breeze to anchor in Çandarli, about 20 miles further north. This small town was originally Greek and sports a stark Genoese castle. Unfortunately it was closed. From Çandarli we motored in mirror calm seas and beautiful sunshine 35nmiles and anchored in Ayvalik. This archipelago contains a number of flat, rather uninteresting islands, but some nice anchorages. We anchored a couple of miles from the town by the same name and early next morning took the dinghy to the town dock.
27.5 we set off by local bus (Dolmus) for Bergama, the town at the base of the mountain near Pergamon some 40 kms away. Pergamon, conquered by Alexander the Great in 334BC, is now piles of stones and ruins, with a steep theatre that seated 15,000 people, and temples to Zeus, Dionysus, Traianus, Athena, and Demeter. We were greatly impressed with Pergamon's spectacular location, at the top of the mountain. At the foot of the mountain is Aesklepion, the ruins of an early healing centre, with a theatre for 3,500 people, a library, temples, and a Kryptoporticus/ underground tunnel leading to baths with sacred water. A marble road with stumps of marble columns leads your eye towards Pergamon at the top of the mountain. Pergamon was significant in the early ages as it was on the silk route to Asia, and nearby Bergama is still a thriving metropolis.
28.5 we set off north again in unusual southerly breezes to Babakale, a harbour beside a crenellated "recent" 1725 castle. The new sea wall provides a secure harbour for the small village with a mosque and minaret. The location on this coast makes it a welcome place in rough seas, but after a disturbed night with southerly winds pushing us towards the concrete dock, we left 0630 in 20+ knots of wind, heading north for the Dardanelles. By lunchtime the wind had disappeared, and our fast passage stopped just off the coast where ancient Troy once stood. After 2 human sacrifices were sent overboard, the southerly breeze returned to push us north to the entrance to the Dardanelles, with its large memorial to Turkish soldiers, on the Gelibolu Peninsula. This is one of the busiest waterways in the world, with ships heading to and from Istanbul and the Black Sea ports. We had a very rolly night with lightning and thunder around us, in Intepe Bay near the entrance to the Dardanelles/ Çanakkale channel, and later moved to a quieter anchorage at Karantina Koy, also in the channel, but nearer to the town of Çanakkale. The weather did not improve, so we decided to seek a berth in Çanakkale marina to the delight of the cook as we could visit town and enjoy a true Turkish dinner of Doner Kebabs, and sleep a quiet night on a steady boat!
Although we had heard negative reports about visiting Troy, we could not be 35kms away and not go and see it. We wanted to anchor as close as possible, but the land has silted up over the last few thousand years, and where ten thousand triremes were pulled up onto the beach is now farmland. After visiting many ruins in the last few years, Troy is not as impressive as some, and with 9 levels dug into civilisations over 5,000 years, it must have been a puzzle for the archaeologists. The replica Trojan horses left over from movies makes you wonder how the trick could have worked, but as a legend that has intrigued people for thousands of years, Troy deserves its place in history. We took a local dolmus/ minivan to Troy and walked where great Hector and Achilles, Paris and Helen walked, and if it looks now like a pile of stones, what a powerful pile of stones!
From one great War to another, and tomorrow we will visit Gallipoli.
Our great friend Kitty decided the reason we have had so many thunderstorms is that we have not sacrificed enough to the Gods, who send violent weather to make us take notice of them. And she may be right, as her email came in a lightning bolt split the air, followed by a crash of thunder. Tonight we will pour a libation of Rum overboard.
In NZ we say, "When all else fails, read the instructions". Maurits is good at reading instructions, and helped to fix many tricky technical problems. Maybe the instructions are clearer in Dutch! We waved goodbye to Maurits and next week our kiwi friend Peter joins us. We will leave Turkey, and head to Limnos to check into Greece, and from there we plan to sail northwest and explore the "three fingers" of Macedonia, before crossing to the Northern Sporades, where Consie's brother Willem, his wife Julie and daughter Monica join us as we head towards Athens. We will be sorry to leave Turkey, one of the most interesting places in the world. Industrious and friendly people, interesting food, lots of historical sites, great cruising. Gule Gule! Goodbye!
---
| | |
| --- | --- |
| | This email is free from viruses and malware because avast! Antivirus protection is active. |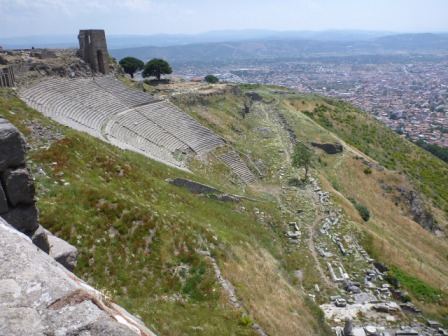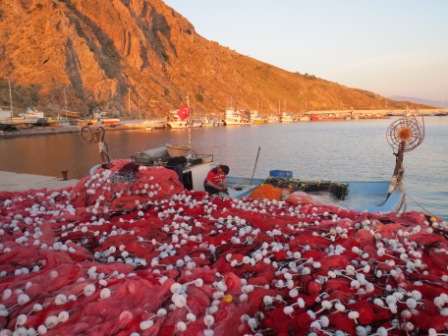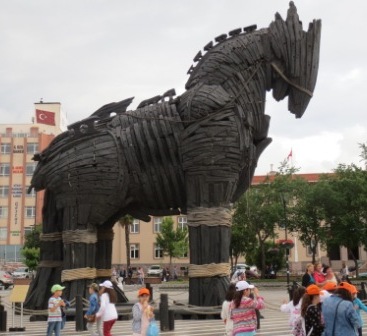 ---