23 September 2013, Kekova Roads, Turkey: 36:11.70N 29:55.00E

Restless of Auckland
Roland and Consie Lennox-King
Tue 8 Oct 2013 03:06
23 September 2013, Kekova Roads, Turkey: 36:11.70N 29:55.00E
We collected Gilbert and Pip from Gocek on 9 September. They had been to Pip's twinsister Jo and Ash's wedding a few days earlier, in London. The young soon got used to temperatures in the mid-30s and swam a few times a day. The first day we had a gentle sail, a short distance to 22 Fathom Cove where we anchored stern to, which was a new experience for them. They found it impossible to go for a run on the rocky ground, but we swam, and outboarded around to the Famous "Cleopatra's Baths" for a swim. We also sailed our Bic dinghy, fished, relaxed, met up with our friends June and Pat on 'Antares', and ate some Turkish food. We had a lovely sail together to Fethiye. Ashore there was a house that discovered an amphitheatre in their garden. Needless to say it now dwarfs them! Ruins literally litter the country. Gil and Pip returned to England 13 September to go to another wedding, and are now back in Hong Kong. They are coming to New Zealand for Christmas.
Our Wellington cousins Ollie and Paula were on a friends' powerboat for a week cruising around Gocek. We met up for a few hours and caught up on niece Sarah's wedding in the Adirondacks, which they had just attended. Turkey is a favourite cruising area, and we have never seen so many NZ cruisers, most of whom have bought boats in the Med. The water is so beautiful and the people are very friendly, it is easy to see why people return here for 10 or 15 years of cruising.
Our Scottish friends Fi and Alan arrived 16 September from Scotland and we set off next day for 47.5nmiles sail from Gocek to Kas, where we joined a Royal Cruising Club and Royal Thames Yacht Club Meet. This started off with sundowners at a ruined amphitheatre, followed by Turkish mezzes and fish at Smiley's restaurant in Kas. The next morning Fi and I joined a tour of nearby Lycian ruins at Xanthos and Patara, and wandered together around amphitheatres and sarcophagi, mosaics, marble streets and broken columns of different coloured marble.
About 20 yachts left Kas on 19 September to sail about 20nmiles to Kekova Roads, we detoured en route to visit Kastellorizon, a Greek island that we had visited 23 years ago with Gilbert and Olivia when we were sailing to England on "Reverie". The little village set around a lovely horseshoe bay is as picturesque as we remembered, with pastel coloured houses along the shoreline of its harbour.
20 September was the date of the RCC/ RTYC Sunflower, so about 20 yachts got into position at the western end of Ucagiz Limani, we were one of the cardinal markers, and once we all joined up, the wind picked up, making it unsafe to stay tied up, so most of the boats left. We had 65 metres of chain out, so opted to stay the night, and after a quick trip ashore to Ucagiz village for provisions, we had dinner on board 'Troubadour' which was a great reunion of our time when we met in NZ several years ago.
The next morning we walked up the hill to the ruins of the castle overlooking Simena, this is the 2,500 year old castle we had also visited with Gilbert and Olivia long ago. From the top of the Acropolis we could see the underwater ruins of the harbour and city, which was destroyed by earthquakes hundreds of years ago. The half-sunken sarcophagus that we photographed beside Gilbert and Olivia when they were 7 and 8 is still there, but this is now a busy tourist stop, with glass bottomed boats ferrying people over the sunken city.
We continued on to Gokkaya Limani, a wonderful lagoon type of anchorage, where we took a dinghy around the coastline, looking for a path to join the Lycian Road. We had also been here on our last visit all those years ago, but could not find the carpet sellers where the children splashed in the ice-cold freshwater well with the Turkish children.
Kekova Roads is the furthest East at 29 30 E that we probably will ever sail in Restless. We set off west again to Kalkan, to meet up with a group of 12 friends we met while sailing in Scotland. They had chartered 2 yachts for 2 weeks cruising. Fi and Alan leave us 27 September, and Olivia joins us 26.9, to sail with us for a few days and help us to put 'Restless' away for another winter in Marmaris. We haul-out on 3 October, and return via Hong Kong to New Zealand for Christmas.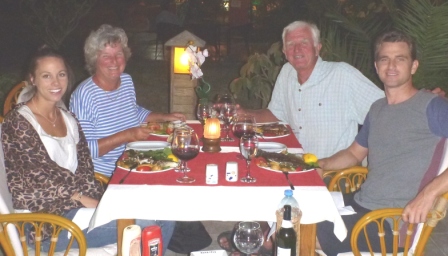 ---