AUGUST IN GREECE ON RESTLESS WAS FAMILY TIME, 39.57.00N, 20.49.80 E

Restless of Auckland
Roland and Consie Lennox-King
Mon 5 Sep 2022 08:49
15 August is a big holiday in Greece, the name day for Mary.
We were in the tiny fishing village at the southern end of Corfu, Petriti, with about 50 fishing boats, beautifully painted, and some yachts, mainly charter boats, and several tavernas ashore. Gilbert and family had arrived in Corfu, and were staying in Ninos Corfu Villas in Agios Giorgios, which looked near on the map, but in fact was uphill through some Greek villages. We saw dozens of Greek men drinking coffee and chatting.
The next day Gilbert brought Pip, Emmeline and Frederick aboard for lunch, swims, and tows on boat/boards, and they all fell into their beds.
17 Aug a quiet day swimming, followed by dinner in a taverna ashore, γαρίδες - prawns, σουπιές - squid, χταπόδι - octopus and xwpiatikn - Greek salad.
18 Aug we motored around to the west of Corfu to collect Gilbert and family and we set off sailing to the clear green waters of Lakka bay and village. But we found the bay very crowded, and could only get a spot almost on the beach, with our centreboard up and 3 anchors to hold us in place. We had another lovely Greek seafood dinner ashore for Consie's birthday, and a quick look around the shops, mostly open until 11 pm! Then back to Restless and sleep aboard. The young are quite used to sleeping aboard as they now have their own boat in Poole, England, 40 ft 'Neverland'.
The next morning we sailed around to Gaios famous as 'Gaios is Chaos in the summertime' and as the day was mid-summer and around 33'C it was crowded with ferry-loads of tourists. We had a quick look ashore, and went to 3 bakeries before we found birthday cake, 6 small ones to be precise, and dinghied right around the island harbour. We sailed back to Petriti, having a Man Overboard drill along the way, when we found a big black rubber ring.
The next day, after doing laundry, we were hailed by a couple on a boat with an RCC flag, and Fiona and Heugh came for afternoon tea. Only the second RCC flag we had seen in 1500nmiles since leaving Spain, and we had many friends in common, and stories to swap.
That night was one of the rolliest nights we have had on board, so the 21st was a very slow day, and we joined Gilbert and family at their villa for a lovely BBQ meal. They had rented a car for 2 days to see the whole of Corfu island, and the old Venetian city.
22 Aug was nearly the end of the holiday for Gilbert, Pip and Tessa, and next week Emmeline and Frederick go back to school in Kingston on Thames.
Our Scottish friends Fi and Alan arrived on the 23rd, and having at least 3 swims a day, we motorsailed together south from Corfu to Agio Stefanos, Gouvia, Petriti, Lakka, Gaios, Levkas canal, Nikiana, Oreos Vlikho, Onassis island, Atherinos, Episkopi island, Port Leone, Politriki, and then through a huge but short storm of lightning and thunder, back north to the Levkas canal, missed the hourly bridge opening, and then had a fast rolly sail to a quiet anchorage in Preveza, and seafood dinner ashore. All hands to take down the sails, fold them and put them away, a night in Cleopatra marina, and then Alan and Fiona were on the plane back to Scotland.
Now we are in the inland waterways near Preveza, and have a few days to pack Restless up, catch up on maintenance, and make a list of winter jobs for the boatyard at Cleopatra marine, visit Greek Immigration and Port Police, before we fly to UK on 16 Sept, and back to New Zealand for a southern summer. We have cruised 1320 miles this season.
It was great to have the family aboard for much of this time.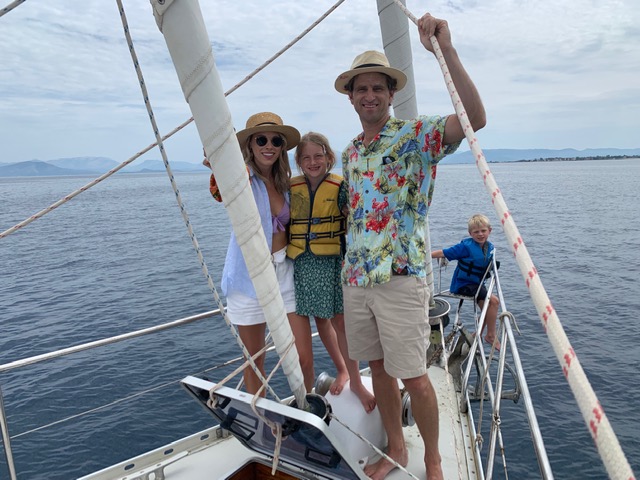 ---