1,000 ISLANDS, TO MONTREAL (45:26.20N 73:45.10W)

Restless of Auckland
Roland and Consie Lennox-King
Sun 6 Aug 2017 23:04
1,000 ISLANDS, TO MONTREAL (44:18.20N 76:06.00W)
30.7 After Shenton left, we set off with Olivia, east 12.5nm for our fourth trip down the Bateau Channel and back into the 1000 Islands, where we anchored well offshore, in the Bateau Channel, to avoid the mosquitoes. We had a lovely evening swim in the freshwater. The next day we motored another 15.6nm, to anchor again by Grenadier Island. Olivia went through our medical kit, throwing away a lot of out of date medications, after more than 12 years of sailing on Restless. Some local home-owners came to join us for sundowners before the mosquitoes arrived.
1Aug we passed Boldt castle, famous as the kitchen where 1,000 Island dressing was invented (ask me for the secret recipe). We motored 31.6nm, assisted by a strong current, and stopped for a free night at the Iroquois Yacht Club, in very shallow water.
2.8 at 0945 we set off to the Iroquois Lock, dropping only 2 ft, paid $30, and continued to the Eisenhower Lock, where we dropped 40 ft, paid another $30, followed by the Snel Lock, where we dropped 45 ft, paying another $30. We motored a total of 44.2nm, and motored at Dumouchell Pt, where we had a welcome swim after a hot day wearing compulsory lifejackets in the locks, which become airless as we descend.
3.8 we set off at 0645, hoping to catch an early lock opening at Beauharnois double Lock. We paid another $60 and waited four and a half hours, and then dropped 42 feet, went into the second lock and dropped another 42 ft, the last lock on the way to Montreal. We motored a total of 28nm to reach the Royal St Lawrence Yacht Club in Montreal, where we tied up. Olivia had booked a taxi to go to the airport, where she rented a car, and we drove across the American border, to the Adirondacks, to visit cousin Caroline and her husband Duncan, in their wonderful Camp Winnetaska (which means place of happy voices). Olivia had not been there since she was 6, but remembered it.
4.8 Olivia's birthday, Caroline decorated the breakfast room with balloons and flags, and we had a great birthday breakfast. No other place is like these Camps in the Adirondacks, and Caroline took us for a tour in their powerboat, to see the amazing homes and boatsheds. After lunch some other friends of theirs arrived, Mary and Howard, and we had a hilarious evening together, and a barbecue dinner. Caroline had baked Olivia a delicious chocolate birthday cake with maple syrup icing. She was quite spoilt! The next morning we went for a walk in the forest, before setting off back to Montreal and Restless. We took Olivia for a short tour of Montreal, then dinner at the Yacht Club.
5.8 Olivia was leaving at 2pm for Toronto, to meet up with all her Canadian cousins, and we used the rental car to stock up on provisions, before taking her to the airport, returning the car, and then walked 1.5 hours back to the Royal St Lawrence YC to prepare Restless for the last two locks of the St Lawrence River and the trip downriver where we will ascend the Richelieu to access Lake Champlain.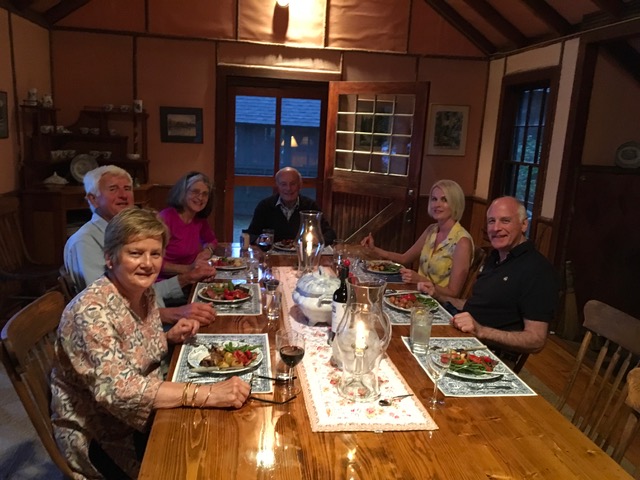 ---