SCOTLAND IN MID-SUMMER! 57:15.52N, 5:30.68W

Restless of Auckland
Roland and Consie Lennox-King
Mon 28 Jun 2010 10:17
Our Scottish friend Keir arrived in Holland, and after waiting for gales to pass, we sailed across the North Sea to Inverness, Scotland, 80 hours for 453 nautical miles. Keir drove us to Edinburgh for a brief 'holiday', taking us the scenic routes past Ballater, Tuomintoul, Braemar, and back to Inverness. From there we entered the Caledonian canal and crossed Scotland by this beautiful route from Inverness to Corpach. We sailed from Corpach to Oban to meet up with RCC friends Annette and David on 'Nordlys'. Together we sailed across to Loch Spelve where we met up with Alan and Fi on 'Erlanic' for a delicious venison dinner. We sailed with 'Nordlys' into a much quieter Tobermory after the world economic crisis, many of the shops had closed, and we sailed on up Loch Sunart to Salen, went ashore for another venison dinner together, before sailing to the island of Coll, where we said goodbye to 'Nordlys', hoping to see them in a few weeks. It was great to have the 2 boats together, we met them when they sailed into New Zealand 7 years ago, and now they have completed their circumnavigation.
Roland had always wanted to sail in the Outer Hebrides, and we had heard so much about this area; we had been to a few of the islands when we cruised Scotland in 2007. First we sailed to Loch Boisedale on south Uist, a barren and sparsely populated island. The next day, June 18 we sailed to Loch Maddy on north Uist, again very isolated, but with a regular car-ferry to the mainland. From there we sailed to East Loch Tarbert, between the islands of Harris and Lewis. We know many New Zealanders whose families came from the Outer Hebrides, including our good friend Rory, so we took a bus over the mountains of Lewis to Stornoway, to collect a pebble from the beach for him. We found MacDonalds running everything - a lawyer, a butcher, a baker, a bus company, and a tourist shop, amongst others. The bus took us up some very steep mountains (munros) with few trees and many rocks, the people who lived here, the crofters, must have been tough, though very few still live here, they still cut peat to burn for heating and cooking. We have met munro collectors, people who climb the 284 munros of Scotland, there are only a few thousand of these hardy climbers, many of these munros have snow on year-round.
From Stornoway we headed south to the island of Skye, made famous by the song and Bonnie Prince Charlie, on the way we saw dozens of puffins fishing in pairs, too shy to come within 50 feet of us in 'Restless', we also saw many seals fishing, but did not manage to catch any fish. We were still wearing thermals and wet weather gear most days, as mid-summer arrived in Scotland. We anchored for the night in picturesque Portree, where Keir's friend Norman kindly drove us to the nearest supermarket. From Skye we sailed to Loch Duich, where our friend David has a cottage, a meeting point for son Gilbert and his friend Pip to drive to, 12 hours from London. They had 2 short days with us, and we sailed in good winds to the most picturesque bay, Plockton, which features in most Scottish calendars. It was raining and Plockton has also suffered economically, many of the shops and galleries have closed. Pip steered us back in 25 kt winds to Loch Duich, past most-photographed castle Eilean Donan, and we all walked up the hill to the ruins of a 2,000 year old broch - ancient stronghold, before having a haggis dinner complete with ode to the haggis by Keir. Gilbert and Pip drove back to London the next day, and will soon be back in Hong Kong, living with Olivia and James.
We will be in Loch Duich and sailing around this area of Scotland for a few days with David and Eve, before heading south to Oban, where we have New Zealand friends coming to sail with us, Tony and Margaret, followed by Tim and Ginny. Keir will also be on board, and we are going on the Clyde Cruising Club Centennial Cruise between 17 to 26 July, there will be over 190 boats and they plan to make the biggest 'sunflower' of boats ever. Then we hope C's cousin Liz will bring her girls Tamzin and Zoe, and maybe also uncle Jack for a few days. After that we will sail to western Ireland, before heading south to France, Spain, and Portugal in early September. We are hoping that James and Olivia will come sailing with us on the way to James' sister Roberta's wedding in August.
10 fa Salen rest._jpg
Description: Binary data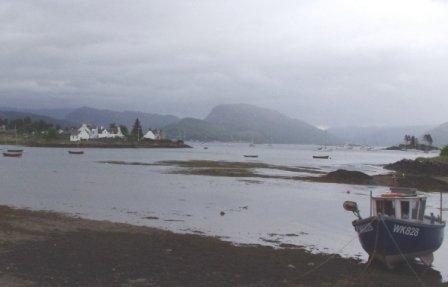 ---