VENICE AUGUST 2011, 45:25.90N, 12:20.96E

Restless of Auckland
Roland and Consie Lennox-King
Wed 24 Aug 2011 11:18
VENICE, August 2011:
The last webdiary was sent to you from Pula, Croatia, end July. We are happy to say that Consie's mum has surprised us all yet again and is now back in her flat in Sydney, after 5 weeks in hospital after openheart surgery. The doctor said if he had a hat he would have to eat it. C's sister Bonnie is staying with her until it is clear that she can manage on her own. Both Feyona and Bonnie are exhausted with all the hospital visits, I feel bad not to have done my share.
From Pula we went back to nearby Banjole bay in Veruda, and met up with our kiwi friends on 'Antares' and compared what we had done over the past few months over a sardine lunch ashore. Local entrepreneur Solomon goes around Veruda mornings and evenings with the best fruit, vegetables, eggs, bread, and homemade cake. 'Antares' had been to Venice, and gave us maps, brochures, advice. They are heading south, leaving their boat in Greece for the winter. We told them about the waterspout we had seen a couple of days earlier, in Medulin, and the 2,000 year old canal and walled city at Osor. We are trying to learn some Italian, and one day we saw 2 Italian men swimming and their progress was slow, because they were talking with their hands out of the water, waving and chopping and slicing and questioning! I tried to copy the movements, which clearly mean something. Both hands seem to work mostly in unison, but not always.
6.8.11: We motored around to the marina in Pula and hired a car to drive to Venice to collect our son-in-law, James, setting off at 9am for a 2 hour drive to Venice, but traffic jams at Slovenia and Italian borders meant we arrived at Marco Polo airport at 3pm, found James, and set off to Auronzo and Misurina, up in the Dolomites. On 7.8 James ran, together with 1,000 others, a 34.08km marathon starting at 8 am in Misurina, uphill to 2,500metres and back down to 1,200m at Auronzo, past ice and snow and amazing jagged mountains. James was the 186th competitor to arrive, and he was still smiling. He had fallen over a couple of times, but was very pleased with his time of 4 hours 2 minutes. After James had recovered, we drove through Italy, almost to the Austrian border, and down through the mountains to the Slovenian border, passing Lorenzago, Tolmezzo, Udine, Palmanova, Gorizia, Ajdovscina, Podnanos, staying at a hotel for the night, at Razdrto.
The following day we drove through the Croatian border and up through several mountain villages, including Senozece, Soceerga, Podpek, Buzet, Motuvun, Pazin, Zminj, Svetvincenat, Vodnjan, Galizana, stopping to walk through the medieval walled cities. By the time we arrived back in Pula at 6pm we had driven 1,000 kms. 'Restless' was just as we had left her, and we went for a short walk around Pula, to show James the 2,000 year old amphitheatre lit at night. As an engineer, James could imagine the difficulties of building 2,000 years ago. He was glad to sleep on board 'Restless' again, he had not been aboard for 3 years. We had enjoyed our short 'holiday' in the Alps.
9.8.11: James got up early and ran 15kms around Pula, then after breakfast we walked around town again, through the 2,000 year old arches, archaeological diggings of Agrippina's home (2,000 years old) and had a coffee in the Forum, near the Temple of Augustus, where James connected to wifi, and sent a photo to his Facebook from the 2,000 year old forum! There were strong 'bullets' of wind up to 35kts, so we stayed an extra night in the marina, before leaving for Banjole bay nearby.
We had a lovely sail north to Porec. Olivia was due in Venice on 13.8, she would take a fastferry to Porec to meet up with us, so she could set foot in Croatia. Porec was yet another ancient walled city originally on an isthmus, but being so near Italy, the houses are more colourful.
We had a gentle overnight sail to arrive in Venice by boat at daybreak on 15.8.11, what an amazing experience! We had an introduction to Venetian Gianpietro, who arranged a marina berth at the Compagnia della Vela Yacht Club, on the island of San Geiorgio Maggiore, opposite the Piazza San Marco. And then we had a whole week ahead of us to explore Venice!
Olivia had an early flight to London, so we took a vaporetto to the airport bus station to see her off, for 2 days of meetings in London. Talking of taking a pound of flesh! They are using her hard. But she is loving the job, or she would not do it. We know that.
We got out our fish-shaped map of Venice and marked out all the places we wanted to see, with help from Gianpietro, who listed: the maritime museum, the arsenale: a shipbuilding area that before Napoleon's arrival built a ship a day, a gondola boatyard, a mask shop and workshop, a real Venetian restaurant (GP asked us not to share the name with too many), a church tower for a view over Venice, the Jewish ghetto, Rialto and fish market, the Biennale, Murano island glass factories, some churches and of course, a traghetto and gondola rides. He gave us a quick history of Venice as he showed us where on the map we should go. He told us that Venetians number around 30,000 and there are 25 million tourists a year! We did our best to see everything in Venice, and with thousands of tourists and the temperatures in the mid-30s it was very hot. We bought a week-long vaporetto ticket, which meant we could jump on or off the ferries wherever we wanted to.
Nothing can prepare you for Venice! It is the most beautiful and amazing city, and for us boat people, what better than a city with no cars or bicycles, ONLY boats. Workboats! Low and sleek to fit under the bridges, old and new, varnished and painted. And the Gondolas of course! We saw Gondola traffic jams in the Grand canal, in the narrow canals, under the bridges. We saw thousands of Japanese with umbrellas, 8 to a gondola. We saw newlyweds serenaded by accordions and gondoliers. The Gondoliers are an aristocracy of their own: striped shirts, straw boaters and red handkerchiefs, making their unhurried way, never bumping into each other, pushing off from the walls of the palazzos, round narrow bends in the canals, tourist guides in every language, showing off their beautiful city. You can't see everything, there's too much to see.
You all know we were here for Consie's 60th birthday.
17.8.11: Gianpietro picked us up in a vintage pinnace and took us out of the marina and around to the back of the Venetian islands to where he keeps his 95ft tug boat, 'Impetus'. We were a hilarious party of 10, muddling along in a mixture of Italian, French, German and English. GP's wife Milena had made several platters of food, and we took along a makeshift pavlova for dessert. Many bottles of Wine (including NZ Man of War), Spritz, Prosecco, Grappa, Bellini, Aperol and Rum were drunk.
The tugboat we were on would be any man's dream, 'Impetus' a 1958 German built tug GP's pride and joy, with 750hp and staterooms full of books, carpets, paintings, and varnished wood. GP has written 12 encyclopaedic books about tugboats and Venice. He showed us 2 books about the 443 bridges of Venice, with photos, architects' drawings, and the history of each of them, the photos taken by him would have taken years to collect.
Olivia told him it was my birthday, so, at midnight, out came the champagne, Pepi opened the bottles and GP went and blew a blast on his horn, everyone sang happy birthday in Italian and kissed me. Soon after midnight he took us all home, bringing us round to see the Doge's Palace from the water with all the lights on and few tourists still awake. Magic!
This seems to be the time to remind you all that it was also my twinsister Feyona's birthday in Sydney. She had a family birthday at a Chinese restaurant on the 18th and a larger family lunch on Sunday, for 35. You all know we think of each other all the time and if we could be in two places at once, we would be. Mental telepathy helps a lot, so does email.
18.8.11: After the night on the Tug boat I felt I had had my birthday, but there was plenty more. First, a huge breakfast cooked by Olivia and James.
Livi phoned Feyona, mum and Oliver with me, and then friends from NZ phoned, they were having a birthday party for me, in NZ, Margaret, Tony, Rosemary, Bruce, Joanie and Rory. How cute! I also had phonecalls from Scotland and Queenstown. I got more than 60 emails and facebook messages. Thank you everybody!
Then we went to nearby Saint Maggiore's church and went up the belltower to see the view of Venice. While up there the bell rang a few times and we were all glad that we were not there at 7:30 pm, as it rings 93 times, who knows why, if you were up there you would go mad. They had an 'Ascenseur' inside the church, which meant a circular machine at the nave of the church tossing up some misty spray, and up at the roof a vacuum/sucking machine, which produces a very weird ghostlike vapour trail up the church, like a waterspout. After that we took the vaporetto into town and went to the Jewish ghetto to find Shylock, heard a guide pointing out his home and synagogue. Then we took a traghetto ride across the Grand Canal (yes, we were all standing up like locals) and had pizza lunch and more phonecalls. After lunch we took a half hour gondola ride through tiny canals and past waterside palazzo doorways into the Grand Canal, fantastic. The Gondolier would not sing, so James did. After that, we walked up and down miles of bridges, to a mask shop and tried on many masks. Many of the millions of masks sold on the street stalls are unashamedly made in China, like much of the 'murano' glass and souvenirs. With 25 million tourists a year, every year for 2,000 years, and only 25,000 or so real residents, they cannot hope to keep up with the demand for tourist junk.
Gianpietro had explained to us the history of the masks. In the old days (before Napoleon) all the aristocrats and royalty of Europe came to Venice, where it was common practice to wear masks. They would then misbehave outrageously, thinking nobody knew who they were. Now he says Carnevale brings back that atmosphere, people come here to wear amazing clothes and masks and recreate Old Venice.
Still on 18.8! We returned to 'Restless' for a shower and snooze, and then visited the Hotel Danieli rooftop terrace (recommended by my class mate Doreen) and then went to famous Florian's café in Piazza San Marco, and had a drink, with a live band playing a few feet away. As it got dark we walked to Fiascheterria Toscana, and had a great meal. We almost missed the last vaporetto, which would have left us stranded on the wrong island. THE END (of my birthday!) A big thankyou to all of you for sending me birthday wishes. I can't believe how many of you have sent me birthday wishes, much more than 60.
The following night we went to La Traviata opera, another amazing experience. We feel as if we have all walked all the streets of Venice now, and photographed many bridges.
21.8: we went to Marco Polo airport and sadly said goodbye to Olivia and James, flying home to Hong Kong. It was a fantastic visit, only too short.
22.8: We left Venice at 6am and motorsailed from Venice to Umag, Croatia, in flat calm, misty weather. A few ships passed us and one came very close, checking up on us? (NO we were not nude). Maybe had a kiwi crew on board, we have our AIS (Automatic Identification System) on, so people can identify us from a distance as a NZ boat. We have now cleared back into Croatia.
Gilbert and Pippa are flying from Hong Kong to Ljubljana (Slovenia)on Friday, and taking a bus to Umag or Porec to sail with us for a few days. Then we may drive back with them to Bled for the World Rowing Champs that Pippa's twinsister Jo is in, depending on the weather and whether we can find a safe marina. We are so looking forward to seeing them again. We still have a few more visitors coming to stay on board in Croatia, and we still have not decided where to leave 'Restless' for the winter.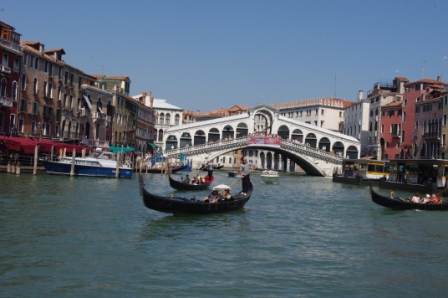 ---