End-July 2014, POROS, GREECE, 37:30.30N 23:28.20E

Restless of Auckland
Roland and Consie Lennox-King
Wed 23 Jul 2014 06:03
End-July 2014, Poros, Greece, 37:30.30N 23:28.20E
4 July, Consie's middle brother Willem, his wife Julie, and their daughter Monica, arrived in Skiathos by hydrofoil from Athens, after flying from Perth. After settling in on board, and provisioning, we set off for the northern Sporadic island of Kira Panayia, where we anchored in peaceful Planitis, a completely landlocked bay, we only had a couple of fishing boats nearby, and some goats for company. It didn't take long for everyone to get used to living aboard and swimming in the clear turquoise water, 30'C. From there we sailed to another quiet anchorage, Ormos Vasiliko on Peristera island, where we snorkelled and swam.
We have a desalinator on board, and had not taken any shore-water for a month, but it cannot keep up with 5 people showering several times a day, so the next day we motored into Steni Vala on Alonnisos island, where we filled our tanks, and bought fresh vegetables and fruit. We anchored nearby at the ancient port of Kokinnokastro, now vanished into the sea, and walked up to look into an archaeologist's trench,where we saw part of a buried wall. The next day we motored round to the 3 bays of Patitiri, Rousoumi and Votsi, anchored, and took a taxi to the top of the hill, to the ancient capital of Alonnisos, now being rebuilt after an earthquake in 1965. Donkeys were carrying food supplies up to many tavernas. We walked from half-way down to the coast, then swam around some of the caves worn into the rocks.
11.7 We sailed to Ormos Stafilos, on Nisos Skopelos, where we stopped for lunch and a swim, then continued on to anchor at Ormos Panormou, a beautiful "u" shaped cove, where we tied up to 2 rocks, in the Mediterranean way; Willem had not done this before. Skopelos was where the musical Mamma Mia! was filmed, so we found ourselves humming some of the tunes. An early morning front bought strong winds and large seas outside the bay, we stayed put and relaxed before taking a long walk in the afternoon.
13.7 The next day we sailed 27.5nmiles, past Skiathos, to Evia island, where we tied stern to the dock at Orei, a picturesque fishing village, where a lifesized marble bull has been dredged up from the harbour (dated around 400BC) and put on display in the village green, we wondered how they had moved it, all those years ago. We had a Greek meal in a taverna ashore; it was the final of the Soccer World Cup, so the boys stayed to watch.
Our plan was to sail around the northwestern corner of Evia island, before sailing south between Evia and the mainland coast, so on 14.7 we sailed 33.8nmiles with the wind behind us, anchoring at Kolpos Atalantis, on the mainland; a large bay with a lot of holiday homes, probably for Athenians. We found most of the boats we encountered down this coast were local fishing boats, it appears few yachts cruise this coast.
15.7 The morning's forecast predicted strong NW winds , but not the severe Thunder, Lightning and Rain! we experienced as we scuttled 11nmiles down the coast, anchoring for a hot lunch in unattractive Larimna bay in poor visibility. It was strange to be cold in such high temperatures. We then sailed another 16nmiles south to Khalkis, where Evia and the Greek mainland almost meet at a 39.3metre wide bridge, first spanned around 411BC.We tied to a large tugboat, which by chance was also waiting for the bridge to open. We visited the Port Police to pay the toll of E18.78, and then stood by for instructions to go through the channel. The retracting bridge is usually opened about 0300, but we were lucky and went through at 2330, probably because the tug wanted an early passage. We spent the rest of the night at anchor south of the bridge, by an ancient fort.
17.7 after a quick walk around town and stocking up on food, we motorsailed south under another larger modern bridge, anchoring at Eretri, in sight of an acropolis and a waterfront boulevard. The next day we motorsailed a total of 32.5nmiles, passed ancient Marathon, a prohibited military anchorage, and stopped at Cape Marina for lunch. A nice breeze developed just in time for us to have a brisk sail to Nea Marmari/ Karysto for the night. Although Karysto is a picturesque fishing village, we picked a night when Greek music blasted all through the night until 0600, and the next morning took 45 minutes to get our anchor out from underneath an enormous piece of ship's chain. We saw dolphins most days, one large turtle, and one day we saw a small swordfish jump 3 times, but we caught nothing on our fishing line.
We motorsailed to Vasiliko on Nisis Petalioi for lunch, and continued a total of 25nmiles to anchor at Sounion, on mainland Greece. We had stopped at Sounion 2 years ago with Feyona and Andre. Early next morning before the crowds arrived, we walked up the hill to see the ruins of the Temple of Poseidon, built 444BC. The site is amazing, with views for miles south out into Aegean. 19.7 This was the last day of sailing with Willem, Julie and Monica, and we had a nice reach for 25.5nmiles to anchor in Askeli bay, on Poros island, where our cousin Mia and family live. Willem helped us to do some maintenance on our mainsail, he was a sailmaker for 30 years, and he fixed the brake on Consie's folding bicycle, Willem and Julie own a bikeshop in Perth.
We walked around Poros, our favourite of the Greek islands; although it is close to Athens, it is small enough to have escaped massive development. Our friend Will, whom we met 25 years ago, whilst sailing from the Philippines to England on our yacht 'Reverie' and he on his yacht 'Tin Fin', arrived with his wife Viv on their catamaran 'Sao Vicente'. We all went to dinner at Adagio restaurant on the town waterfront, a great way to end our cruise together. Willem, Julie and Monica had sailed 250nmiles with us, it was fantastic to have them aboard, and we hope they will come cruising with us again somewhere. They left early on 22.7 to return to Perth. We have a few days to do laundry and our friend David will join us to go through the Corinth canal and on into the Ionian.
---
| | |
| --- | --- |
| | This email is free from viruses and malware because avast! Antivirus protection is active. |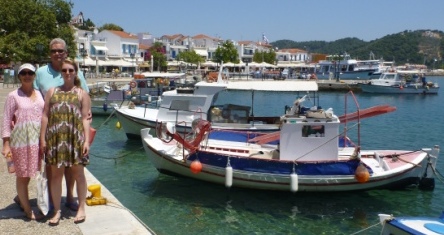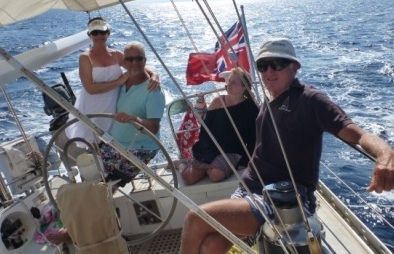 ---