September and October 2014, The Ionian to Preveza, Greece, 38:56.90N 20:45.70E

Restless of Auckland
Roland and Consie Lennox-King
Thu 23 Oct 2014 08:36
September and October 2014, The Ionian to Preveza, Greece, 38:56.90N 20:45.70E
23.8 We flew to Scotland for our friend Gillian's wedding in Scotland, a lovely day. We took a train to London for (our son) Gilbert and Pip's wedding on the Thames on 6 September. It was a gorgeous day, the sun shone, we went first to St Mary's Church in Sunbury for the Wedding Ceremony, and then all 150 went on a steamboat down the Thames where Pip and her twinsister Jo used to row, to Raven's Ait island, where the reception was held. Everything went well, and it was a very happy day, with many New Zealand touches and flavours. Beautiful bride and bridesmaids, handsome groom and groomsmen, plenty of food, champagne, wine and dancing.
13.9 Roland and I returned to 'Restless' in Gouvia marina, Corfu. Fiona and Alan had gone ahead, and we collected our repaired mainsail, filled up with water, provisions, fuel, paid our bills, and left for the eastern coast of Corfu, stopping at Ay Stefanos and Petriti to swim and go for walks ashore. This set the pace for our 2 weeks together, we only sailed 170nmiles, stopping most days for a swim, walk, and lunch in a different bay, sailing half of a loop around the Ionian. We stopped at Lakka, Glydara, Limin Longos, Gaios, and Mongonissi on Paxos island and caught up with our kiwi friends Mark, Donna, and Sam on 'Diamond Girl' in Gaios and Mongonissi, before setting off south from Paxos to catch the 1800hours opening of the Levkas canal. One day we bought sardines from a local fishing boat, and fried them up for lunch aboard. Another day Alan cooked up a small lobster we bought in the supermarket, and served it up with cauliflower and cheese.
From Levkas we continued south, stopping at Ligia, Varko, Nidhri, Meganisi, and Spartachori,on Meganisi, where we climbed to the hilltop village for sunset drinks and barbecued octopus and squid for dinner. We met up with our kiwi friends June and Pat on 'Antares' and had dinner ashore at Fiskhardo, one of the prettiest harbours with pastel houses and bright fishing boats tied up around the harbour. Strong winds encouraged us to leave after breakfast on the waters' edge in Fiskhardo, and we had a lovely sail to Ithaka, stopping in Frikes, Ay Nikolaos, and Markenas, then the main harbour of Ithaka, Vathi, a very large harbour, again with pastel houses and bright fishing boats. Each time we have been in Ithaka we have had strong winds and rain, and so it was again this time, so we had a good sail with NNW winds, south to Zante, Zakynthos, where Fiona and Alan left us to return to Scotland.
29.9 Kitty and Simon joined us in Zakynthos for 10 days aboard, they had heard about 'Restless' for 10 years, but this was their first time aboard. Their own yacht, 'Duet' is for sale in England, they have sailed out to New Zealand and all around the Pacific, and spent several Christmases with us in the Bay of Islands, so we had plenty to catch up on. We were planning to sail about 150nmiles, the other half of the loop of the Ionian, back to Preveza, where we had booked 'Restless' to winter in Cleopatra marina. As we left Keri beach, we got a fish on our line, but lost it. We stopped for a swim at the tourists' favourite beach, Shipwreck Bay, Zakynthos, which has impossibly light turquoise water, supposedly from the marble crystals on the sandy bottom.
After lunch the wind died, and we motored north to Kefalonia, where we tied up at the wall and had fresh squid for lunch on the waters' edge. We hired a car for the day and drove all round Kefalonia, stopped at some ancient ruins, and had lunch at Captain Corelli's restaurant, the film was made on Kefalonia. The next day we set off north to Ithaka, in strong winds, which soon disappeared. Nobody will believe us as everyone says there are no fish in the Med., but we caught a nice dorado for dinner! We anchored in a magical spot, Ormos Skhoinos, on Ithaka, and the next morning walked up the hill to look at a possible site for Ulysses' palace, the ruins of which have still not been found. Kitty found a snakeskin, and we found a circle of stones, which could have been a well, shepherd's hut, or a bread oven, who knows? We motored round into the main harbour of Ithaka, Vathi, and once again on Ithaka, we had thunder, lightning, rain and strong winds. Being sailors, we put on our wet weather gear and went ashore for a walk, wifi and dinner.
6.10 We raised our anchor and set off in dark skies north to Levkas, sailing in gusts of up to 35knots, with rain, thunder and lightning around us, but the wind died, and we motored the rest of the way to sheltered Vlikho on Levkas. Kitty cooked Coq au Vin, to show what she could produce in our small galley. The next day was sunny and we motored round to Jacky O's beach house for a swim, and then took advantage of the ideal sailing conditions to take photos of 'Restless' sailing, before anchoring at Ormos Varko. Unfortunately, we tangled our anchor in a fishing net, and the fisherman came in the morning to untangle his net.
8.10 We dried our sails in the morning sun, then took them all down and folded them away for the winter. We motored north, catching the 1300hrs opening through the Levkas canal, before motoring the last few miles to Preveza, where we filled up with fuel and were lifted out of the water at 0900 on 10.10, with 101 jobs to do before we leave from Athens.
On 15.10 we flew via Hong Kong to New Zealand, for our twentieth summer in a row, and we are booked to return to Restless next April, in Preveza, with a plan to sail another year around the Mediterranean.
Olivia and her boyfriend Shenton are coming to the Bay of Islands for Christmas this year. Merry Christmas friends!
---
| | |
| --- | --- |
| | This email is free from viruses and malware because avast! Antivirus protection is active. |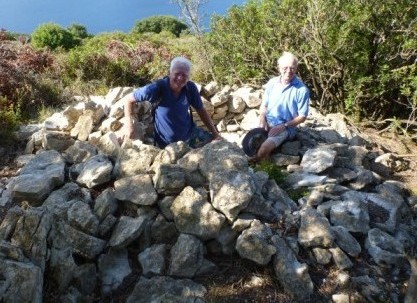 ---