SOUTH ROUND THE PELOPONNESE Greece, August 2012, 36:26.16N 23:12.01E

Restless of Auckland
Roland and Consie Lennox-King
Fri 27 Jul 2012 22:02
SOUTH ROUND THE PELOPONNESE Greece, August 2012, 36:26.16N 23:12.01E
11 July Keir and his son Alasdair arrived from Scotland at Zante, on Zakynthos island, and we had dinner together in Spartacus restaurant, before setting sail for Ormos Keri, the beaches on southern Zakynthos where turtles breed, but we did not see any. We planned to sail round the bottom of the Peloponnese to Poros, the alternative route to eastern Greece, if you don't go through the Corinth canal (which we went through on Reverie, many years ago).
Friday 13 July we sailed across to Katokolon, on mainland Greece, where we anchored for the night, and in the morning took a 45 minute train ride to Olympia, the site of the original Olympic Games in 776 BC. We walked round the archaeological site, and even after so many years of earthquakes and plundering for the museums of the world, there are an impressive number of stones left behind: columns, remains of temples, swimming pools, stadiums. As a 1972 Olympian, Roland felt a connection to his fellow-athletes, although sailing was a latecomer, even in the resurrected Games. We wandered around the archaeological museum with its prize statue of Hermes, dug up in 1877, almost intact. We returned to Katokolon, and as a special treat, there was a Big Fat Greek Wedding going on! We had dinner at the water's edge with some of the guests from the wedding, while fishermen came alongside with their catch of the day.
From Olympia we had a wonderful sail 55nmiles with the wind behind us, to Methoni, on the strategic Mediterranean trade route, where the ruins of Methoni fort stand, occupied since prehistoric times, and held by the Byzantines, Venetians and Turks, site of the Battle of Navarinon. Keir had brought a frozen leg of NZ lamb with him from Scotland, and we had it for dinner to celebrate being in the Peloponnese, and close to the most southern part of the European Mediterranean. We had the dreaded Cape Maleas ahead of us, where boats often have to wait a week for favourable winds to round up to Eastern Greece, and the Aegean.
18.7 we left Methoni at 0830, and by 1100 we had a tuna on the line, which we played for an hour before bringing it aboard, 80cm long, a little under 20kg, our first fish for a long time, and dinner for the 4 of us for 5 days. We sailed 70nmiles to round Cape Tainaron, the mythical entrance to the underworld, and for us a nasty confused sea and wind up to 30kts before finding a safe anchorage at Nisos Elafonisos, an isolated island, with a busy nightclub!
21.7 in flatcalm, much to Consie's relief, we motorsailed round Cape Maleas, waving to the cliffside monastery. We arrived at Monemvasia, a wonderful Byzantine village on an island, with a hilltop fort above it. We had several large turtles swimming around us, and Alasdair swam with them for many happy hours. The first night we anchored, there was Greek dancing ashore, and we had ringside seats from our cockpit. The next morning at 0630 we climbed up through the restored walled village through a tunnel up to the ruins of the fort and ancient city, with Byzantine church, cisterns, houses, all overgrown with sage, oregano, wild onions and garlic. Again, on the important trade route, this island has seen a lot of history. When we returned to the boat, we were asked to leave by 1700 hours, as it was Independence Day, and there would be a re-enactment of an 1821 sea-battle, so we went around to the other side of the bridge that joins Monemvasia to the mainland. Thousands of locals sat on the beach and along the bridge, while the local fishermen towed out a 'pirate-ship' with lots of 'bombs', red smoke, flares and fireworks, culminating in the ship being set on fire. We worried that the turtles had managed to swim away safely.
We ate the last of our tuna as we sailed along the coast to Porto Kheli. We stopped at an isolated anchorage at the bottom of Hydra, then Ermiones, and now we are off to Poros, where Consie's Dutch cousin Mia lives, and more crew changes. Keir and Alasdair return to Scotland, and Olivia arrives for a week with us, 5-13 August, followed by (Consie's twin) Feyona and Andre, who will be with us for a month, sailing from Greece to Turkey together.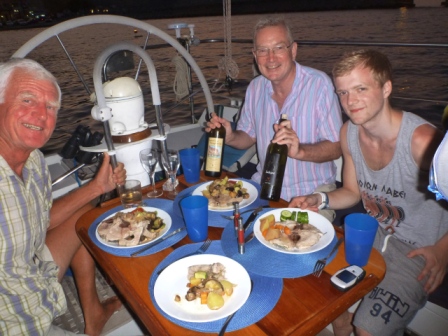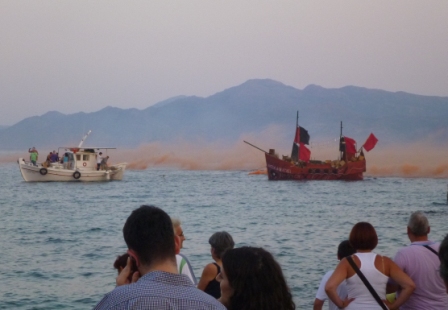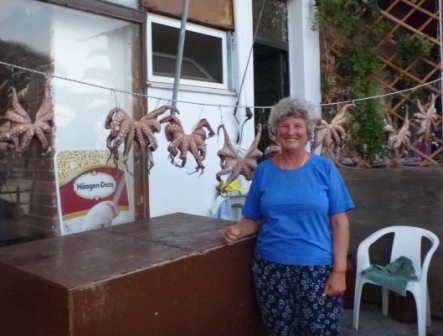 ---