Restless in the Abacos, Bahamas for 2016 26:32.70N 76:57.70W

Restless of Auckland
Roland and Consie Lennox-King
Mon 13 Jun 2016 01:24
Goombay Smash Recipe:
1.1/2 oz dark rum
3/4 oz coconut rum
3oz pineapple juice
1/4 oz lemon juice
1/4 oz triple sec
Dash of sugar, maraschino cherry and a lemon wedge.
Shake well and serve in a tall glass with cracked ice.
Our Twelfth year aboard RESTLESS began in April 2016. We had Christmas and New Year in the Bay of Islands with Gilbert, Pip and Mia, followed by visits from Oliver and Jane from Canada, and cousin Caroline from Washington, and others. We left NZ early April and flew via Hong Kong to see our young, and on to Washington and Fort Lauderdale.
David Milner had flown from Scotland to Ft. Lauderdale to help Roland prepare Restless for another year cruising.
26.4 we moved down river from Fort Lauderdale, after provisioning and checking on the many jobs completed over the winter, including a new Liferaft, Epirb, and safety equipment, rigging, refrigerator, stove, loos, new windows, new anchor chain, and others.
The next morning the weather looked good and we set off from Florida at 0630a.m. for the open sea, motorsailing in flatcalm waters 60nm to West End, in the Abacos, and paid $300 for a Bahamas cruising permit for 90 days.
28.4 we motorsailed 43nm to Great Sale Cay and anchored for the night, and the next day 29nm to Moraine Cay, catching a barracuda on the way.
30.4 we motorsailed 28nm to Green Turtle Cay, where we stayed 2 nights, went to the Sundowner bar where we met round-the-world aviators, and swapped stories about the similarities of travelling by boat or by plane. We all rely heavily on good weather. From there we motored carefully in shallow water, zigzagging past reefs, 25nm to reach Hope Town. We anchored in the harbor with its ice-cream coloured houses and walked to the top of the candystriped lighthouse, had conch burgers for dinner at Captain Jack's. 
Hope Town is on Elbow Cay, an island with about 450 residents. We met David's friends Michael and Patte, who have lived there 28 years, and had dinner at 'The Water's Edge'. The next day we hired bicycles and cycled round the island, stopping for a relaxed lunch 'On Da Beach' and a swim. The next day Patte picked us up in her powerboat and took us for 'Cheeseburgers in Paradise' at 'Lubbars Landing', a bar on a tiny island nearby. The islands are low-lying, and when hurricanes come the water must sweep right over them and down the streets.
We went to Marsh Harbour, Great Abaco to the airport, from where David left to fly to Ft Lauderdale, and on to Scotland. We got a simcard for our computer with some difficulty. We went to the biggest supermarket in the Bahamas, Maxwells, did laundry and cleaned, prepared for a visit from daughter Olivia and her boyfriend Shenton, arriving from Hong Kong on 15.5 for 2 weeks cruising with us. We filled up with fuel ($4 a gallon) and water (prices vary from 20 to 50cents a gallon!)
We left Marsh Harbour and headed north to Great Guana Cay to snorkel and Shenton found some gorgeous conch shells and enormous starfish. The next day we went to No Name Cay, where we fed salad to the feral pigs who swim off the beach, looking for food from tourists. We returned to Green Turtle Cay, and went to the Sundowner Bar, home of Goombay Smash, a rum and pineapple drink (and incidentally recently (allegedly) visited by Sean Connery!) 
19.5 we motored to Manjack Cay, and snorkeled with the friendly Rays, Reef Sharks, Turtles, and Dolphins. At dusk we had a swarm of too-friendly mosquitoes, so anchored further offshore. Next day we motored in shallow water to Treasure Cay, to the most amazing beach in the world, with powder sand and light green waters. We had fried chicken lunch in the 'Tipsy Seagull', and Pina Coladas (a Rum Pineapple and Coconut drink). 
21.5 We motored to Fowl Cay, where Shenton and Livi scuba dived on the reef. Later we returned to Elbow Cay, anchored in Hope Town, and had dinner and danced all night to the great band at 'The Harbour's Edge'. The next day we walked out to 'On Da Beach' for 'Cheeseburgers in Paradise', and Goombay Smash, and collected young coconuts from the Palm trees. Shenton sailed our Bic dinghy, 'Livi' to the sandspit at the end of the island, and they went ashore for a romantic sunset with dinner. We went the following night, after a day snorkeling, to 'Firefly' restaurant with Michael and Patte, and enjoyed another spectacular sunset.
25.5 We motored to Sandy Cay, where Olivia and Shenton scuba dived on another reef, stroked spotted rays and a nurse shark, while I walked along the beach and found some tiny conch shells. That night we slept off Tilloo Bank, where we saw a lot of turtles. 
26.5 We SAILED 11.9 nmiles to Man O War Cay, in 20 knots of breeze and only a couple of feet under our raised centerboard. This is a dry island, famous for its many boatyards and beautiful boats. We had one of several nights of thunder, lightning and rainstorms, but no mosquitoes. 
27.5 Time to say Goodbye, so we motored back to Marsh Harbour, and took Olivia and Shenton to the airport, where their flight to Nassau was delayed, and their flight from Nassau to Heathrow was delayed, so they used the time to go to Compass Point, a beautiful resort in Nassau owned by the founder of Island Records, and got a bucket of Mojito!
We are waiting for Keir to arrive from Scotland, and will set off north up the east coast of the USA, 1500nmiles to Maine, hoping for good weather, and looking forward to some sailing.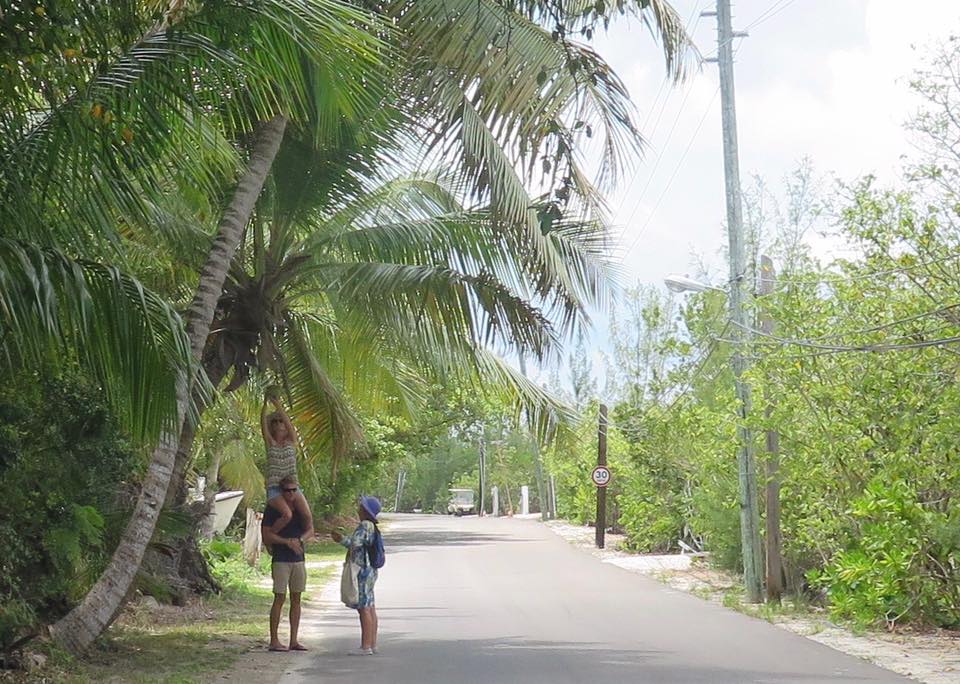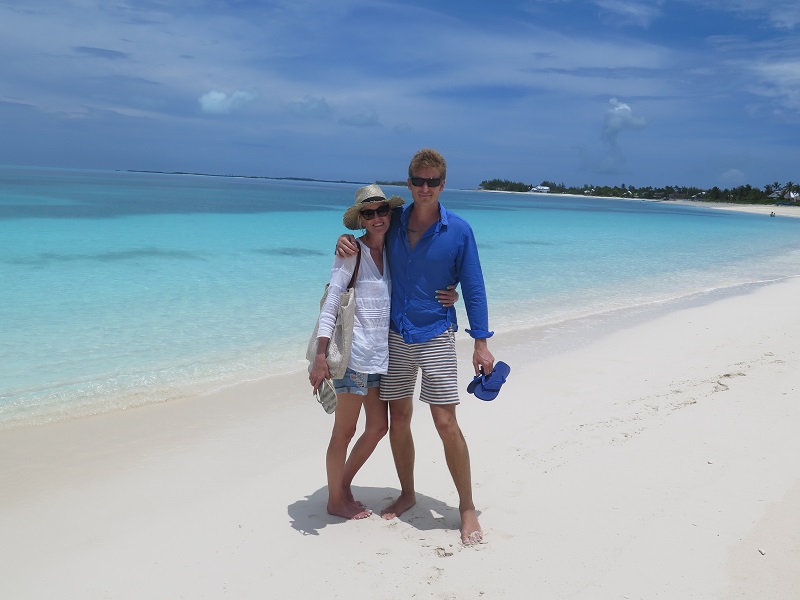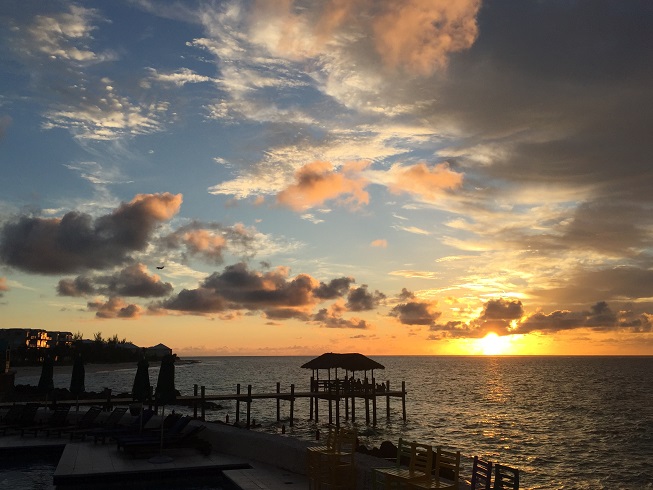 ---