Fw: RESTLESS IN OSLO 59.54n 10.41e

Restless of Auckland
Roland and Consie Lennox-King
Mon 21 Jul 2008 13:00
We are tied up at the KNS (Kongelig Norske Seilforening - that's the Royal Norwegian Yacht Club in English). The King's superyacht - a beautiful sparkling old fashioned cruise ship - is in the harbour nearby, and his tender is a couple of hundred yards away, a lovely old-fashioned launch, with gleaming varnish and paint. Summer holidays have started in Norway, which means that most of the locals have left town, and their marina berths are available on a day-to day basis.
Norway is a beautiful country, and we are having a great time. As we have gone further South it has got warmer and darker earlier at night - in the north there is a 24 hour hour day, which is quite disorientating for a while! Here in Oslo it gets dark at about 11:30pm, so we have lovely long evenings outside, and you feel as if you can squeeze much more into a day. Although it is not exactly hot here, we are wearing jeans and tee-shirts or shorts and long sleeves during the day, so its not too bad! We have really enjoyed having our visitors aboard, and we love being able to share our adventures with our friends.
In our last update our kiwi friend Peter was arriving in Kristiansand for a fortnight with us. We collected him from the bus terminal and had salmon for dinner. He was a great visitor, and it was lovely to hear all the news from back home. Peter had brought us a new RNZYS ensign, ours had been flying for 15,000 miles and was see-through! Our new Danish friends on BAT had invited us over for a huge pile of shrimp for lunch, and they came over for after-dinner coffee. We will see them again in Denmark.The next day was Market Day in Kristiansand, and even though it was a Wednesday the streets and shops were crowded. The wind was picking up and our berth was not ideal in an onshore breeze, so after a quick look at Fort Christianholm Festning and getting some food supplies, we set off to find a quiet anchorage a couple of miles away.
Sven rowed out from his beach house in Rosenlund bay and invited us ashore for a real Norwegian lunch of shrimp salad, lingonberry jam, brown cheese, salted fish and fresh bread. Sven and Kari showed us round their lovely (red) home and showed us pictures of a famous old Norwegian tallship, Gjoa, that had belonged to his grandfather. Sven had sailed around the world in a ship before teaching history for 35 years, so between them they could answer our many questions about Norway. They sent us back to the boat with a bowl of delicious salted fish. Unfortunately we got a jellyfish in our generator intake, necessitating the removal of the water pump and fitting of a new impellor. We set off to Gamle Hellesund on 5 July, and caught some small fish for breakfast.
The next day we sailed for the Blindleia, a wonderful corridor with thousands of tiny rocky islands. Often there was a queue of boats to go through the tiny passages between the islands, and each one had a beach house, boathouse, and selection of well-loved wooden boats. Our main mast being a bit too high for the bridge out of the Blindleia, we anchored in Subbernes, Justoya and the next day set off outside in strong head winds, later becoming torrential rain as well, anchoring for the night of 7 July in Skevigen, near Grimstad.
Peter kindly took us out to dinner at a restaurant in town right on the promenade of boats. Skevigen was a very lucky choice, for as R replaced the impeller he found the blockage had also caused the pump bracket to crack and it was only a matter of time before it would become worse. Coincidentally there was a huge boatbuilding yard nearby who welded the damage in a few minutes.
9 July took us into Arendal, only 8 miles up the coast where we tied up at the marina and walked around this lovely old town and replenished our food supplies. The next day we had another sail in sunshine and big ocean rollers to Kragero and Hellefjord, anchoring for the night in Abyfjord. We had great fishing success there---a young family came and gave us 6 wriggling mackerel for dinner! A great way to catch fish.
July 12 started off with rain, but the sun came out and we had a great reach up the Oslofjord to Hvasser, where Roland enticed Peter to have a swim in the warm water!!! We could not believe the size of the cottages and the number of smart runabouts at their docks. Easy to see where Norway's newfound wealth is being spent. As one local remarked, Everyone is wealthy in Norway. Neither Norway, nor Switzerland want to join the EU, no wonder when their combined wealth exceeds all the other member countries put together!
After yet another blow and rain, a late start the next day saw us have a great run in 25knts up the Oslofjord into the Droebaksund, passing through a narrow gateway of 2 markers with deep water between a 2 metre sill into Sandspollen, first stop for many Oslo yachties heading off for their annual holidays which started that weekend. We saw more yachts in that bay than we had seen sailing the previous 2 months. A beautiful spot with pine trees right down to the water in a virtually totally enclosed circular bay.
14 July we sailed up the Oslofjord to Snaroykilen, 3 miles from downtown Oslo, an island with many enormous houses and expensive homes. Peter's stay with us was fast coming to an end, and we motored into Oslo and tied up at KNS, in time to see 3 museums including the Viking ships, the Kon Tiki and the Fram, where we had a close look at the famous Gjoa. Museumed out for one day, Peter took us out to dinner near the KNS (the yacht club is closed for the summer as most of the members have gone on vacation, taking their boats). We took Peter to the station to catch the train to the airport on the 16th, and did all our laundry in time to collect Olivia and James from the same station on the 17th. Our friends from Nordlys came and stayed a night on board, they have left Nordlys, after having just completed their circumnavigation, in the Caribbean and have come over to visit friends and relatives.
It is wonderful to have Olivia and James on board, and we are hoping Gilbert will be able to join us for some time, he has just sailed from France to Palma on Kokomo of London. The Nordlys' friends, Tove and Gunner who have sailed the world in their boat, Embla, took us to the Maritime museum with its spectacular panorama movie of Norway, and also to the Vigeland Park, where there are thousands of amazing sculptures by Gustav Vigeland, what an enormous amount of work from one person. Then we had dinner in their lovely home - always a treat to meet people in the countries we visit.
Soon we will set off south to explore more of the beautiful southeast coast before crossing over to cruise the Swedish side of the Oslofjord, planning to take about a month to reach Gotenburg.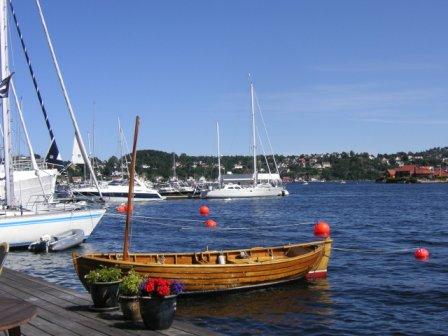 ---