10Aug.2015, north from Cagliari to PORTO CERVO, SARDINIA 41:08.24N 09:32.34E

Restless of Auckland
Roland and Consie Lennox-King
Tue 11 Aug 2015 08:32
10Aug.2015, north from Cagliari to PORTO CERVO, SARDINIA 41:08.24N 09:32.34E
We said goodbye to Olivia and Shenton in Cagliari, and sailed south to Capo di Pula, where the ruins of the ancient Phoenician city of Nora rest on the bottom of the sea and on the nearby shores. We went with a tourguide around the excavated ruins of the only amphitheatre in Sardinia, and several thermal baths with collapsed ceilings. We walked to the top of one of the 60 Spanish towers that dot the coastline, many are now lighthouses. It was one of the hottest days either of us can remember, with temperatures in the mid 40s.
We sailed back to Cagliari on 19July in a gathering following sea breeze. Two days later we welcomed our kiwi friends Ingrid and John, who have sailed with us in previous boats in the Philippines, Hong Kong and New Zealand, and twice before on Restless, in the Caribbean and Turkey. We walked into town and saw flocks of pink flamingos flying overhead in the sunset and had a real Italian meal in Cagliari, followed by gelato, and a quiet night in a marina.
22.7 we motored out of Cagliari breakwater, and sailed 21nmiles to Villasimius, a bay with amazing aquamarine water, but this day there was a sudden thunderstorm with lightning and rain – the first rain we have seen this season. From a light breeze we had 30 knots and rain in a matter of a couple of minutes. 30 minutes later all had gone.
The next morning we set off north another 50nmiles to anchor in Bellavista bay, near Arbatax, where another thunderstorm passed us. The next day, in temperatures in the mid-40s, we went ashore and found a vegetable and fruit shop. Again, wonderful clear water, and we all swam several times.
The next day we set off to sail north, and stopped in an area of hundreds of grottoes and amazing cliffs, Cala Gonone, where we swam again. After lunch we set sail and had a beautiful beam reach to Capo Comino.We planned another anchorage some 20 miles further, but as there were many boats anchored behind the Cape we dropped anchor and enjoyed a cool swim before yet another thunderstorm and heavy rain.
26.7 we sailed 18.3nmiles to Porto Brandinghi, had another swim, and went ashore for a great meal in the cafe at marina Puntaldia, a popular local meeting place in this very up-market marina where even the rubbish tins are locked. The next day we walked along the sandy beach and swam again, before Ingrid and John took a taxi to Olbia airport to fly home to NZ, stopping in England to meet up with mutual friends, and to talk about their recent 3 family weddings.
27.7 The high temperatures and strong winds sparked off a huge fire ashore, and we watched 2 planes scooping up water and dousing the fire all day. The next morning we had a visit from the Coastguard, who asked for our documents, and held out a large fishing net to collect them in. You can guess what happened next, Roland's passport slipped into the water, he dived in after it, and we spent some time rinsing, mopping, and drying it in the sun. It's a little wrinkly, but should last until next renewal in June 2016. The coastguard retreated, very embarrassed.
30.7 Our friend David arrived in Olbia from Scotland to cruise the remaining 240nmiles to Genoa, our last month in the Mediterranean, before Restless goes aboard a Dockwise ship to Fort Lauderdale, U.S.A.
1.8 We motored a few miles to anchor for a swim and lunch at Isola Molara, in sight of a huge granite island, Isola Tavolara, in aquamarine water, and anchored for the night in nearby Porto della Taverna. An icecream vendor comes around to these crowded bays and we bought ice cream – we should have these in NZ! The following day we motored to the granite Isola Taverna, crowded with Italians on the first days of school holidays.
3.8 We motored 9.5nmiles to Marina di Olbia, as we needed an electrician to look at our alternator, which had been causing us trouble. He brought us a new one and fitted it. We did not want to stay in the marina longer than necessary at E140 a night, and the aquamarine and azure waters were calling us out to sea. We visited Olbia Museum, where a recently discovered Roman ship had been found while digging a tunnel under the harbour.
5.8 back out into the Costa Smeralda where hundreds of Mega-yachts and Superyachts made Restless look like a small tender. Each mini-ship was amazing, with more toys and bikini-clad girls than the one beside it. We went to Marinella Bay, and Porto Rotondo, where Gilbert used to anchor in his superyacht days on 'Borkumriff'. Some of the kiwi crew from some of the superyachts came to say "G'day" and a friend of Livi's brought us a very precious loaf of NZ Vogels bread! We tried to give him some vegemite, but he had some.
We heard that further north in Cala di Volpe and Porto Cervo, where we anchored 4 years ago, it is not possible to anchor, and a mooring buoy for the night costs E4,000. We are definitely out of our league! But there are many other places to anchor, with clear water and lots of free sunshine.
We made a tour of Cala di Volpe, and the next day went in by dinghy to Porto Cervo, both crammed with superyachts and Megayachts. The Meltemi roared around Arzachena anchorage, and with boats all around us, we decided to find a quieter anchorage at Golfo delle Saline 6nmiles away.
We have another 200nmiles to go to Genoa, and with a loading date at end-August, we are headed there in the next week or two. David has lived in Ft Lauderdale and is helping us to find a temporary dock when Restless arrives in the States, and a hardstanding for the 6 months we will be in New Zealand.
24.8 Consie will fly to England and meet our first grandchild, Mia, before flying together with Pip and Mia to Hong Kong, and later to NZ.
After Roland sees Restless safely aboard the Dockwise ship, Roland plans to fly via Scotland to meet Restless in the States and put her away for the winter, before he flies home to NZ.
---
This email has been checked for viruses by Avast antivirus software.
www.avast.com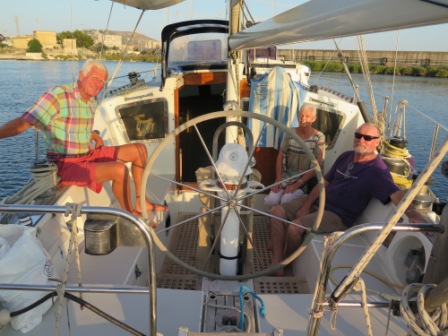 ---