GIBRALTAR, April 2011, 36:08.00N, 5:22.30W

Restless of Auckland
Roland and Consie Lennox-King
Mon 18 Apr 2011 18:16
Two Steps forward and One step backwards:
We arrived in Lisbon on 29 March, from Hong Kong, where we had a wonderful time with our young: Gilbert and his girlfriend, Pip, and Olivia and her husband, James. We went to the Rugby 7s, together with Pip's parents and Consie's brother Jan.
Keir and his children, and Caitlin's boyfriend came to Portugal, and they helped us to put the sails back on 'Restless'. Keir's Portuguese friend Hugo drove us to a supermarket to provision. 'Restless' was back in the water a record 48 hours after our arrival in Lisbon, Tagus boatyard had antifouled her before we arrived. We left the boatyard with Keir on board, and sailed to Cascais,where Leonor and Hugo drove us to a restaurant near Cascais for a lovely Portuguese meal, baculao (cod) and local wine to celebrate being back in the water. Dutch cousin Maurits joined us the following day in Cascais, and the next day the four of us set off south. We put up the spinnaker pole on the brandnew track, and it instantly popped out of the mast. It was apparent the yard had used rivets that were too short so we decided to return to Tagus Yacht Centre to have it fixed, and to repair the mainsail, which had a couple of small holes, where the track had torn it. All the repairs were completed in a few hours and on 5.04.2011 we set off down the Tagus river.
We planned to sail south round Cabo de Sao Vicente, the most southwesterly point of Europe, to see our friends Stephanie and David in Vilamoura in the Algarve. We had a pleasant sail all night, but at dawn the next day, after we had sailed some 90 nmiles, we were met with strong winds of around 45kts on the nose, and large waves, cresting and knocking us backwards. It seemed senseless to proceed, so we decided to turn back to Sines harbor, a distance of some 35 nmiles, luckily it was a nice sheltered marina with a historical town. We stayed there 3 nights, waiting for a better weather forecast. Vasco da Gama was born in Sines, we took photos of his statue by the fort, and walked round the picturesque fishing port. Stephanie and David drove to Sines to meet up with us for lunch.
Early on 9 April (Roland's birthday) we left Sines for Lagos, this time we had light winds behind us, and rounded infamous Cabo de Sao Vicente in a lovely sea-breeze on a glorious day. We could see fishermen dropping their lines down the cliff-face, and wondered how many fish get off the hook before they are raised up the hundreds of feet. Maurits is a keen fisherman, and we caught a nice wahoo. We arrived at Lagos to find the bridge into the marina closed for the night, so after securing to the reception berth, we walked into town and had dinner at Gilberto's to celebrate Roland's birthday and the rounding of Cabo de Sao Vicente, into the Algarve. The next day we had a gentle sail to Vilamoura, a marina of 1,000 boats in a vast tourist complex. With contrary winds forecast, we hired a car and Maurits drove the four of us up into the hills at Silves to a Moorish fort, and from there on to Alte and Sao Bras de Alportel, before returning to the coast at Faro. We drove past citrus orchards, pepper trees, cork and olive groves in the hot sun, and could understand why so many Europeans have chosen to buy holiday homes in this part of Portugal, with its hot climate and gorgeous long beaches. Portuguese is a difficult language, and Obrigada (thank you) was the only useful word we learned.
We had not yet decided whether the next landfall would be Cadiz in Spain, or Gibraltar. On the way we would pass Cape Trafalgar, scene of one of the most famous sea-battles ever, between Admiral Nelson and Napoleon's Admiral Villeneuve. The forecast was for light winds and seas as we set off from Vilamoura for Cadiz, but found that we had winds from ahead and a lumpy sea. With a new forecast of very strong easterly winds expected within the next 24 hours we decided to skip Cadiz and head for Gibraltar. We still had 25 knts on the nose as we rounded Cape Trafalgar, but it was warm and sunny with not a cloud in the sky! We calculated that we could just get into a bay near the tiny island-fort of Tarifa by nightfall, so we pushed on and with a little help from the engine made the anchorage in twilight. The twinkling lights of Morocco beckoned from just 8 miles away. The next morning Roland woke us early with the options of leaving at dawn in no wind, or waiting till later and receiving the forecast "levanter", the famed 30 kts of easterly wind that roars through the straits. It was an easy decision, and by 10:00 am we were tied up at Queensway Quay in Gibraltar, alongside yachts from all around the world.
Thanks to internet, a childhood friend of Consie's in New York advised us that another ex-HK friend, Anthony, had recently moved to Gibraltar. Anthony drove us across the border into Spain and along the coast to Marbella, and we had a great time catching up on 30-odd years. We stayed in Gibraltar while gales roared through the strait, and explored this tiny rock entrance to the Mediterranean.
With a 15 mile motor into one of the crossroads of the world and gateway into the mediterranean, we hope to leave when the current weather pattern changes, hopefully Monday 18 April. Our next big destination will be Palma, 500 miles away. Scottish friends Fiona and Alan are planning to join us in early May in Palma. Before they arrive we are hoping to get our liferaft serviced and our sails checked over by the Doyle loft in Palma, run by Quinny, who we know from New Zealand.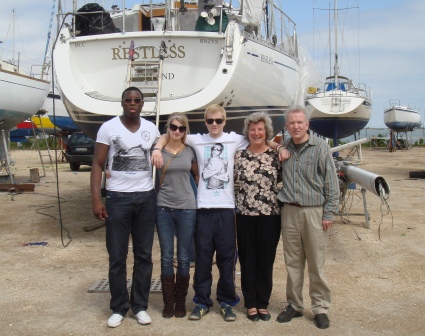 ---