NORTH BISCAY, FRANCE, end September 2010, 46:43.60N, 2:20.70W

Restless of Auckland
Roland and Consie Lennox-King
Wed 29 Sep 2010 12:21
Our last web diary came from Lorient, up the Blavet river, on 8 September. This was one of the bases for the German U-boat fleet and the submarine pens are still a grim reminder of this city's past. From there we reached down the coast and into Quiberon Bay; navigation was stressful as we negotiated many rocks and 6 knot riptides. Then we had a fast reach past Carnac, where Roland sailed in the 505 Europeans some 38 years ago!!! This brought us to Trinite sur mer. The only available dock was at the furthest point of the marina, so we rode our bikes the kilometre around to the capitaine's office.
The tides all around here are enormous and at up to 6 meters it takes some getting used to. The tidal streams are also very strong at up to 9.1 knots, but luckily we did not run into these. The size of the French marinas are enormous, 75% of French yachting is done along this coast, all anchorages must be chaos in summer!! Roland and I took our 2 bikes and rode for 2.5 hours out to the mysterious Megalithic stones, like a type of stonehenge, thousands of stones about 3ft high, set in a few straight lines, 4,500 years old or more. After staying 2 nights at the marina we motored on a glassy sea into the Golfe de Morbihan, a large inland tidal sea. This area, 50 square miles with about 60 islands, is a great cruising area, especially with a shoal draft boat. We had to get the tides right and Keir's workings were perfect as we slid into the entrance with the beginning of the flood. We
were looking for the island called Er lanic, our Scottish friends Alan and Fiona's boat is named after it. We found it, and although very small and flat, it is famous for its megalithic stones marching down the middle. We found a place to anchor by Ille d'Irus, but ended up putting out two anchors, one in each direction as the tide was streaming past at over 2 knots. We took the dinghy to the nearby islands of Port Blanc, Ile Aux Moins and Arradon. We also took the dinghy an hour up the river to the medieval, moated town of Vannes, there is a bridge, a sill and a lock, and beyond it a marina, entry is only possible at high tide. The Capitaine was going to buy a kiwi flag to put up in our honour, as we were his first visiting NZ boat, but we offered to loan him a spare ensign.
Roland's brother Oliver and his wife Jane would be joining us for a week, and we wanted to see whether it was possible to take Restless there. We locked in a couple of days later to enjoy market day, an open air Breton concert and do a ship clean before our new crew arrived. Vannes is on a train route to Paris, where they were visiting their son Peter and his wife Ruth. We decided it was a lovely place to start our time together.
Oliver and Jane arrived on the 20th
, Ruth also came for a night. We met at Vannes station and walked back through the old town with its half-timbered buildings and huge churches. Oliver was keen to buy some real French striped teeshirts, which he did, for their grandchildren and himself. After a lunch of quiches, baguettes and salad, we walked around Vannes, with its high castle wall and moat, narrow cobbled streets and crooked houses. Oliver and Jane later took us all out for dinner at a seafood restaurant, where we ate huge plates of oysters (served on seaweed) followed by moules marinieres and frites.The seafood around this area is famous, as the fishermen have the Atlantic on their doorstep, and with the rushing tides, it is a perfect area for mussel and oyster farms in all the shallow bays.
France is famous for its variety of foods, and we have tried to eat as many as possible: pates, terrines (including rabbit and duck), cheeses, breads, wines, cookies, pastries, creme brulees, etc. I have cooked many French dishes on the boat, squid, moules marinieres and escargots, boeuf bourguignonne, ratatouille, lamb, veal, pork, duck and fish and we have shucked and eaten dozens of oysters. We have loved going to the markets with stalls of fresh fruits, vegetables, meats and breads.
After staying the night in Vannes marina, we waved goodbye to Ruth and went down the river and out to the Gulf of Morbihan, where we anchored by a tiny island near Ile Aux Moins, before going for a walk ashore to the medieval town of Locmiquel. Jane and Oliver walked around the island and found some megalithic stones, some 4, or 5,000 years old, and bought fresh oysters from an oysterfarm.
The following day, 22nd Sept, we set off early out of the Gulf of Morbihan to to catch the tide and achieved up to an additional 5.9 knots over the ground at times. Then we motored an hour south, in brilliant sunshine, to Isle de Houat for a walk ashore on "the most beautiful beach in the whole of Brittany" then a swim in the clear clear water, before lunch, and setting off for the Vilaine river estuary. Our cruising guide showed an 1800 lock opening at Arzal, and we were hoping to catch it. We got to the barrage and lock in time but there was no opening due to maintenance, until 8pm, so we ate our curry dinner as we waited. By this time a large number of motor boats and launches were queueing to get in. As the lock opened it started raining hard and chaos reigned in the bunfight to squeeze everybody in, 3 abreast jostling against each other. All but one of the 27 boats squeezed into the 85 metre lock, the one that did not had to stay the night and catch the morning opening. Luckily there were no accidents, we all cleared into the River Vilaine and we found an anchorage nearby in the dark. This large 20 mile lake is a very popular stretch of cruising ground and we were amazed at how many yachts are moored on it; also at how many British boats are kept there. However, after four days we could see why: it is beautiful. The next morning we set off a few miles up river to La Roche-Bernard, in time for Thursday morning open air market. We tied up at a mooring, and wandered around this small stone town with ruined fort from the ninth century. We enjoyed the market and took home bags full of fresh provisions. After lunch and another walk Jane cooked fresh artichokes, and we had fish, ratatouille and potatoes, followed by local cake Kouign amann, as the rain thundered down.
We continued up the river the next day in much better conditions, passing lovely countryside to
Foleux and on to Redon, which is 26 miles from the sea, and from where there is another direct train to Paris. Redon was once a lovely old town, some half-timbered houses remain, and a tall church spire (the church is missing, bombed in the war.) Jane and Oliver took us out to dinner again, to a small brasserie where we had snails, beef, and crème brulee. The next morning was an early start as we all walked to the trainstation with Oliver and Jane for the 0821 train to Paris, a 3 hour trip for them
.
After visiting the market, we left Redon and motored back on the Vilaine river to a quiet bend near Foleux, where we anchored very close to the river bank and the associated smells of the nearby farm. After a leisurely start on Sunday we motorsailed the 12 odd miles downstream to the diabolical Arzal lock, now only 8 boats, so a very simple descent, of about 3 metres. After another peaceful night and glorious red sunset, we set off out of the mouth of the Vilaine river and into Quiberon Bay. We had a quiet sail to Pornichet, a giant faceless marina with 1,150 berths, all full, and we tied up alongside another boat for the night. We walked around town, but it was closed (this was Monday). We had stopped at Pornichet only to break the journey, so early next morning we set off for Ile d'Yeu. A perfect day, but hardly a breath of wind, so Mr Perkins brought us the 31 miles to Port Joinville, where we wiggled our way into the tiny entrance and tied up at the visitors' marina. There is a lovely circular bay with cafes along the waterfront, very similar to St Maarten in the Caribbean.
We plan to sail to Spain in the next few days, and have been busy trying to learn Spanish by CD, we may have left it a little late. We have managed okay with our French, but between us we have a couple of dozen words: adios amigos is perhaps not very useful. Gazpacho and Paella maybe a bit more useful. There is a gale forecast, so we are waiting for more favourable winds before we set off, possibly for Santander or Gijon. We are booked to haul-out in Lisbon on 2 November, and still have about 550 miles to sail.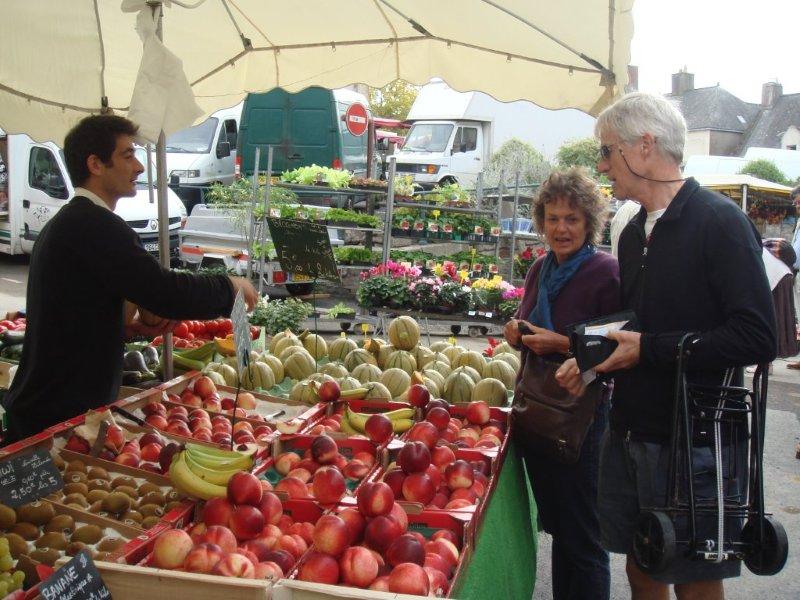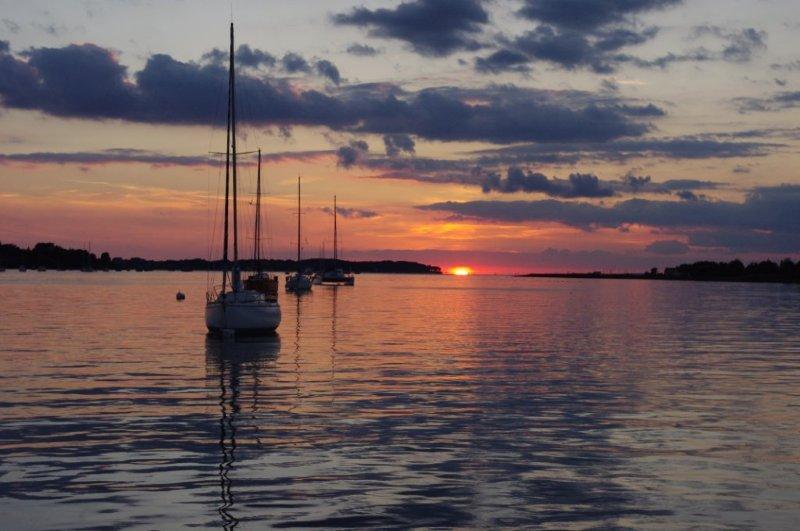 ---