RETURN TO GRENADA 12:01.20N 61:40.70W

Restless of Auckland
Roland and Consie Lennox-King
Tue 4 Jun 2019 11:00

9.5 Olivia arrived in Antigua, and we had 2 weeks to cruise with her. We went for a pleasant drive around the island, and a quick trip to the supermarket, then had dinner at Castaways, on the beach at Jolly Harbour. The next evening Livi made tacos for dinner at Eve's waterside home. Saturday we left, anchored in Deep Bay and walked up to the ruins of a fort.
13.5 We set off at 0700 and sailed 28.5nmiles to Cocoa Bay, on Barbuda, famous as Princess Diana's hideaway beach. We saw lots of turtles, swam ashore and saw donkeys on this 'most beautiful beach in the world', a beach of white sands and few shells. Livi did not want to leave this beach, so she swam ashore a few times a day, and learned how to splice ropes from her dad, and generally relaxed, which was good after our hectic season of getting south.
17.5 we sailed back to Antigua, and anchored behind the reef in Nonsuch bay for the night, before going south 5 miles to Freeman's Bay, near Nelson's Dockyard. We went ashore to see the tourist sites, and walked up to the fort. We could hear the Shirley Heights Sunday 'Jump Up' music from our anchorage, and Olivia just chilled out, swimming ashore several times a day.

23 May Gilbert, Pip, Emmeline and Frederick arrived from England after a long flight with delays, and Olivia left for England at midnight, so we just had a few hours together at Jolly Harbour marina. We happened to see 'Ocean Free' the 72 ft yacht that sailed up the Red Sea in convoy with us 30 years ago.

24.5 After a quick tour around Antigua and Nelson's Dockyard, and another visit to the supermarket for provisions, we left Jolly Harbour and anchored for the night and a morning swim at the beach outside.

25.5 we set off at 0930 for our 300 mile sail to Grenada, unfortunately it was a bit lumpy and not ideal conditions for a nearly 4 year old and a 19 month old, but they were fine, and we sailed 50nmiles to anchor in Des Haies, Guadeloupe for dinner and a sleep. This is where they film 'Murder in Paradise' tv series.
26.5 we sailed 126.9 nmiles to anchor in Rodney Bay, St Lucia, and were lucky enough to see some dolphins at sunset.
27.5 we sailed another 75nmiles overnight, to anchor on the 28th in Bequia, where we cleared in and went ashore for a walk and a swim, and dinner ashore in a beach-bar. Emmeline and Frederick loved the beach and swam off the stern of Restless, and it won't be long before they are swimming without life-jackets.
30.5 we sailed 25nmiles to Tobago Cays, another of the most beautiful cays in the world, with clear green waters and white sands, and turtles around. Pip swam alongside a turtle, magic! A fisherman sold us a large fresh tuna, which we ate for every meal after. We met up with cousins Piers and Don in Bequia 15 years ago, and saw the same laundry where they left their clothes, only to find when they collected their laundry that they had been given a pile of girls' clothes.

31.5 we set off at 0630 for a 43.6 mile sail to Grenada, where we anchored at Grand Anse, another beautiful beach, and we saw some giant starfish.
1.6 We went into town to St George's market, cleared in, and Pip bought some famous Grenadian chocolate to take home to her family. We also bought mangoes and wax apples.
We had a quick lunch at Umbrellas restaurant on the beach, and they left on a 1700 hours flight home to London, with one x 23 kg bag for the 4 of them for 9 days! Wish we could be as efficient with our luggage!

3.6 we filled up with diesel at The Grenada Yacht Club in The lagoon at St. George's, and set off for Grenada Marine in St. David's Harbour. Only 4 hours of motoring, but straight into the wind and a big sloppy sea, it felt longer, but we were booked to haul out on 4.6.
We can't believe our season aboard is over, we have done 3,000 miles in 3 months, and have returned to the Boatyard where we bought Restless 15 years ago! We never thought we would be back here 15 years, and some 40,000 plus miles later!

We will spend some time with Gilbert, Pip, Emmeline and Frederick in London, and some time with Olivia and Shenton in Hong Kong, before we return home to New Zealand mid-August.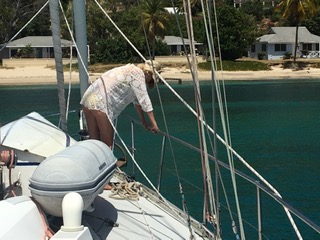 ---