End-August 2014, THE IONIAN, AND CORFU, GREECE, 39:38.63N 19:54.58E

Restless of Auckland
Roland and Consie Lennox-King
Fri 22 Aug 2014 13:57
End-August 2014, The Ionian, and Corfu, Greece, 39:38.63N 19:54.58E
8.8 We sailed to Ithaka with gusts of up to 40 knots, and in reefing put a small tear in our mainsail. A nuisance, as it will have to come off and be machine stitched. As our sails have now sailed about 25,000 miles, we need to save up for a new suit. We anchored just outside the main harbour, within site of the ruins of Aetos, in a sheltered spot as gusts tore down in the bay outside. The next day we motored into Vathi, the large U-shaped harbour of Ithaka, with lovely renovated houses all around the shores.
Will anyone ever find the ruins of Ulysses and Penelope's Palace? The island is large and has lovely villages and bays, with many possible sites; there are lots of ruins on the island, but none are grand enough, so where should the digging start?
We met up with an English couple, Gill and Tony, who we had first met in Canakkale, Turkey. They told us stories of catching and cooking octopus, we ate some they had cooked and pickled, and we are tempted to try and catch some. The octopus likes to live in an old boot or an old tyre, or in among the rocks. Once you catch one, the locals bite it between the eyes to kill it, then beat it till it is tender, then pressure cook it for 5 minutes, pickle it in vinegar, or barbecue or grill it. In the restaurants you pay about E10 for a single BBQ'd tentacle. Delicious! We will let you know if we catch one, meanwhile, we have bought tinned octopus.
10.8 We left Ithaka at first light, bound for Levkas island, but spent ages slowly motoring up the coast of Ithaka, exploring all the coves and anchorages , that we will return to later in the year. We crossed for the night to Vasilikis, a bay that is famous with windsurfers and dinghy sailors. David and Roland repaired the torn mainsail the next morning, and we set off to sail to Spartachori, but the mainsail lasted less than an hour before ripping again. We ate dinner at a restaurant on the beach at Spartachori, and walked up the hill at sunrise for the view from the old village. We saw a flying RIB (boat) with dragonfly wings, and another day at Vathi Vali, also on Levkas, we saw superyacht 'Athos' with the flying RIB on the deck.
11.8 we had noticed a nice bay on the way to Spartachori, so motored around to explore. We spent the day relaxing, anchored in 2m of crystal clear water on a sandy bottom. A short motor around to Tranquil Bay, but it was crowded, so we spent the night anchored in the very large adjoining bay Vlihko. We could not believe the number of abandoned or semi abandoned boats.
13.8 After the boys inspected a couple of boatyards, we motored across to Porto Varko, where we had been before and one of our favourites.
14.8 We left at 0700 to motor up the Levkas canal and waited for the 0900 (hourly) bridge opening, and carried on to Preveza, stopping at Cleopatra marina, where we plan to leave 'Restless' in mid-October for the winter. With that organised, we motorsailed on to Parga, where there are 2 very popular bays, overlooked by the ruins of Ali Pasha's castle/fort. There was loud music all night, and fireworks at midnight, so next morning we set off north again. We stopped at Nisis Ay Nikolaos, another very popular area, with several good anchorages, just to have a look. We liked it, so stayed, but by nightfall were surrounded by boats, still nice though.
16.8 As we were about to take a trip to explore the small town a huge super powerboat came and anchored stern to beside us. With 6 crew, we thought if the wind turned they could keep us off as they anchored in our space. Sure enough, when we returned two hours later, the crew was lined up keeping us off. All very amicable and we left soon after. Strong wind was predicted, and we proceeded north into a protected shallow bay at Igoumenitsa, very close to Albania. Literally dozens of ferries go in and out all day and night as it is one of the main ports of Greece, connecting many ports in Italy and Croatia. We were far from them in a safe spot in great holding in shallow water. It was two nmiles to town , which was better than expected, with many tavernas catering for all the people who were catching ferries elsewhere. We bought fresh fruit and vegetables in town, and returned to Restless for a walk along the beach and campsite near our anchorage.
18.8 Consie's birthday, we had emails and phonecalls from friends and family, always welcome, as we often feel quite isolated. We were booked into Gouvia marina in Corfu for a month, while we fly to the UK for 2 weddings, but first we anchored in the middle of Corfu harbour, by Vos Navsika rock, to have a swim in clear warm water, and lunch, before tying up at the marina, near some ancient Venetian galley sheds. We found someone to repair our mainsail. Later we took a bus into Corfu town, where David took us out for Consie's birthday dinner. Town was busy, with people walking around the marble paved streets and eating dinner at open-air tavernas. David helped us to wash down and pack up the boat before he left us to return to the UK, having sailed 350nmiles since joining us in Poros. We have sailed some 1600nmiles so far this year, and hope to sail another few more when we return.
Tonight (22nd at midnight) we fly to Scotland for Gillian's wedding on 30 August, and Roland is hoping to sail with Alan for a couple of days before helping with wedding preparations, and Consie will be helping Fiona and Jane with the flowers.
On Monday 1.9 we will take a train to London in time to help with some of the preparations for Gilbert and Pip's wedding on 6 September. Friends and family are flying in from New York, Canada, Sydney, New Zealand and Hong Kong, and we are hoping for good weather, as we will be going from the Church in Sunbury by ferry-boat along the Thames where Pip and her twinsister Jo used to row, to Ravens Ait island for the reception. We will raise a toast to absent friends.
We are booked to return to Corfu 13 September, with Alan and Fi from Scotland, who will sail with us in the Ionian, and then Kitty and Simon will sail with us, also in the Ionian, before we put Restless away for winter, in Cleopatra marina in Preveza. Olivia has booked us flights back to New Zealand via Hong Kong in mid-October.
---
| | |
| --- | --- |
| | This email is free from viruses and malware because avast! Antivirus protection is active. |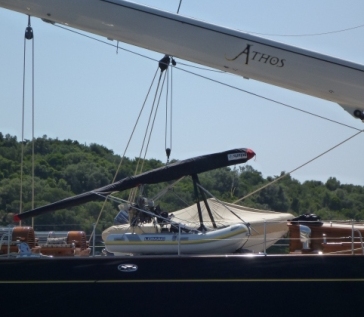 ---