29.7 HALIFAX, NOVA SCOTIA, 44:37.20N, 63:34.70W

Restless of Auckland
Roland and Consie Lennox-King
Fri 29 Jul 2016 14:06
11 July, our kiwi friend Peter arrived in Rockland; a passenger on the bus told him Rockland had a huge seaweed factory. From the smell, we had wondered whether the factory was packing lobsters. We had previously ordered 4 new batteries, which were delivered and installed by Ocean Pursuits on Wed. 13/7. We provisioned and filled up with water and cooking gas, and set off after lunch on our trip to Halifax, Nova Scotia. We tied up to a mooring by Pumpkin Island Lighthouse, and had lobster dinner aboard. The next morning we motored to the Wooden Boat School, and went ashore to show Peter the classrooms, where people build wooden boats and models. We continued on our way, passing Bass Harbor Lighthouse, avoiding thousands of lobster pot-buoys, and stopped for two nights at Southwest Harbor, waiting for good weather, ie no fog predicted.
There are 64 lighthouses by some counts, 70 by others, and even 80 by others; some are private homes, some are haunted, some have gift shops, and some offer accommodation (look up Lighthouse stay).
16.7 the weather forecast looked good, so we got up at 0400 and set off, encountering fog once we left the harbour, as we zigzagged through thousands of lobster pot buoys. The fog lifted about 0630, and we motorsailed east towards Nova Scotia. Consie saw 2 whales, but Roland and Peter were off watch both times. No photos. We made an average speed of 7.7 knots for 14.5 hours, arriving in Yarmouth, Nova Scotia harbour at 1900, after 108nmiles. With an hour time change, it was time for dinner.
We could see thousands of people ashore, and a line of fishing boats decked out in Christmas tree lights started to circle the harbour, then they set off fireworks, amid cheers and roars from ashore; we were right in the middle of it. Oliver texted us to welcome us to Canada, and told us it was the Yarmouth Seafest, what a welcome to Canada!
Our first task the next morning was to clear into Canada, with no phone we walked to the Immigration at the Ferry terminal, where we were told firmly that one is not supposed to set foot on land without phoning first. Like NZ, you are not allowed to bring in any food, animals, guns, and after threats of sniffer dogs etc., we were cleared in. The next thing was to try and get a simcard or phone, but after walking around 5 different shops and the new Mall, we gave up, as we needed a Canadian citizen to guarantee us. We woke up the next day to dense fog, so went ashore and did laundry and found a supermarket which had delicious local pickled herring. Peter took us out for dinner of fish and chips, Yarmouth is a fishing town.
19.7 the fog lifted, and with advice from the locals, we set off with a strong tide, past Cape Sable, to anchor in peace at Negro bay, having motorsailed 62nmiles. The next day, there was no fog again, so we set off motorsailing another 61.56nmiles to Port Medway, a tiny harbour with 5 fishing boats and a church. We woke the next day to clear skies again, so set off 31.55nmiles to picturesque Lunenburg. We saw some dolphin, and some large splashes, but did not see the whale that made them. We went to the Fisheries Museum at Lunenburg, walked around the streets, and went out for a good scallop and haddock dinner.
22.7 we woke up to fog, but by 1030 hours it had cleared, and we motorsailed 20nmiles to Mahone bay, with its 3 churches on the shore. We walked around town with all the tourists, and found a handy supermarket. We moved to a quieter anchorage near Hermans Island, where we were visited by some friendly locals in their kayaks. We woke the next morning to a loon calling for a mate, a real Canadian sound.
23.7 We took advantage of another fog-free morning to motorsail 11.77nmiles to anchor in Chester, by Little Fish island. We were hoping to catch up with some friends of friends of Scottish friends, and Peter was leaving the next day to catch a plane from Halifax to Vancouver, to join a cruise to Alaska. No sooner had we put down anchor, than a fisherman came past and told us to make ourselves known to the Finneys on the island. No time for that, a couple came past, who had been given our names by friends in the Chesapeake, and they asked if we would like to come with them for a tour on their boat, which we did, watching the end of the 'Bluenose' race around the bay. The nickname for Nova Scotians is bluenoses, but these bluenoses are pretty Nova Scotia sailing boats. They returned us to 'Restless', and a handsome young man, Benji, rowed over to invite us to a party in his family home, on their Little Fish island. The impromptu party grew to quite a large number, of all ages, and we met many of the owners of the nearby beach houses, which was great fun, and reminded us of get-togethers at our own 'bach' in the Bay of Islands, NZ.
24.7 Peter left us, to continue his travels around Canada and Alaska. The people we had been hoping to find, came past, calling out "You must be Consie", and invited us home to dinner "if we liked children" as they had 3 of their 4 daughters, and 8 of their 10 grandchildren staying! We do, so we did, go to dinner, for a lovely family meal. Francis loaned me her phone to phone my mother in Sydney, who has been very unwell. And they offered to do our laundry, which was great. Chris was determined to solve our simcard/phone problem, so the next day he drove us to Bayswater, where he guaranteed us, so we could buy simcards and now we are re-connected to the world. He dropped us back at 'Restless' in time for a visit from some neighbours who are planning a trip to NZ. Then Benji rowed out to say that his parents would like to come aboard for cocktails, and who could resist that? So we had 8 new friends on board for drinks, a very social day in our sailing calendar!
26.7 we had quite a distance to go for our meeting with Jane and Oliver on 5 August in Sydney, N.S., so were not happy to see fog the next morning. By 1000 hours it had cleared, so we set off, motorsailing, but soon found ourselves sailing into fog and rain and cold, so after 25.24nmiles we stopped and anchored in Cub Basin for a night. The next morning the fog cleared at 1000, so we set off, only to find the wind had changed, and blown the fog back, we became very disoriented, so returned to anchor. The fog cleared again at 1400 hours, so we set off again, but half an hour later the pea-soup fog closed in again, and we crept carefully from buoy to buoy, eventually arriving, after 24.44 very slow nmiles at 1810 in Halifax, where we tied up to a buoy at the Royal Nova Scotia Yacht Squadron. Wednesday night racing was just starting, and we had a huge welcome from most of the crews of the boats heading to the start. We have now reached Halifax, our goal for this summer cruising, anything north of here is a bonus. Jane and Oliver join us for a week from 5-12 August, and then Fiona and Alan are coming from Scotland for a fortnight. After that, we will probably be heading south.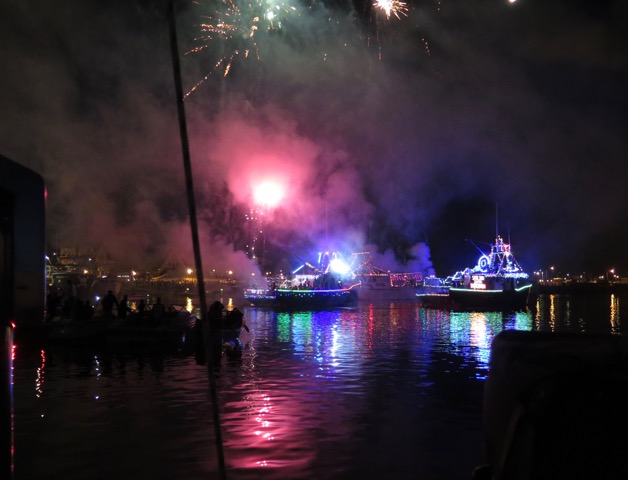 ---