Tortola, British Virgin Islands

Restless of Auckland
Roland and Consie Lennox-King
Sat 11 Mar 2006 23:03
Hi from Restless in the British Virgin Islands.
22.2 Livi left for a long flight back to NZ, and back to uni and work. We waved goodbye and motored across to Scrub Island, Marina Cay, for another snorkel and a rolly night, with Keir aboard for a month, he had arrived from Edinburgh on the 21st. Next day we motored to Virgin Gorda Island, the famous but very crowded Baths, a pile of enormous rocks and rockpools. Roland managed to get the jammed windlass working at last. After lunch we motored around to Spanish Town, walked around the mall, another supermarket, and spent the evening watching turtles hunting for their dinner. Roland fitted a new anode, and we filled our propane tank, which will last about 6 weeks. Ashore there was a music festival setting up in the football field, and we were well placed to hear the music!
25.2 Motored to Bitter End Yacht Club, Virgin Gorda Island, a very expensive hotel, but all meals and watersport are included. It is gorgeous, the water is clear and the sand is white and it's beautifully planted with coconuts, palms and flame trees. There are lots of superyachts in the bay. After staying the night we motored across to Drake's Anchorage, on Mosquito Island, where we snorkeled on the reef nearby, saw lots of brightly coloured fish. The next day we sailed across to Anegada Island, famous for lobsters, and saw a flotsam and jetsam sculpture on the beach.
1.3.06 repaired our RCC burgee, walked on Anegada; and then next day we sailed across to Marina Cay on Scrub Island, and did our laundry. Next day we snorkeled, used the free WIFI, then motored across to Tortola (Beef Island). Corner store for crab cakes and Conch fritter mixture. Alan & Fiona arrived by plane at 9:00 pm., we walked them along the beach and got to the boat in the dark, having crab cakes and rice for dinner and then off to bed at 11. The next day we visited the craft shops ashore, then up anchor and over to Virgin Gorda Baths, very crowded and rolly there, so carried on to Spanish Town, where we ate lunch, swam with a turtle in the clear green water, a quick stroll around town and a sail to Mango Bay/ Savannah Bay, another swim, walk along the beach, snorkel, conch fritters for dinner.
5.3.06 After breakfast, haircuts! Another day snorkeling, swimming, lunch, swimming, snorkeling, more food! Our kettle sprang a leak!!! Motored round to Bitter End Yacht club, where we had happy hour ashore, free WIFI, bought fresh bread and apple turnovers, then back to the boat for chicken curry dinner. Next day a gorgeous sail to Pomato Point, Anegada Island. Swam, had crab cakes and conch fritters for dinner. Next day swam, walked around the island, got fresh bread, then sailed 20 miles to Cane Garden Bay on Tortola Island. Found a small supermarket and a small market for tee-shirts, then had pina coladas and ice cream in The Big Banana. Back to the boat for squid dinner and rum punch.
8.3.06 Our 32nd anniversary. Roland worked on the engine, taxid to Road Town to find spare parts, taxid back to the boat and fixed it. We left Cane Garden Bay and had a lovely sail to Jost van Dyke Island, the home of the famous Foxy's Restaurant, where we had a delicious anniversary dinner. It was a very windy anchorage and we watched about 30 charter catamarans anchoring and dragging and bumping around the bay, an uneasy night.
9.3.06 Sailed to Soper's Hole on Tortola Island. A walk round the tourist shops and provisioned at the wonderful supermarkets. Scallops for dinner, and then 5 big fat men on the charter catamaran in front of us gave us a free striptease at sunset.
10.3.06 Sailed from Soper's Hole to the caves on Norman Island, Treasure Point, where we snorkeled, which was like swimming in an aquarium over-full of brightly coloured fish. We then sailed into the Bight on Norman Island for lunch, and then another wonderful sail into Road Harbour for a peek, then back to Marina Cay where we anchored and had happy hour at the piano bar. Whilst we had a wonderful dinner of lobster and steak at the open-air restaurant, entertainment was provided by a 33 ft yacht coming ashore on the reef in front of the restaurant, and we watched the rescue operation. (We heard that noone was injured, and the boat had broken its rudder).
11.3.06 Fiona and Alan were leaving, and we ferried across to Trellis Bay by the airport, to discover there was a craft fair on, and we had just enough time to have a look before walking to the airport to say farewell. Then back to the corner store and the ferry back to the boat, where we gathered up laundry to do ashore. More entertainment! The power boat in front of us was the nude sunbathers' group and for the rest of the day many dinghies and ferries found excuses to drive slowly past while 2 girls sunbathed and showered repeatedly all day. We had a brown booby bird sitting on our bow, giving many an excuse to photograph.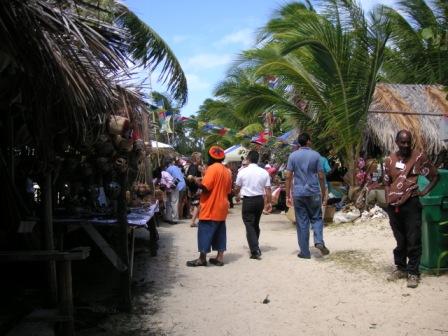 ---