PALMA DE MALLORCA, May 2011, 39:33.80N, 2:38.40E

Restless of Auckland
Roland and Consie Lennox-King
Wed 4 May 2011 08:30
We left Gibraltar on Thursday 21st April, although we had not seen all the sights as there had been clouds covering the "Rock" for almost all our stay, but with winds forecast to be light West to SW we were keen to move on to Cartagena and Ibiza. A violent thunderstorm with lightning and thunder was our introduction to the Med, as Gib disappeared into the gloom. We enjoyed our stay in Gib, which reminded us of old Hong Kong. We did see most of the sights and walked to Europa lighthouse and made good use of the new English supermarket. It was fun to catch up with Anthony, who both Consie and Keir knew in HK in their childhood. Anthony is an IT specialist and works for the world's largest sports, online gaming company, a major industry in Tax-free Gibraltar. We stocked up on rum, whisky and gin at rock-bottom prices (a bottle of rum for 5 pounds.)
Once away from the funnel effects of the Gibraltar Straits we had a fast sail, with the wind behind us and waves pushing us along, the forecast wind increased steadily to about 30 knts and we had to take down all but a meter of mainsail to slow down enough to reach Cartagena at daybreak, as we did not want to surf into the harbour, which was on a lee shore, in Force 7 winds. We saw hundreds of small grey dolphin along the way, but caught no fish. A beautiful dawn greeted us as we motored into Yacht Port Cartagena, built for superyachts, but few have come. >From the sea Cartagena looks like a heavily fortified city, with crumbling forts on every hillside, all heavily bombarded and replaced by newer forts, also bombarded. It is easy to see why it was used by the Romans through to the present.
There had been parades all through Easter week, and as there would be one at 8pm Easter Saturday, we went along to watch. There were thousands of marchers, some wearing tall pointed hats (penitents), groups of a hundred in purple, white, black, or gold hats, with thousands of young people dressed from head to toe in purple velvet, handing out sweets to children. There were several enormous floats, parading the statues from the churches around the city, led by bands. Later we heard there are 250,000 Catholics in Cartagena alone. After the parade we went to dinner at the Yacht Club restaurant, and had the best seafood paella ever (though Keir opted for fresh fish) followed by a giant icecream. Easter Sunday it rained, Keir had bought us Easter eggs, a blue one for Consie! We met a kiwi couple Mark and Amanda from Balvenie living on their Townsend yacht in the marina, they invited us aboard to drink their Balvenie whisky, we swapped cruising stories over tapas, and they came for dinner on board on Monday.
26.4.11: Tuesday morning we left at 0700 for Ibiza. With little wind, we motorsailed the 142 nmiles in 25 hours, arriving at Isla Espalmador, a perfect desert island beach, near Formentera and Ibiza. We all texted home, and then the men celebrated by skinny dipping in the warm water. We walked along the soft sand beach, feeling like summer cruising had begun, with nude sunbathers, superyachts, jetskis, and a crowded catamaran of holidaymakers, blaring HOT HOT HOT! We are having our liferaft serviced in Palma, so we pulled out the grab bag and went through the contents to see what we need to update. As Maurits is a keen and expert fisherman, we delegated him to improve the fishing gear, which he did with his usual enthusiasm. We went into Formentera, to get fresh bread, milk and eggs, and a wifi connection. A few days later we had a fast sail to Evissa, the main town of Ibiza, where we managed to find space in marina Botafoch, at vast expense for the facilities provided. We walked to town around the harbour and up to the top of the hill to the fort and impressive cathedral. We walked around the 14th century walls, looking down into the harbour with only a few superyachts, as it is not yet summer. Keir found English papers with photos of the Royal Wedding.
We had a lovely sail the 60 miles to Palma, arrived on 1 May, tied up on the Dock at Real Club Nautico de Palma, among thousands of yachts and hundreds of super yachts. Some really gorgeous yachts, this is our most expensive marina so far, at E70 a night. Force 7 was forecast for the next day, but we have dozens of jobs to do; most importantly, servicing our liferaft and our Doyle sails, which have done 25,000 miles now. We walked around Mallorca, which has one of the largest cathedral we have ever seen, lit up at night. We are booked into Palma again for 2 nights on 9 May, as we are hoping to catch up with Dutch friends Cees and Marjan, who have a place here, and Maurits leaves us on the 10th to return to Holland, having sailed 1,000 nmiles with us from Lisbon. Fiona and Alan are flying in from Scotland to join us for a fortnight, sailing to Sardinia.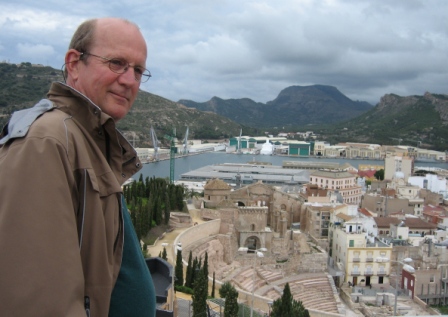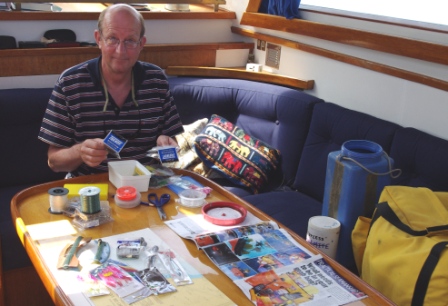 ---