BOZBURUN, TURKEY, end July 2013, 36:41.30N 28:02.50E

Restless of Auckland
Roland and Consie Lennox-King
Sat 27 Jul 2013 13:55
BOZBURUN, TURKEY, end July 2013, 36:41.30N 28:02.50E
In July, with an email from Roland's doctor in NZ saying follow-up treatment could wait until our return end-September, we started planning our summer cruise of about 12 weeks. We plan to do a loop from Marmaris northwest to check out of Turkey somewhere north of Bodrum and sail to some of the Greek islands and south to Crete. From Crete we will sail northeast to Rhodes and back into Turkey, visiting Kas and Kekova and Finike.
We left Marmaris and motorsailed west to Bozuk Bűkű and then to Bozburun, where we stopped for a few days at anchor, where the silver domed mosque nearby called the faithful to prayer 5 times a day. Our kiwi friends Viv and Will sailed in on their catamaran 'Sao Vicente' and invited us aboard for curry dinner. Will still had the chart with the course across the Aegean marked from our joint trip together 23 years ago, his family on 'Tin Fin' and ours on 'Reverie'. Several other kiwi yachts arrived in Bozburun with their 'silver fern' flags flying, and we had a social few days, with 'Diamond Girl', 'Antares' and others, swapping round-the-world tall tales. Roland did some varnishing and painting, went up the masts to clean and polish them, and sailed our Bic dinghy 'Livi' and we relaxed, swimming several times a day. A fisherman came past each day to sell us a disc of 'village bread baked on the rocks', and some of the most beautiful tomatoes in the world.
One evening in Bozburun a rib roared out to us, and it was a kiwi, Peter, and his Turkish girlfriend, Banu, who have sailed across the Atlantic on their Beneteau 46, 'Denise II'. They invited us to dinner at the Bozburun Yacht Club, a perfect spot, and we sat under olive trees on the water's edge, eating mezzes and swordfish. Banu's daughter Denize, has a summer job as a waitress in the Yacht Club, and during the evening she sang, and then later did a fire-dance.
Peter had built 2 rudders for a 50ft racing catamaran with scarlet sails, that had been sailing across the bay, and Roland was invited to go for a sail with Etam and his crew. They had an exciting day sailing on the cat, but the next day it capsized. After a lot of different methods were tried, it was finally righted, but with the mast broken.
We stayed longer than planned in Bozburun, as we had trouble with our generator and watermaker, so we waited for engineers to come and work on them. Bozburun is not a bad place to wait, we noticed that several cruising yachts seem to have got stuck for weeks there. There are about 5 supermarkets, chandlers, carpet shops, and we had an excellent meal with the 'Antares' crew at Gordon and Osman's restaurant, run by Scottish Lyn and her boyfriend, and she also did our laundry. The water is crystal clear and we have been swimming several times a day, keeping our eyes open for underwater ruins. Nice as it is in Bozburun, we hope to send our next blog from Greece, there is so much to see, in both Turkey and Greece, with ruins in almost every bay and cove.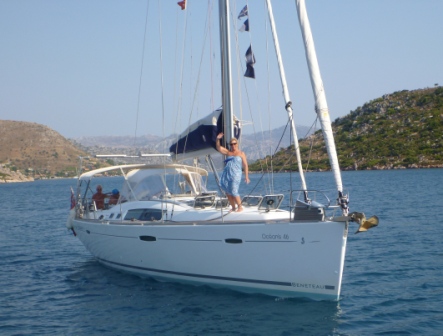 ---