Fw: GOTEBORG, SWEDEN 57.4N 11.5E

Restless of Auckland
Roland and Consie Lennox-King
Fri 22 Aug 2008 07:26
Since our last update Olivia and James got engaged, in Grebbestad, Sweden on 30 July. We are very happy about this, as we all love James. Thank you everybody for all your emails and phonecalls, it has been very exciting and it was so special that James asked her while they were on board with us, we only wish Gilbert could have been with us at the same time.
Livi and James joined us in Oslo on 17 July and since then we have sailed to some magical anchorages together, some peaceful, some in the rocky skerrigard, some in tiny seaside villages, some in larger towns, with unpronouncable names of Snaroykillen, Sandspollen, Nesbryggen, Tonsberg, Vestre, Mellon.
We met up with our Swedish friends Mona and Lars and daughters Emma and Kajsa on Sea Wind, who we met in Scotland last summer. They sailed north from Goteborg to meet us in Hanko, and have taken us to their favourite anchorages in Sweden, named Killingh, Stromstad, Gamstad, Grebbestad, Weather islands, Smogen, Dannemark, Hamburgsund, Fjallbacka, Hunnebostrand, Smogen, Lysekil, Gulholmen, Skarhamn, Karingon, Bassholmen, Marstrand, Goteborg and Utafen, when they sadly had to go back to work, school and university respecitvely, but their role as cruise directors made sure we got a real postcard view of Sweden. As you can see from our photos, there is a huge variety of anchorages and tiny villages and one could easily spend a lifetime cruising in this part of the world and visit a different spot each time.
We have had wonderful meals together, Swedish meatballs, lots of shrimps, salmon and crayfish. We have tied up to rocks in the Swedish way, and motored through narrow rocky canals, past picturesque villages nestled amongst rocks. It has been fantastic to have all the local knowledge and translations and hopefully it will not be too long before we can show them our cruising areas, back in NZ. They checked out the Swedish marinas for us to find one that can take Restless for the winter.
We had sunny weather and swam often, we had visits from nephew Matthew, his wife Adrienne and 4 month old baby Maika, also David and Annette who have circumnavigated, friend David who lives in Antigua, and Livi's friend from Beijing days, Pip from England. Sadly Gilbert could not join us as the superyacht he is on was in the process of being sold, with a delivery to Palma, surveys, seatrials, negotiations, etc. Gil joined us at midnight on 13 August, Emma collected him from the airport and drove him to us, gale-bound in Marstrand, and he stayed for 4 days, just in time to see Olivia for 2 days before she returned to Oslo to fly back to James, Hong Kong, work, and wedding plans.
Livi's birthday was memorable as "sailors gale" was forecast to hit while we were having dinner in a restaurant in Fjallbacka, 9 of us, including the Sea Wind crew and Pip. Luckily we all had our wet weather gear, as it was raining and windy. We had checked the boats regularly, but as we came out of the restaurant we found Sea Wind had dragged her anchors and ended up alongside the marina wavebreak. After some drama getting Sea Wind into a safe marina berth, Livi fell into the icy cold water while trying to catch Sea Wind's cat Skipper!!! On Restless we put out yet a third anchor as the harbourmaster was anxious that we too may drag, but despite force 7 winds we were relieved when morning came and we had not moved. Overall we had mixed weather, with 10 days of windless hot sunny days, followed by gales and rain,just to show us what it can be like in Sweden.
Fiona and Alan joined us in time to see both Livi and Gil and to meet the crew of Sea Wind. We sailed out to Utafen from Goteborg, passed Varholmen, to Hogo, Marstrand and to Skarhamn for Alan's 60th birthday. They will be with us for another week and we hope to give them a taste of Sweden, as they live in Monaco where the sailing is very limited.
We are loving cruising in Sweden and hope to go across to Denmark in the next few days. Restless will be wintering over in Sweden or Denmark while we return to NZ in October and will be in the Bay of Islands for Christmas, returning to Restless end April, after the wedding in Hong Kong.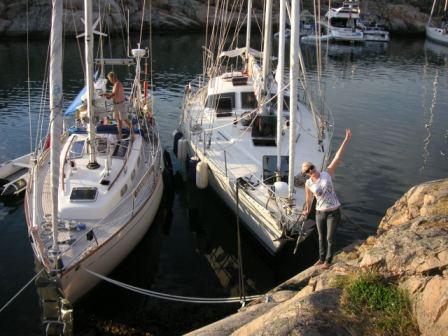 ---