POSTCARD FROM SYMI 36:36.90N 27:51.40E

Restless of Auckland
Roland and Consie Lennox-King
Mon 9 Sep 2013 12:38
6 September

2013, Postcard from Symi, 36:36.90N 27:51.40E
Sailed a loop from Marmaris-Bozburun-Bodrum-Didim-Patmos-Amorgos-Ios-Santorini-Crete-Karpathos-Khalki-Symi-Marmaris
Our last webdiary was sent from Crete, where we were tied up in a marina at Sudha. We walked to the Commonwealth War Cemetery that friends had suggested we visit. There we stood in awe of the impressive cemetery where 1500 Commonwealth soldiers, many kiwi and aussie, are buried far from home. It is a beautiful setting right at the top of the long sound, alongside a peaceful beach. It was a very moving experience and made one realise what they gave for us all, many of them 'unknown soldiers' from 'a New Zealand regiment'.
15 August is a major holiday in Greece, to celebrate the Virgin Mary's birthday, and we found everything SHUT! However at a convenience store Roland asked a man where he got his bread. He spoke no English, but five minutes later when we were walking along the street, he appeared on a scooter and gave us a loaf. He would accept nothing in exchange!!
Our good friends from Hong Kong days, Sara and Mark arrived from UK, and they settled in on board Restless, a bit cramped after their own 62ft 'Resolute' anchored in the Philippines. We visited the Port Police, then took a bus into the ancient Venetian harbour city Khania, and walked around the WWII heavily bombed waterfront, with new buildings built onto the ruins. We bumped into Peter, who had left us the previous day, in the market-place, his next stops were Athens and Istanbul before returning to NZ.
We sailed along the northern coast of Crete, our first anchorage was at Ormos Milati, where we ate fresh tuna from the local market. The next day after a windy sail we anchored at Bali, a wide open bay that the pilot said provided good protection, but did not mention the persistent swell. We had a birthday dinner ashore for Consie, mezzes, Greek salads and seafood, but a rolly night on board. 18.8 we had birthday phonecalls as we sailed along in strong following winds and big rolling seas to Spinalonga lagoon. July and August are known for the meltemi winds along this coast, and we had a very windy night at anchor even in the lagoon although it was very protected and flat water. Mark and Consie toured Spinalonga island, with ruins of a 1500s fort and the ruins of the leper colony, closed in 1957, after a cure was found for leprosy. More than 250 lepers lived isolated lives on this tiny island, within sight of the nearby villages.
We hired a car in Eloudra for the day and drove west along the coast of Crete to Heraklion, then stopped at the ruins of the ancient Minoan city of Knossos, with its painted Palaces, settled before 2,000BC. A very interesting Palace, some may argue they have restored too much, but if some was not restored it would be a meaningless bunch of rocks. Crete is too big to see in a day, but we planned our return via a mountain route that took us past the Battle of Crete site and up to the Plateau at 2000 ft, the highest mountain in Crete being just over 8000ft. We felt we had only seen a small part of the island; a week's car trip would be better, but we gained a good feeling for the place.
The next day, 22 August, we had another windy rolly sail to anchor 33.5n miles away at Erimoupoulis, on the eastern end of Crete. There are not many anchorages that are protected from the big swell set up by weeks of constant northwest wind, but this was good for wind and swell. The swimmers on the beach all disappeared at dusk and we had a solo fisherman in his little hut ashore for company.
The following day we sailed 63n miles to Karpathos, where we had been told of another protected lagoon at Ormos Tristoma, but first we had to squeeze through a narrow passage about 15 metres wide, between a rock and the mainland, with rough water and strong winds. Phew! It was a relief to anchor in this haunted lagoon, with thousands of manmade rocky terraces, now deserted. We saw a large turtle as we were lifting our anchor the next morning to motorsail back out through the narrow passage. Then we motored through another narrow passage between 2 islands, to shorten our passage from Karpathos to Khalki island. We sailed 31.6nmiles to anchor in peaceful Nisos Khalki. We dinghied into picturesque Khalki harbour, where we had a delicious meal of swordfish in a taverna on the waterfront, after taking many photos of this pastel coloured town. With so many windy days, our flags were shredded, and Sara and I spent time repairing them, while Roland got some engine advice from Mark, who is a born engineer.
25 August, another sunny 28.3nmile sail to Symi, where we anchored in the small harbour at Pethi, with colourful houses around the harbour, overlooked by a hilltop town, built to have ample warning of the arrival of pirates. We took a minibus into the picture postcard harbour, where there was a crowd of yachts jostling for space along the docks, and we were glad of our more peaceful anchorage over the hill. We took many photos of sunset on the colourful buildings and fishing boats, until we ran out of batteries. Then we had a real Greek Moussaka and Souvlaki and Horiatiki salad in a taverna on the waterfront, another minibus back to Pethi, a dinghy ride back to the boat, and a last peaceful night aboard for Sara and Mark, who took a ferry to Rhodes to catch their flights back to UK and Hong Kong.
The next day our kiwi friends June and Pat sailed in on 'Antares' and we spent a couple of days together, before clearing out of Greece to sail to Turkey. Unfortunately the Meltemi reappeared and drove vicious squalls down the bay whilst we pirouetted around our anchors and held on as the boat lurched back and forth. A gentle sail the next day saw us back in Turkish waters in the same cove we had stopped in Reverie 22 years ago. Ali Baba's restaurant was not there then, but he has some 20 yachts a night tied to his little dock, and with no charge to tie up, one is expected to eat at his restaurant. Another short sail saw us tie alongside Antares for lunch, which lured into us staying the night. A big mistake, as although we separated and anchored and took lines ashore, gale force gusts at night broke one shore line and we let the other one go. Consie was pleased to see morning.
We arrived in Marmaris to find that the procedure for clearing into Turkey has changed, as boats have been discovered taking Syrians into Rhodes (Greece) nearby, so an officer wants to go aboard each boat to check the number of people clearing in. A German catamaran near us has a large parrot aboard, that whistles to all the tourist boats, is he on their crew list? We had our Turkish friend and Agent on board for dinner with his wife, Ali and Burçu explained a lot of Turkish customs to us. He is the one who organised my new Galley, and may do a few jobs for us this year.
Pip and Gilbert arrive in Dalaman, Turkey on 9 September, and we will be sailing across to Gocek in the next day or so to meet them. Then we will have Scottish friends Fi and Alan coming for 2 weeks. We will join some of the Royal Cruising Club meet, and then Olivia will be our last visitor for this season. As kiwis we are only allowed to stay in Turkey 90 days out of 180, and we will be close to the limit when we leave Restless on the hard at Marmaris again, we are booked to haul-out on 3 October, and will return via Hong Kong to New Zealand for Christmas.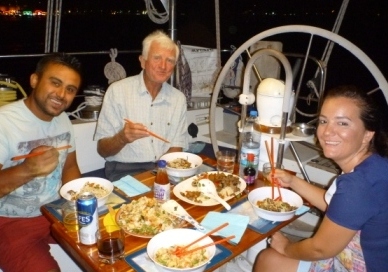 ---