SOUTH DOWN THE HUDSON RIVER TO NEW YORK (40:41.70N 74:03.70W)

Restless of Auckland
Roland and Consie Lennox-King
Wed 13 Sep 2017 13:44
SOUTH DOWN THE HUDSON RIVER TO NEW YORK (40:41.70N 74:03.70W)
4.9 Marg and Andrea arrived at Waterford, and settled into life aboard Restless. We walked to the nearby lock and watched boats, including 2 canoes, locking down 33 feet. Then we walked through Waterford, it was a public holiday so most of the shops were closed.
5.9 we went to the nearby supermarket, then set off at noon, heading south to the one remaining lock. We had saved one lock for Marg and Andrea to experience, and we dropped 14ft down before setting off past Albany to Catskill, where our masts were stored at the Hop O' Nose marina. The Triangle loop was 1100nmiles and we did 61 locks.
We arrived in Hop O' Nose after 38.84nmiles at dusk, to find Oliver was waiting for us. Andrea cooked a delicious Chicken Curry in the Galley, and 5 of us went to sleep, with rain falling all night, and the next day.
Hurricane Irma was on the radar, and we were watching with the world to see where she was going.
6.9 It is too dangerous to put masts in when it is raining, so we put on our wet weather gear, and went into nearby Catskill town, did laundry, and visited all the antique shops. There was an exhibition of 50 cat sculptures, about a meter high, on each street corner, all to be auctioned off for local charities. Our favourites were The Great Catsby and Tutankhatmun, but all were different and what a great idea for a town called Catskill. Oliver took us all to dinner at the Creekside restaurant.
7.9 All hands on deck for mast raising at 0700, which was efficiently done by the Marina men by 0900. Roland was helped by Oliver, Marg and Andrea to put up sails and sort out all the ropes, sheets and halyards. Oliver drove home, and we were finished by dinner time.
8.9 We were ready to leave with the tide at 0530, heading south down the Hudson River to New York before sunrise. We woke to a cold windy morning, but with 1.5 knots of tide with us, the timing for the trip was great. At 1030 the tide changed, and we had over a knot of tide against us, but we carried on. At 1430 we rolled out our sails, such a good feeling after 3 months with no masts. We could see the silhouette of New York in the distance, and at 1700 we were motoring through New York city, a magical feeling. We anchored at 1830 behind the Statue of Liberty, a long day, and we had our dinner and all fell into our bunks.
9 Sept. we set off at 0830 through New York, under the Brooklyn Bridge, past the Chrysler Centre, the UN building, and the Empire State Building, through Hell's Gate. We were called up on the radio and the phone by the Coastguard, and around 1130 were boarded by 2 men from the Coastguard, with guns in view. Their first question was whether we had any guns on board, and we were told to keep our arms in view. They checked our paperwork, and waved us on our way. We had a lovely sail up New York Sound, and at 1815 we anchored off Mamaroneck. We phoned our nephew Peter to let him know we were in his area.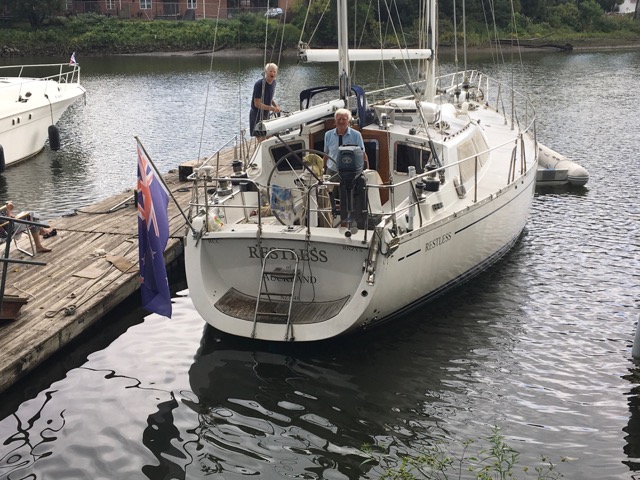 t.
10.9 Peter took Marg and Andrea to the train to New York, with a list of dozens of things to do, shows to see, museums to visit. We had a great visit with them. We refueled, and Peter, Ruth, Jack and Ben came for a pirate lunch of spaghetti and worms [because pirates eat worms!] and a short sail in Long Island Sound, before we went to their home for dinner, got a lift to the supermarket, and did our laundry. The next day Roland did maintenance, and we had dinner at Peter and Ruth's again, and said goodbye. Next time we see their boys they will be so different.
12.9 Roland went up both masts to connect the SSB aerial and put up the radar reflector. We left Mamaroneck at 1400 to catch the tides through New York city, we went through Hell's Gate at over 10 knots. We anchored again behind the Statue of Liberty at 1730. Keir arrives from Scotland at 1400 on 13.9, and we plan to sail south to Cape May, up the Delaware and into the Chesapeake, where we plan to cruise for the remaining four weeks of our 2017 season. We plan to leave Restless for the winter in Deltaville.
---