Another day another bay!

Hebe
Thu 4 Sep 2014 01:16
4th September 2014




Becky's birthday xxxx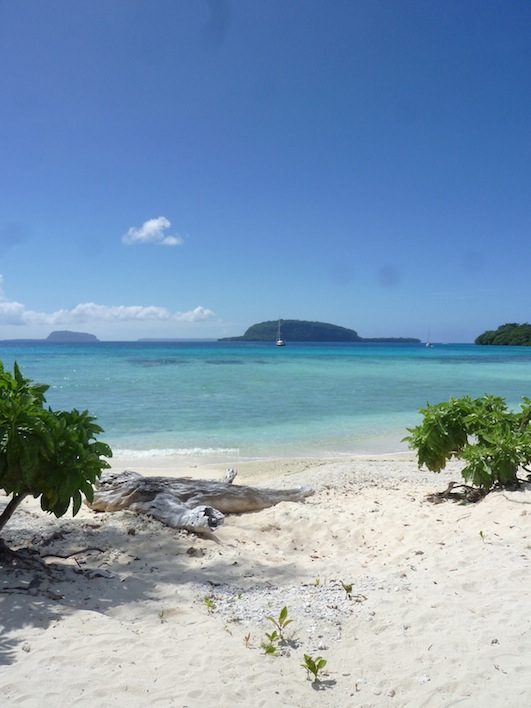 Hogs Bay, Lannoc.
You're all going to hate us and stick pins in our images as this is where we are anchored now. It is the most incredibly romantic and beautiful anchorage we have ever seen. The reason being these little islands off the NE coast of Santo are made of a chalky limestone producing this wonderful soft white sand. So far the sand has been either black volcanic or coral both are rough and prickly but this is self raising flour and the colours in the crystal clear water is so lovely. The water is fed by springs so is not very salty and has no plankton creatures and consequently NO JELLYFISH !! Last night we were dying to skinny dip under the half moon but Harry warned that the sharks do come in hunting at night eeeeks.
Its virtually empty with a gorgeous little restaurant palm fronded where you get a really good meal of poulet fish and rice….not sure what a poulet fish is but its delicious. A honeymooners paradise just the other end of the world.
The local facilities are fun too…..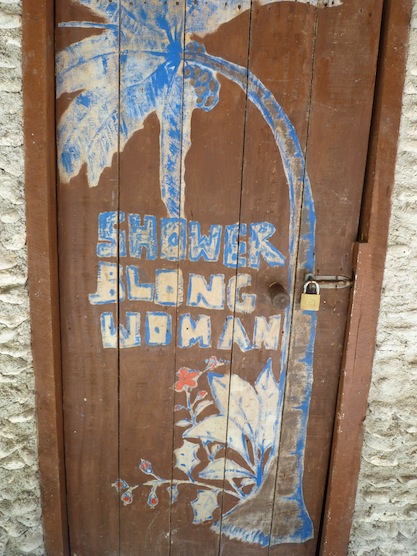 We walked along the coast through the trees where hidden is a sizeable village and those working in this little 'resort' all come from there. It has it's own school and our waiter says he has never been anywhere else. Champagne Beach is around the headland where we first tried to anchor, this is where the cruise ships come to and is the main means of trade with the villagers. They make cloths, sarongs, jewellery and carvings for the tourists. No cruise ship for us thankfully, but the beach had rows of palm covered stalls where they sell their wares and presumably the cruisers are given refreshments. It was empty and as we approached, a lone vendor, Sarah, frantically started to unpack her wares for us and we bought some tie dyed sarongs. During the transaction her toddler became fractious and she sat down on the sand and pulled out a boob while taking the money and dealing with change. Wonderful.
Andrew cooling off after our shopping spree.
Next day we had to catch a taxi to Luganville as all our cash was exhausted, here is Sam's cab……
---