Nuku Hiva.

Hebe
Thu 3 Apr 2014 20:48
3rd April 2014




09:20:03S

140:02:79W



Mothers Day on Ua Pou .
Imo organised this card along with some home made shell ear rings. I felt I was surrogate Mum for all of them.
The week end on Ua Pou was lovely, really old fashioned ( everything shuts down) all the families came down to the beach with pic nics the air filled with laughter and shrieks from the children splashing in the water. Sunday morning quiet as all were in church and again in the afternoon all the families having fun in the sun. The young men surfing brilliantly in their out rigger canoes. A far cry from 24/7 Tescos. We could really do with some old fashioned Sundays again. Bye Bye Ua Pou with your gleaming spires.
Next stop Nuku Hiva and for once the wind was good for a glorious sail over there. Its MASSIVE with 4000' mountains soaring above and heavy clouds hanging ominously. We appeared to head straight for a wall of rock but at the last minute we swerved round a bouncy corner and landed into what seemed like a sea filled volcano. It was rather Scottish and gloomy the water sharky and mirky…. Next day dawned bright and cheery
and we set off to climb up to the 3rd highest waterfall in the world. It gushes down from the top. On shore up this river valley we were amazed to find the Garden of Eden, lush with flowers and fruits. The path was easy to follow and we soon caught up with Alpheratz. Before the advent of Europeans the island had 120,000 people with a sophisticated culture , we walked through many ruins and carvings in the rocks. The jungle very soon takes over. The Europeans decimated them all with their diseases and now we're all a la Francaise.
We never saw the whole length but here's the top and here's approaching the bottom………
The gorge was full of birds miles up , we had to climb and swim to the bottom of the falls in this cavern and the water was like needles on your head, We had to watch out for falling rocks. We heard dire stories of deaths there ! Extraordinary place. Back down in the valley we were greeted by noisy happy islanders who cut down coconuts for us to drink ….so refreshing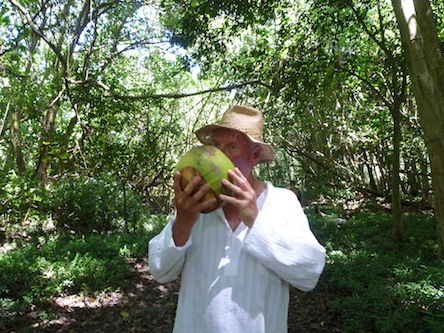 and then invited us all into their home to give us a feast of deep fried bananas utterly yummy, mangos and coffee. Best meal ever. We returned to Hebe laden with a sack of monster grapefruit, mangos, and a hand of bananas.
Back to Hebe after a walk of a LIFE TIME….
---