Society Islands, Moorea

Hebe
Mon 21 Apr 2014 03:11
April 18th 2014





17:30:2S

149:49:1W




Sailed from Rangiroa to Moorea in the Society islands about 36 hours, really dull as there was no wind, we were just about out of fuel and the inverter and the alternator conking out….basically not a lot working on poor Hebe. We limped along cursing the lack of wind. We could see Tahiti for miles, such huge mountains reaching above the clouds. We imagine all the people in the past who have fallen in love with the place, Gauguin, Thor Heyerdal, the great sailor Bernard Moitessier and Marlon Brando after filming Mutiny on the Bounty, apart from Captain Cook of course.

Then Moorea hove into view and eventually we anchored in Cook's Bay ( of the musical South Pacific fame) along with a few others and sang a rousing Happy Birthday to Andrew with some Betty Crocker cupcakes and a citronella candle.



Birthday Boy looking very pink and important, Cook's Bay, Moorea
The local Bali Hai Hotel laid on a party serving weird blue cocktails which give you total amnesia and the Tahitians danced and played with fire. Ali gave him a naked Tahitian mouse mat to cheer him up.
Moorea is gorgeous, volcanic peaks with a turquoise lagoon the island of your dreams. There are many places to buy the famous black pearls.
It is now Easter Day, most of the church goers on the boats are Catholics I seem to be the only Anglican but who cares, and so far everywhere has been Catholic, either in Spanish in the Galapagos then here I thought great its French I can understand it...one American friend offered to take me to church with him this morning and we had a hilarious time first we couldn't find the church then we'd got the time wrong and ended up at a very strange church not even remotely catholic, it was all in Polynesian so again no idea what was going on.. All the ladies were in white with gorgeous straw hats I did feel a chump in lime green. The singing was quite lovely in harmony and so lilting and we made our communion at last and thought of our loved ones the other side of the world.
The youngsters have all hired scooters and have gone off exploring. The island is on holiday with everyone in the sea, in fact quite a few pic nic with their chairs in the sea….rather neat.
Apparently there's a place nearby where we can watch the rays being fed.
Happy Easter from Moorea xxxxxxx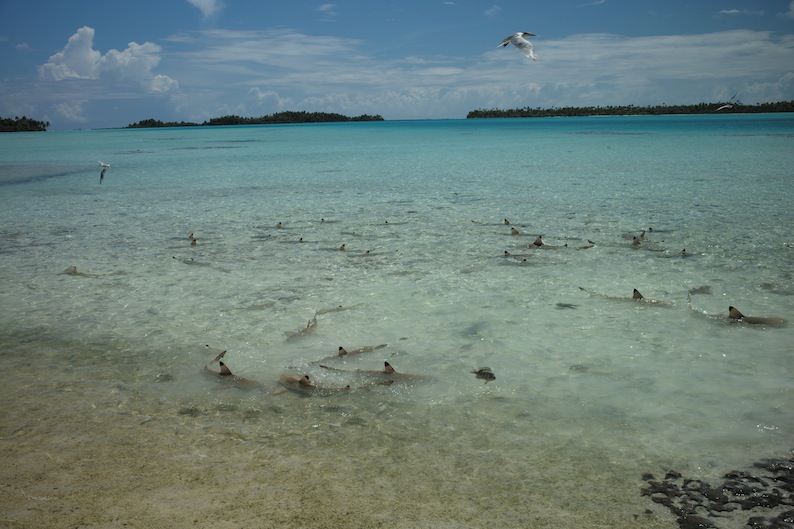 ---