Back in Bora Bora

Hebe
Mon 12 May 2014 09:24
11th May 2014
16:30:04S
151:45:33W
Been back in Bora Bora a few days sitting on a mooring buoy at the Mai Kai Yacht Club, Adam arrived on the same flight as Louise and Phil left on and he's been getting his sea legs here on the mooring buoy, rather overwhelmed by the social whirl that is the World Arc. Half the fleet left today for Suwarrow, I stood on the bow waving our rather ragged Union Jack as they slowly and majestically sailed out through the pass of the reef. Its always a moving moment as they set their spinnakers for another leg.
Adam being put to work ….
I am not sure any will be sorry to be leaving, Bora Bora has been the most spoiled of all French Polynesia, beautiful, yes but sadly there's been thieving from the boats, local youngsters picking fights not to mention the rip off prices. But this island has been the most developed for tourists since the Americans built a base here in the war.
We realise how privileged we have been to see the other lesser known islands that the cruise ships don't visit.
Hebe leaves on Tuesday with the rest of the fleet. The winds are fair and they should get to Suwarrow in 4-5 days. Suwarrow is an isolated atoll inhabited by one man for many years, Tom Neale, he wrote a book but is now dead and nobody lives there now.
Bora Bora being totally touristy they have tamed the rays…. here they feed stingrays off the beach, around 15 come each day and tug at your shorts for food, rather like puppies. They have a wicked sting in the tail, but nobody worries as they are so tame.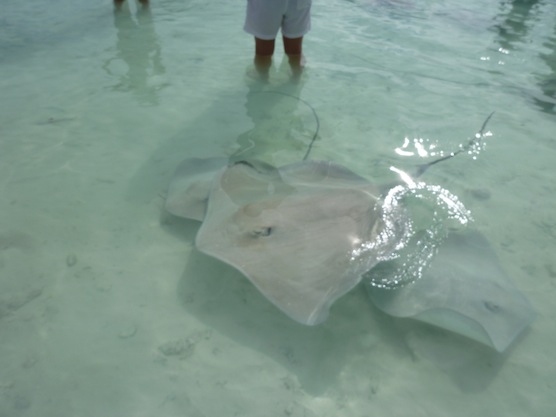 We also dived with manta rays, extraordinary creatures the size of a small plane. They live in murkier waters where there is plenty of food and appear out of the gloom flying towards you with their huge mouths open. They are timid so we were advised to cling onto the coral, keep still and not breathe much !! Sad the numbers have depleted by 80%, they are very shy and you should see the dive boats roaring across the lagoon and the jet skis. I wonder how long before they are gone, such amazing creatures.
Meanwhile its time to provision for the next leg….
High Street Bora Bora….a dorade (Mahi Mahi ) for sale, they're bright blue when caught then turn gold.
I am jumping ship and going Off Piste for a while re-joining in Tonga.
Andrew and Adam will be guest editors.
---