Exploring Las Perlas

Hebe
Tue 4 Feb 2014 14:36
4th February 2014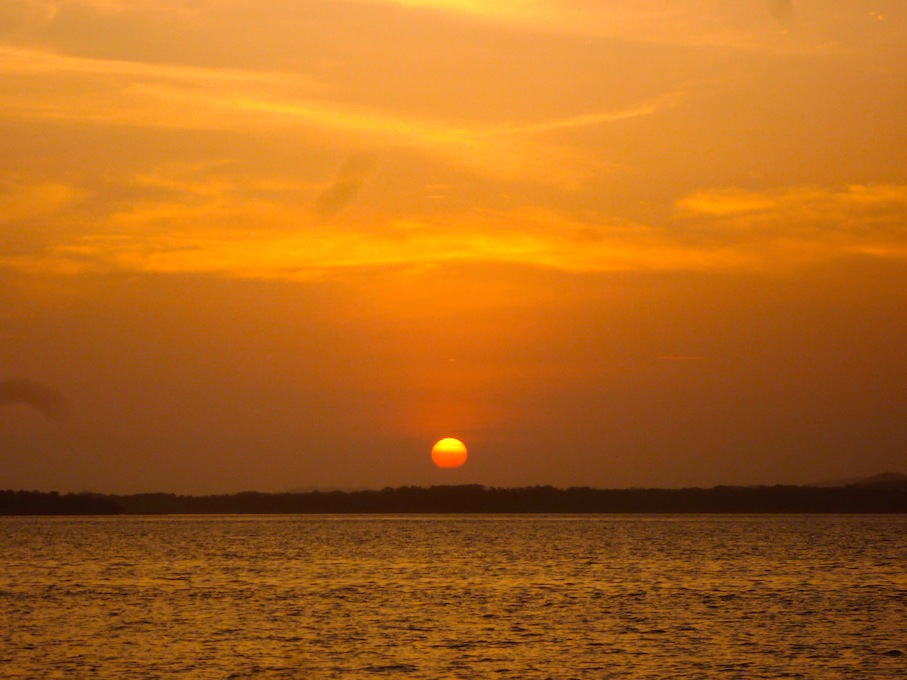 Weighed anchor at dawn, why am I ever asleep at this time? Must PhotoShop this with pelicans off on an early sortie.
We weaved our way between the islands, Immy using the lat and long in the pilot book chart and a ruler, the GPS is wrong and has many a yacht aground, still there's always a good tide to whisk you away. One channel was bubbling with overfalls as we crept along hoping the engine held.
A massive line of cormorants flew over head in V formation you could hear Dam Busters playing.
Imo has been having a nightmare as her computer with all her gorgeous photos and her whole life has been corrupted and she's spent the past few days talking to Apple, oh dear. It meant we had to dodge about to find phone signal on our journey south.
Our present anchorage off Isla Del Ray is the first place in the entire world where Andrew's Blackberry hasn't worked…..whoooo Hoooooo. He's been pretty much glued to the thing since it was invented.
You're probably sticking pins into my effigy (backside) because I got the shock of my life when doing my usual leap off the boat to swim to shore to find the channel full of these horrid stingers, thin nylon threads covered in poison which burns like hell, so glad I wasn't skinny dipping but arms and legs were covered, lots of squeeling only arrested by a heavy dowse of vinegar….pongs ! Our last place was stinger free you just don't know. Haven't spotted any crocs yet but found the biggest sand dollar.
Low tide here is so alive with hermit crabs of all sizes trolling along with their comical shells, lug worms and clams
AND the channel is FULL of fish and we've all been madly catching tuna, Andrew getting quite good at gutting, managing to overcome his vapours with blood and guts whipping heads off with abandon. Phosphoresence again last night we 're dying to swim amongst it but don't fancy getting our bits covered in acid.
Spent the evening trying to work out Jonny's game of Pandemic, world obliteration from disease……too much rum I think we'll have it taped by the time Jonny and Kath arrive. Meanwhile we're having a backgammon contest with Ghost, could be bloody Andrew's sharpening his dice as we speak.
As Panama booms today these islands only 30 miles away are doomed to development, in 20 years I imagine they will be full of hotels and jet skis.
---