Mt Yasur, Tanna

Hebe
Fri 19 Sep 2014 05:04
16th September 2014




Thrilling adventure to the island of Tanna to the south of Efate, where we are at the moment, in Port Vila awaiting spares.




Tanna is famous for having one of the only easily accessible active volcanoes in the world - Mount Yasur. She's relatively quiet at the moment but has major eruptions every 5-10 years.

We flew in a small Cessna with very rattly doors and a rather dour French pilot who'd had a few too many croissants and could barely fit behind his joy stick. 6 of us in all squeezed in on a rainy, grey day and not really cheered by our sardonic pilot telling the poor girl in the back seat she was in charge of the life raft. You hold zees, you chuck zat et puis good luck, huh? Boff alors!

We piled in and the little thing took off into windy uninspiring weather. I thought the whole affair was going to be a waste of time as we were told it's not worth bothering unless the weather is clear blue. Anyway we got to Tanna and part of the deal was a flight past the volcano, and low and behold it was clear, as the wind was blowing all the clouds away…..woo hoo.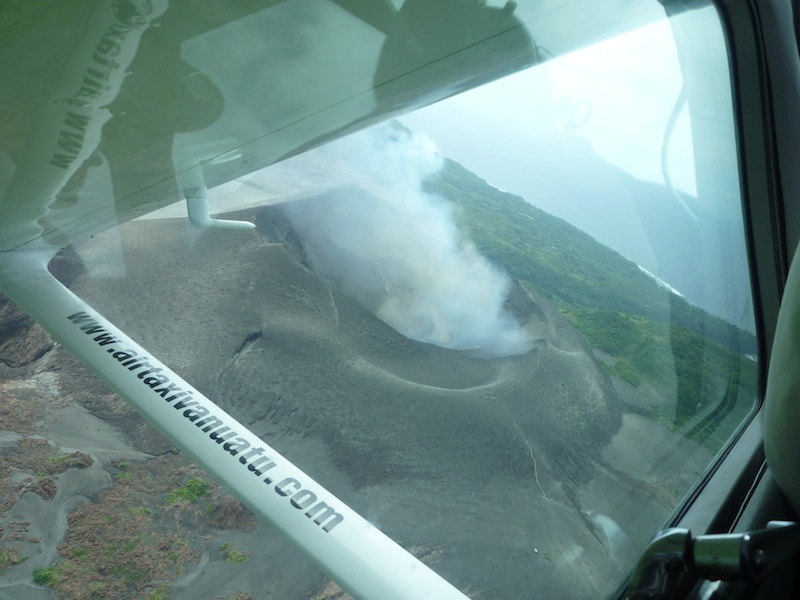 Monsieur le pilot was unimpressed with my shrieking with excitement as he banked low around it. Mais dit donc.
Landing was seriously hold your breath time with a 25 knot cross wind and a very wibbly wobbly approach. Eeeeeeks !
Then there was an hour and a half's demolition drive in a truck up to the volcano through the jungle arriving at dusk. We almost had our heads wrenched off our necks on the rutted road and were covered in volcanic ash and dirt. Really authentic.
It was all blissfully lacking in any Health and Safety regulations and long may it last. Wiltshire Council would have had the vapours.
The slopes of Mt Yasur. Wind clearing the clouds and smoke away….
At this point you could feel the ground tremble and heard thunder wondering sh**** what was that?
You can just see the road at 10 o clock, then you walk the final bit to this actual rim where you stand….and the NOISE is awesome. It's how you imagine the explosions in the trenches, that thump and roar and hiss. Truly terrifying and mesmerising at the same time.
Then it got dark and what a display…….
You stand on the edge of this abyss with nobody advising you not to fall in……the wind was clearing all the sulphur gasses so the lava spewing up was crystal clear and frighteningly close. She erupts about every three minutes, you wait completely hooked, then she begins a few sprays of red the sound coming a second later with a stupendous roar and shudder that is breathtaking, you feel the thump physically in your chest.
We were advised that if the wind changed and lava started to come our way…...not to run but watch carefully and jump aside….that's wonderfully sensible. The occasional tourist gets killed but hey this is a live volcano.
After the return demolition drive back down (frankly that 6 hour walk to the last one was probably easier - Ed).
We were to stay in this 'Eco' Resort. Our sorry thatched hut had it's roof held together with a flapping tarpaulin and we had a monster wolf spider keeping guard of the loo and lots of mozzies and flies. Come back Hebe all is forgiven. Still we were so exhausted from all the excitement of the day we literally collapsed under our mosquito net and by the morning had grown quite fond of our spider.
---