The Final Leg

Chiscos - Atlantic Cruise
John Simpson
Tue 26 Jun 2012 09:13
50:53.410n 001:23.270w
After all our fears and alarms...as the song goes, we arrived in Falmouth on a crisp cold June morning.
We had had a very challenging, but fast crossing from Horta in the Azores, and completed the 1265 miles in just under 9 days.
We had some extreme weather - 50 knot winds and towering 8 metre waves, but Chiscos coped well and despite some scary moments, the crew came through fine.
There was some times when the winds didn't blow quite as hard and this allowed our resident astro navigator to make sure the gps was working properly...
...and also to allow a bit of tuition to take place.
We arrived in Falmouth early on the morning of Sunday 17th June. We were followed in later that day by Mike and Alexandra on Halo and the Heike and her crew on Endo 2. The following day Felix and Louisa on the Pinta arrived after stopping for a night in La Coruna.
In true Chiscos style we organised a party and enjoyed a great time with all the crews when they had arrived.
John then left us in Falmouth and we started to make our way to Southampton, via Plymouth, Dartmouth, Weymouth and Yarmouth. We had some really bad weather during the week, but we were determined to reach Southampton on Saturday, to meet our reception committee!
As we made our final approach up Southampton water, we were met by Graham and Geoff (off Nyda) in Grahams boat 'Shiatsu' This was a great gesture and made us feel as though we had really arrived.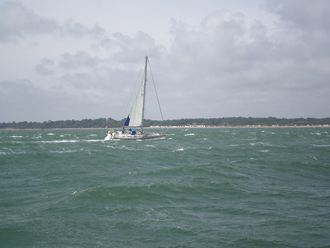 Shiatsu as she came up Southampton Water
We pulled into Ocean Village Marina just after 2pm on the 23rd June as planned, to a great reception. Hooters, cheers, lots of the crew who had been with us during the trip, champagne and cake!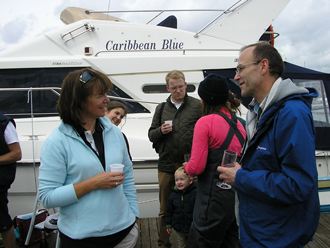 Our Atlantic circuit has been a truly amazing trip. We have logged 10,817 miles, at an average speed of about 5.7 knots and motored for 501 engine hours. What has made the trip so much fun has been the wonderful crews we have had on board (we had a total of 19 different crew on board!), and the great people we have met along the way, both locals and other boat crews. The ARC teams for both the ARC and ARC Europe have been great and I would thoroughly recommend The World Cruising Club.
Thank you to everyone who has made this trip so special for us all.
Fair winds and safe sailing to all the crews who are still on their adventures.
Chiscos is now at her berth in Southampton, where she will wait patiently until her next great adventure!
John.
Skipper, Chiscos.
---