"Out" (Definitely not "Over and out!") Fri 9/Sat 10

Chiscos - Atlantic Cruise
John Simpson
Sat 10 Mar 2012 13:16
17:00.00N 61:47.00W
Catamaran Club Marina, Falmouth, Antigua
Mission accomplished as far as Antigua. Another major landmark on Chiscos' voyage and time for a crew change.
I'm leaving today but I can already see how the next fortnight is going to pan out for Skipper and First Mate/Ship's Boy until Susan rejoins. First off there's the troublesome generator and those endlessly entertaining emails from Rod about how to fix it. That should account for a good few days. But I can also report an absolutely endless pastime………ridding the boat of mosquitos. Beware any flying, biting insect venturing on board, as Chiscos has every defence operational and hourly patrols (with torches) to ensure the safety of all on board. Thank God for SuperZap!
The formalities are all dealt with at the cutest olde worlde customs house in Nelson's Dockyard.
The laundry is despatched; the dinghy is mid-fix and the prop on the outboard has been tweaked. I've done another fabulous dive, just myself and Shawn, the owner of a marvellously named Soul Immersions dive company. We saw octopus, a nurse shark and he caught a Puffer Fish with his hands and made it blow into a complete round spiky ball.
We've also had great live music both on board:
…and off with this band we watched till late last night:
The other major task of course will be to resume control of the Blog as the current interloper disappears tonight. I've learned many things on board and I feel duty bound to share three of them with you, particularly if you're about to join over the coming months:
Do not say "Over and Out" on the radio. Any idiot knows that's only said in B-movies.
The simplest way to tie a bowline is upside down
Don't miss the mooring buoy or you may have to dive in to get it.
I wish I could have regaled you with tales of massive fish caught with impressive kit on board here but sadly I shall have to pass that mantle of responsibility on too. However I have finished the red teabags which have been cluttering up the cupboard since Las Palmas. Job done!
It's been an amazing and totally memorable two weeks and I've been very lucky to have shared in just one tiny portion of the adventure. Bon voyage for the trip home!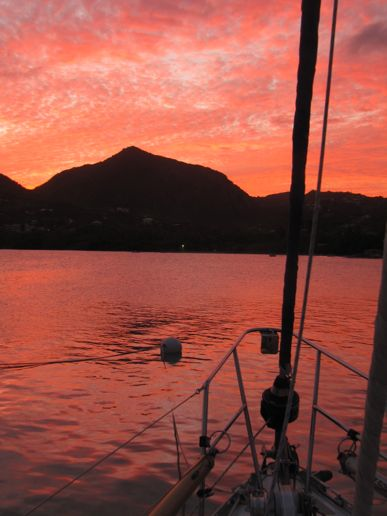 This is Jonathan, Out!
---