Duty Free Shopping

Chiscos - Atlantic Cruise
John Simpson
Sun 8 Apr 2012 13:07
18:01.992n 063:05.786w
Our next destination was to be St Martin or Sint Maarten, depending on where we made landfall. This island is divided in half so that one side is French and the other is Dutch. We set off in light winds and with quite a swell running, so it wasn't a pleasant sailing motion. Eventually we gave in and put the engine on, with the excuse that it would charge the batteries and provide lots of nice hot water for our showers! In the end there was really only one place suitably named to be our anchorage - Simpson Bay - and we arrived in the Dutch side, Sint Maarten. We anchored behind a reef which stopped some of the swell from entering the bay, but it was still a rolly corner.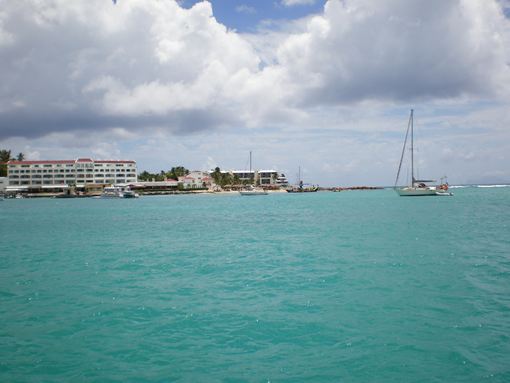 Stepping ashore, we discovered yet another face to the Caribbean; the area around Simpson Bay could have been lifted straight from an American town and there were many American tourists in evidence just starting their Easter vacations. It was very hot and humid so Joe and Clair decided to treat themselves to a night in an air-conditioned hotel. They hired a car and toured the island, staying on the French side which they said had a very different feel to the Americanised Dutch half. John and I stayed with Chiscos and caught up on our various tasks - including updating the blog!
John and I took a dinghy ride the next morning into Simpson Lagoon, which is accessed through a lifting bridge from Simpson Bay. This was superyacht heaven, with billions of pounds worth of huge motor and sailing yachts lined up in rows. Most of them featured a crew member busily cleaning the decks - that seems to be a constant activity in superyacht world! We were surprised at the contrast between the luxurious lifestyle on board these vessels, and the tacky downtown American feel to the road running a few feet away from them. We presumed that these yachts had chefs on board so there was no need to eat with the masses in Lee's Roadside Grill as we did! We were pleased to find that the streets were paved with our name, though!
Joe and Clair returned refreshed and we prepared the next day to leave for Anguilla. Clair and I set off for the supermarket whilst John and Joe nipped into the Chandlery for a few spares. The background to this final part of the story is that Rob from Beyzano had bought an outboard engine in Sint Maarten as it is a duty free island, and this had featured quite heavily in our conversations with Rob whilst in St Barts as our own outboard had started to be rather unreliable. There had been quite a bit of banter about us taking his old outboard off his hands, as a favour, and at a very reasonable price, which got lower and lower as the banter progressed! Anyway, back in Sint Maarten, Clair and I arrived with our supermarket bags at the rendezvous point at the appointed hour, to get a message saying John and Joe would be a bit delayed. An hour later, and as Clair and I had started to speculate on the reason for the delay, Joe appeared looking very sheepish, and minus John! Sure enough, I had speculated correctly that the duty free shopping lure had led to the discovery of an absolute bargain outboard engine which John was at that point making his own. A little while later Joe appeared again proudly showing off Nellie the Engine II, with poor old Nellie the Engine I now destined for a voyage back to the UK in the front locker.
Susan
---