5th June. Horta

Chiscos - Atlantic Cruise
John Simpson
Mon 6 Jun 2005 12:42
So this is Horta. The goal of our entire trip. We will be only able to stay 1 day - but it has been well worth it. The marina is heaving with yachties all on the way to somewhere!! There is a real party atmosphere, with the weather helping to relax people. There are a lot of ARC boats here - mostly on their way back to the UK or doing a short cruise around the Azores.
The harbour wall is every bit as good as people say. There are some great works of art here and it is good to see so many well known boat names on the wall.
We bade a very sad farewell to Rob in San Miguel. He was great to have aboard - and even did some washing up!! He will be sorely missed.
Our new crew have arrived in the form of a brace of Davids!! Both appear to be settling in well especially now that David A has recovered his luggage!!
Carrie and Richard unfortunately leave us in Horta. Richard was a sailing virgin until he joined us for the 150 mile trip from San Miguel to Horta. He coped very well but was left wondering what do they do it for?!?
There is a wifi connection at Horta so I will take this opportunity up load some of the better photos of the last week or two
Walking the Levadas in Madeira
Our French artist hard at work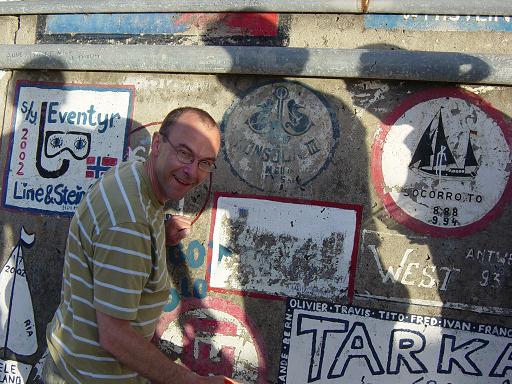 The crew about to leave Madeira
Using the WiFi connection at Horta
Chiscos squeezed into the marina at Horta
---