St Eustatius

Chiscos - Atlantic Cruise
John Simpson
Fri 6 Apr 2012 09:14
17:28.802n 062:59.316w
After our disappointing visit to St Kitts, we weren't expecting much from the island of Statia (pronounced staysha), the local name for St Eustatius in the Netherlands Antilles. We were to spend the night on a visitors' mooring buoy in a bay without a beach next to the oil terminal, which didn't sound great but provided a good stopping point on our way to St Barts. We arrived to find plenty of space, and a rolling swell running through the bay.
However, we tied up and sorted out our various methods of keeping the boat as still as possible, setting a stern anchor and suspending the sea anchor off the end of the boom to provide a bit of stability. At this point Joe decided he'd found the perfect diving platform and shinned out along the boom. It was probably a bit late at this point to be asking whether the boom would take his weight - luckily it did!
We were pleasantly surprised by Statia. It had been an important port in the 1700s, when the island was one of the few free trade ports. The ruins of the original town on the sea shore were still visible but had long since been destroyed by hurricanes. As John checked out with Customs in the morning, Joe, Clair and I walked up into the replacement town of Oranjestad, now at the top of the hill to see whether we could find a bakery. It was a beautiful place and spotlessly clean, unlike many of the islands we have visited. The historic buildings had all been restored and it had the feel of a model village.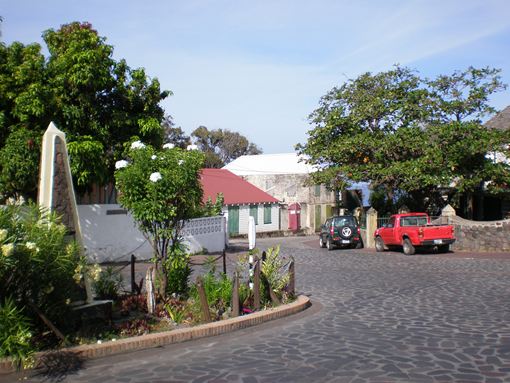 We found the bakery, but the baker only makes white bread on Monday mornings, so no pastries for breakfast!
Susan
---