Portosin

Chiscos - Atlantic Cruise
John Simpson
Thu 11 Aug 2011 10:42
42:45.82n 08:56.77w
Yesterday (Wednesday) we left the anchorage at Muros for our shortest journey yet (4.79 miles) across the Ria (estuary) to Portosin. Whilst Muros was very picturesque, the NE wind made for some very lumpy nights. Quite the opposite to UK conditions, we found that the anchorage was calm and settled during the day and a strong wind came up as soon as the sun went down.
We are now in the marina at Portosin (see view from Chiscos' cockpit below). There is a beautiful beach with fine white sand which contains silvery flecks. The sea is very clear so that when the waves pick up the sand at the water's edge it gives the impression that someone has sprinkled glitter into the water - very pretty!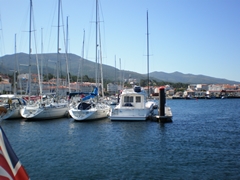 We thought we had a problem with the fridge after leaving Camarinas, so took the opportunity in Portosin to continue our Spanish lessons by conversing with the local refrigeration engineer. After much use of the Spanish dictionary - the engineer took to it with gusto! - we have established that it is all working fine. We had reprovisioned in Camarinas and think we put too much that was unchilled into it at once. The fridge was just struggling to get everything cold again in the warmer temperatures. Anyway, it's good to know that it is working fine and we had a great time chatting to the engineer, who incidentally is very surprised about the riots in the UK because British people have the reputation of being so civilised!
We plan to move on tomorrow (Friday) round to the next Ria. Our next port of call is 9.5 miles as the crow flies, but 41 miles by sea!
Susan
---