No raw paws pricked here!

Chiscos - Atlantic Cruise
John Simpson
Wed 11 Apr 2012 08:08
18:15.802n 063:10.669w
The distance from Anguilla to Virgin Gorda, the nearest of the British Virgin Islands and our next stop, was 80 miles and we would need approximately 15 hours to complete the journey, so we decided to sail overnight rather than risk arriving after dark. We decided to spend the day at Prickly Pear Cays which is close to Anguilla and would cut a few miles off our overnight sail.
A short trip over to Prickly Pear Cays took us past Sandy Island, which had appeared to us to be deserted as we approached Anguilla
but we discovered from the other side that there was a bar/restaurant hiding amongst the palm trees.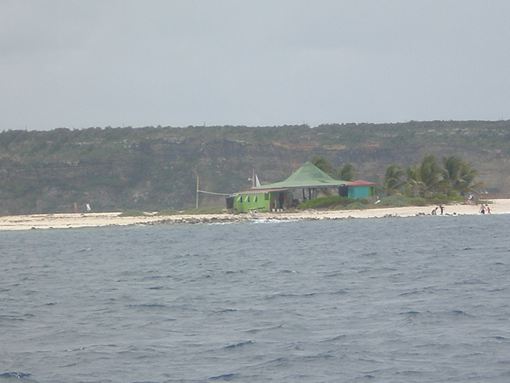 Prickly Pear Cays was equally beautiful, though the anchorage was a little wild and we could see why boats were not allowed to stay there over night. The cays are old reefs that have raised from the sea bed and have slowly been eroded to create low-lying islands of coral, rock and beautiful white sand. The waves crashed over the reefs as we picked our way round to the sandy beach. There were two restaurants here, but unfortunately both closed on Mondays - the day we were there!
We enjoyed a lovely beach walk and a swim, though I was a bit disconcerted that every time I entered the water a single fish, about 10 cm in length, insisted on swimming very close to my legs and would not be shooed away!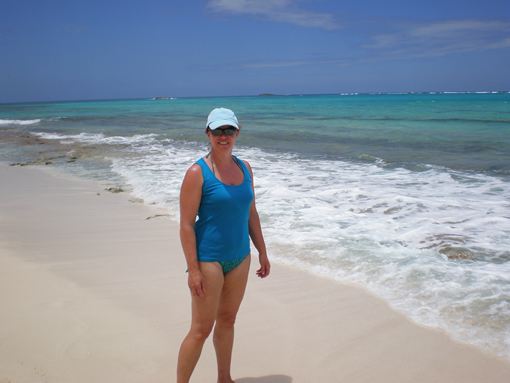 Joe discovers that the way to a girl's heart can be through coconut and not just chocolate!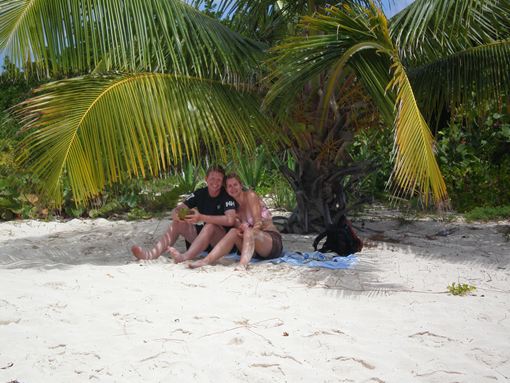 Despite it's name, we didn't see any prickly pears and so were unable to sing ourselves the line from The Jungle Book "if you pick a paw paw or a prickly pear, and you prick a raw paw then next time beware".
Susan
---