Half way! Updated

Chiscos - Atlantic Cruise
John Simpson
Wed 7 Sep 2011 13:16
35:36.71n 013:52.45w
We are making very good progress across the Atlantic to Madeira and Porto Santo. Yesterday we achieved a record-breaking 153 mile run. The last 24 hours we have covered another very credible 141 miles. Currently we have 195 miles to run to Madeira so we should be there probably late tomorrow or early in Friday.
The crew have been working hard as we struggled with the parasailor!
And unbeknown to us we were joined on the night by this little chap!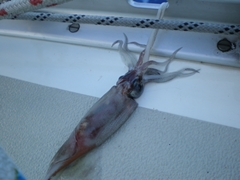 But on the whole the crew looked as though they were enjoying it.
John
---