Camarinas

Chiscos - Atlantic Cruise
John Simpson
Fri 5 Aug 2011 15:59
Our final tourist expedition in La Coruna was to hire a tandem and cycle along the coastal cycle route which took us around the whole peninsula. We reckon the last time we rode a tandem was about 1982 so we didn't do badly - I did find it best to close my eyes at certain points as John was in charge of the brakes!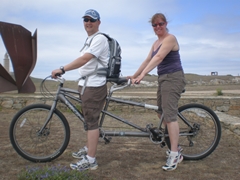 On Thursday it became apparent that the weather window we had been waiting for on Friday wasn't going to materialise, so we took a decision to leave straightaway. After a quick dash to the supermercado, water tanks filled and everything stowed, we set off along the Costa da Morte. Apparently it's very beautiful, but the weather was so poor (visibility about 1/2 mile) that we didn't actually see anything until we got close to our destination and needed to get close enough to the rocks to find our way. The sight of waves crashing on the rocks through the fog was quite disconcerting! It rained most of the day, the sea was rough and the wind blew strongly from the direction we wanted to go, so it was with some relief that we arrived in Camarinas just as it was getting dark.
This is the visitors' pontoon at Club Nautico Camarinas where we were pleased to find a space last night. The yachting community in this part of Spain is truly international. In La Coruna we met 3 Norwegian girls on their way from Bergen to Sydney, Australia, a British couple from the North East who were on their way to Turkey and a Swedish couple who just wandering and didn't know when or where they would go next. In Camarinas we have Norwegian boats either side of us and there are also yachts from Germany, France and Holland. We have met a few skippers who will also do the ARC rally this year, one in La Coruna and two here in Camarinas. We haven't yet met anyone else doing 11 months on the boat like John, most seem to be moving their boats down to Gran Canaria in stages ready for the rally's start in November.
Camarinas is a small, quiet town after La Coruna's bustle. The town is tucked around the corner in an inlet surrounded by wooded hills (see distant view in photo above). We get the impression that this corner of Spain is quite poor but is trying hard to build its economy. The town is not particularly attractive, but has had a deck promenade built all around the harbour area that looks quite out of place it is so modern! We plan to stay here a few days as there is some bad weather coming in for the weekend. We should have better weather by Monday to continue our meander in a southerly direction.
Susan
---