Road to Hell Wed 29 Feb

Chiscos - Atlantic Cruise
John Simpson
Fri 2 Mar 2012 13:22
14:44.5n061:10.7w
We've been down the road to Hell
Rue d'Enfer is a reference to the hellish volcano which erupted over the town of St Pierre which used to be the capital of Martinique in 1902. It destroyed the whole town killing 30,000 in spite of the fact that they'd had plenty of warning that it had been about to happen. Much of today's small town is now built amoung the old ruins and the disaster is now the main theme of the tourist industry there.
We'd got to St Pierre after a wonderful sail up the entire West Coast of Martinique with the island sheltering us from the wrath of the Atlantic. We even got a fabulous view of some dolphins from the boat, maybe as many as twenty swimming alongside us for a minute or so.
The day had begun with croissants from the local patisserie in Le Marin
However I regret to inform you that the skipper has had some issues with our French hosts in spite of their fine cooking traditions. During the day there were several altercations which cemented many of the views he may just have harboured previously and by the time we got to St Pierre we all agreed that the best thing was for him to fine some very important jobs to do on the boat rather than join the shore party and risk any further damaging interactions with the natives! Somehow we've still got to get him through Guadeloupe!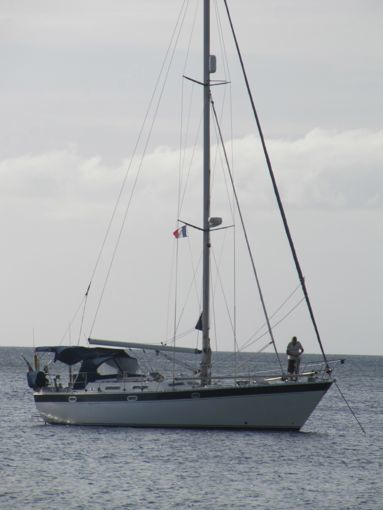 Add to that the fact that it tipped with rain during the night and much of the next day and there was clearly a French conspiracy against Le Voyage du Chiscos. Martinique just needs to be warned that his Trip Advisor entry may well have a dramatic effect on the island's balance of payments from tourism for years to come. For those of us with fewer Caribbean islands with which to compare it, we're still counting our blessings!
Jonathan
---