Day 9 - Beautiful day with no fridge

Blue Note
Marco M.
Mon 20 Nov 2017 17:07
Date:  Monday 20/11/17   - Time:  12:00 EST
Position 20:30.75N   64:16.988W
COG 184T SOG 7.25kt, Wind 115T 13.3 kt,
Temperatures: Air 29 C, Sea 33.6 C
Barometer: 1008  hPa - stable
Sailed distance since departure: 1400 NM
Last 24h Sailed Distance: 123 NM
Last 24h Decrease Distance on rhumb line: 90 NM
Time since departure: 9d 4h 45m
Average Speed since departure: 6.35  kt
Average VMG since departure:   5.67  kt
Average VMG speed last 24h:    3.75 kt
Intention: sail to Antigua
Distance to End on rhumb line: 247 NM
ETA : Wednesday Nov 22, 2017 @ 16:00

Detailed Track:
https://share.garmin.com/svBlueNote


Refrigerator remains off. Refuses to start. I guess the night of rest did not help.
We re-checked everything and we think we solved the problem of the bad contact to the thermostat
but now the control-unit on the refrigerator appears of not working.

On the other hand during the night we crossed the stationary front with some rain and light and variable wind
and today is a beautiful sunny day with a SE wind of 12 kts.
 



Sunday Nov 19: Approaching the stationary front




Sunday Nov 19: crossing the stationary front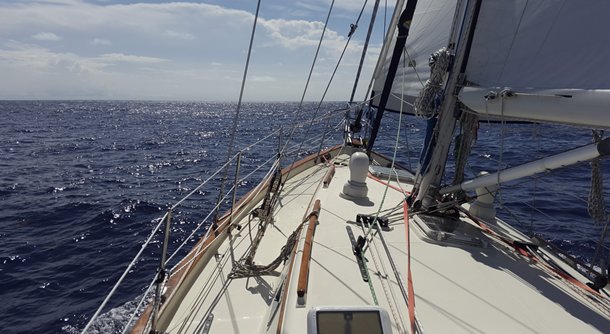 Monday Nov 20, on the other side of the front. Beautiful sunny day with a 12 kts breeze


---