Day 6 - Catch of the day: Tuna 26:15.56N 69:31.71W

Blue Note
Marco M.
Fri 17 Nov 2017 19:16
Date:  Friday 17/11/17   - Time:  12:13 EST
Position 26:15.56N   69:31.71W
COG 136T SOG 6.4kt, Wind 41T 16.7 kt,
Temperatures: Air 26 C, Sea 32.6 C
Barometer: 1005  hPa - steady
Sailed distance since departure: 948 NM
Last 24h Sailed Distance: 144 NM
Last 24h Decrease Distance on rhumb line: 133 NM
Time since departure: 6d 5h 00m
Average Speed since departure: 6.36  kt
Average VMG since departure:   5.60  kt
Average VMG speed last 24h:    5.53 kt
Intention: sail to Antigua
Distance to End on rhumb line: 664 NM
ETA : Wednesday Nov 22, 2017 @ 15:00

Detailed Track:
https://share.garmin.com/svBlueNote


The lunch yesterday with the Mahi-Mahi was delicious. Simple sauce with ginger, garlic, balsamic vinegar, honey and soy sauce served with rice and of course with a cold Italian Pinot Grigio.
We had busy night with a series of squall that tested our reef/shake a reef skills.
This morning the sky is overcast (there is an occluded front in between us and Antigua) but the wind steady at 16 kts.
Of course as we were preparing lunch a large tuna (about 22 inches) interrupted our preparation.
The tuna is now filet in the fridge ready for tomorrow lunch.
 



Yesterday Mahi-Mahi lunch.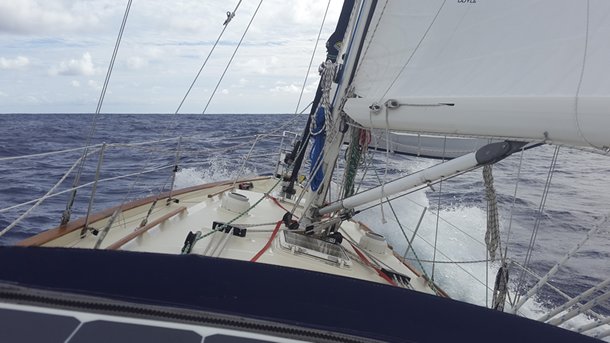 Sailing under an overcast sky with full main and full jib.




A catch of the day: believed to be a big-eye tuna.

---