Summary & Plots: Cape Verde - BVI

Blue Note
Marco M.
Sun 4 Jan 2015 13:58
Passage Mindelo Cape Verde to Virgin Gorda BVI
Departure: December 16 @ 12:50 UST
Arrival: January  2 @ 19:30 UST
Total Distance Sailed: 2498 NM
Distance on Rhumb Line: 2250 NM
Total time: 17d 6h 40m
Average sailing speed: 5.96 kt
Average VMG: 5.42 kt
Diesel: ~22 gallons -> 0.42 Gallon/Engine-hour
Engine usage: 14%

Fish count:
Mahi-Mahi: 4
Drink count:
White wine bottles: 7
Red wine bottles: 9

          Gin Bottles: 1


          Beer, soda, tonic water cans : ~50


Water: 97 liters ->  ~1.5 Liters/(person*day)
Excellent sailing with a constant breeze and average wind speed of 15 knots with only two shorts period where we had to motor.
The other engine time was used to charge the batteries and heat the water for shower.
The decision to take a south course of the rhumb line was essential for avoiding the high pressure and no wind area that would have slow us down
considerably and forced to motor.




Time is local time.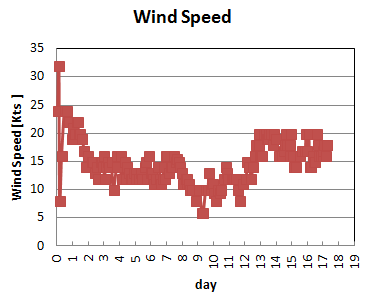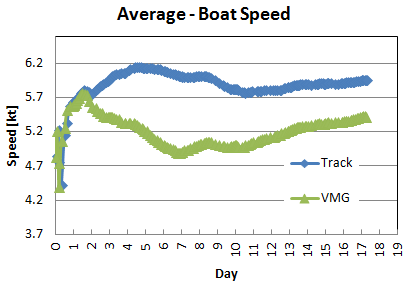 ---