Day 3 - Fish !!!

Blue Note
Marco M.
Fri 19 Dec 2014 14:14
Date: Friday 12/19/14 - Time:  14:00 UTC
Position 16:13.192N  32:03.807W
COG 262M SOG 7.0kt, Wind 84T 17 kt,
Temperatures: Air 25.2C, Sea 22.2C
Last 24h Sailed Distance: 157 NM
Last 24h Decrease Distance on rhumb line: 119 NM
Sailed distance since departure: 444 NM
Time since departure: 3d 1h 6m
Average Speed since departure: 6.00  kt
Average VMG since departure:   5.42  kt
Intention: sail to Virgin Gorda
Distance to End on rhumb line: 1854 NM
ETA: Friday January 2, 2015

Detailed Track (50 is the maximum number of point, i.e. once the last point reaches 50, the last point always is 50):
http://share.findmespot.com/shared/faces/viewspots.jsp?glId=0EIVGO9oiEYLjqAfRxhderm34cEEF9dMP

Yesterday around 2pm local time, just as we were having a late lunch, another Mahi Mahi
(the first one was a very small one and was release to go back in Atlantic and grow more)
decided to offer himself for dinner on Blue Note. Not a too large Mahi-Mahi about 23 inches in length.

This morning the trusted lure was back in teh water and around 9am just as we were having breakfast a larger Mahi- Mahi preseted himeself.
This one was measured to be 3 ft in lenght and 8 pounds.

As for sailing the conditions are still ideal for continuing a wing on wing with 15-18 kts of wind and SOG of about 7 kts.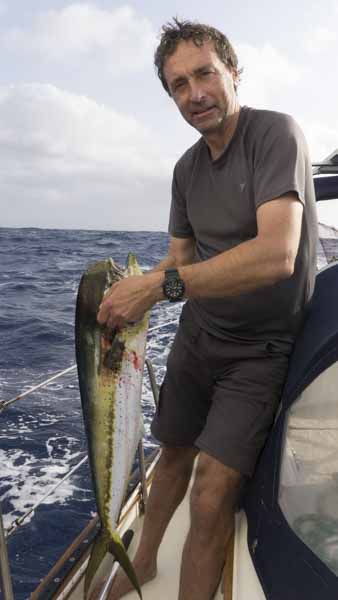 Day-3: Mahi-Mahi #2 3ft lenght 8 lbs.



Day 3: Blue Note sailing a downwind course in the blue waters of the Atlantic.


---