Day 10 - A "stone's throw away" from the entrance of the Chesapeake

Blue Note
Marco M.
Wed 18 May 2016 16:06
Date:  Wednesday 18/05/16   - Time:  12:00 EDT
Position 36:48.973N  75:53.523W
COG 339T SOG 6.3kt, Wind 52T 15.6 kt,
Temperatures: Air 15 C, Sea 10.0 C
Barometer: 1012  hPa
Last 24h Sailed Distance: 127 NM
Last 24h Decrease Distance on rhumb line: 109 NM
Sailed distance since departure: 1365.28 NM
Time since departure: 10d 1h 50m
Average Speed since departure: 5.48      kt
Average VMG since departure:   5.18  kt
Average VMG speed last 24h:    4.56 kt
Intention: sail to Chesapeake.
Distance to End on rhumb line: 14 NM
ETA (Entrance Chesapeake): Wednesday May 18, 2016 @ 08:00

Detailed Track (50 is the maximum number of point, i.e. once the last point reaches 50, the last point always is 50):
Click on "SPOT" at following link.
https://sites.google.com/site/sailingvesselbluenote/blog

After a night with light winds. This morning winds pick up to reach a 25 kts sustained from the North-East.
After few tacks to stay clear of the beach of False Cape, we are finally on a close hauled course for the Entrance of the Chesapeake.
It looks like many other sailboat are converging to the Chesapeake (probably all from the Caribbean). Since this morning we saw 3 of them on AIS.




Close hauled towards the Chesapeake entrance with 20-25 kts of winds.



May 18, Tacks to keep distance from the beach off "False Cape". Bear-off sections are for furling jib.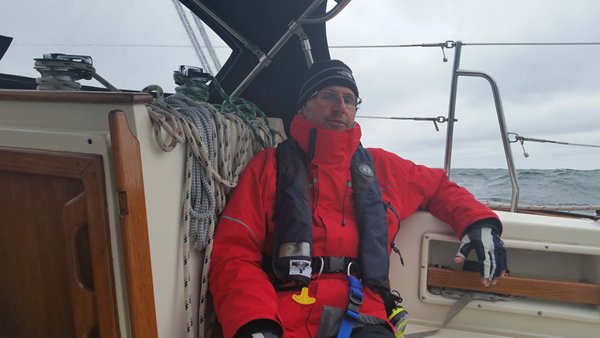 Jon in full foul-weather gear. What a change from the sun and warm waters of the Caribbean.
Water temperature when we left was 27 C, here just 10 C. Air temperature was 30 C now 15 C.
Why did we come back ?

















---