Day 5: STT-NYC April 28 @ 12:00 EDT

Blue Note
Marco M.
Sun 29 Apr 2012 16:03
Date: Sunday 29/04/11 - Time: 12:00 EDT
Position 29:46.96N 70:32.68W
COG 330M, SOG 4.8 kt, Wind 140M 4 kt, Barometer 1019.3 stable
Temperatures: Air 25.7C, Sea 18.3 C
Last 24h Sailed Distance: 145 NM
Sailed distance since departure: 764 NM
Time since departure: 5d 2h 00m
Average Speed since departure: 6.26 kt
Intention: sail to NYC
Distance to End on track: 738 NM - Distance to End on rhumb line: 678 NM
ETA: Friday 5/4/12 @ 10:00 EDT
Detailed Track (50 is the maximum number of point, i.e. once the last point reaches 50, the last point always is 50): http://share.findmespot.com/shared/faces/viewspots.jsp?glId=0pmBzXKinDhgKpLRvqq8VUCrbr9VSkRpL

The Wind started to weaken during the night and by sunrise wind decreased to a low of 4 kts.
So after a brief period of having tried to fly the spinnaker we are on bare pole running the engine.
Weather file shows that we are just about at the center of a high pressure and the wind should pick up again early tomorrow morning.
So it looks like we are for a day of motoring and fishing.

Last night as we were cooking pasta the gas suddenly stopped. We were able just in time to eat a good pasta al dente with tomato sauce.
We postponed the investigation of the cause to this morning when we found that there was still gas in the tank, we actually still have a spare gas tank completely full.
We established that there was no leak in the gas line since once the gas was open and then closed at the tank the pressure gauge never moved. We remained with the only option of a faulty solenoid.
As we examined the solenoid near the gas tank locker we noticed that one of the wire but connector was just open because of salt corrosion. We quickly replaced that with a
heat-shrink connector and the gas was back flowing just in time for the Italian morning coffee. In case the solenoid itself would have been broken, I don't know of any easy fix.
However there would have been the option to barbecue for the rest of the trip ...

Beside the wind grib file, this morning we also downloaded the Gulf Stream current and we decided to change our heading to 320T,
that should take us towards Cape Lookout. Doing that we hope to avoid the unfavorable current of a cold eddy and then once we reached the gulf stream to ride it north past Cape Hatteras.
This seams a good option since by the time we reached the Gulf stream the winds are expected to be from the south-south-west.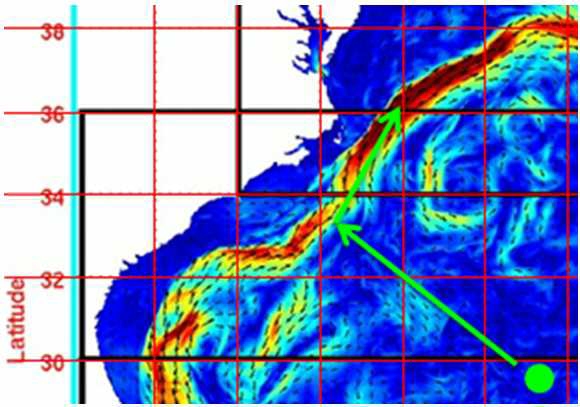 Sunrise in the Atlantic



This is what happen when an Italian tries to learn Tai Chi on the deck of Blue Note and his foot find a very sturdy and sharp cleat.
---