Day 8 - No Muggini anymore

Blue Note
Marco M.
Sat 21 Nov 2015 17:39
Date:  Saturday 21/11/15   - Time:  12:00 EDT
Position 23:31.235N  66:36.288W
COG 169M SOG 6.5kt, Wind 66T 14 kt,
Temperatures: Air 26 C, Sea 26.5 C
Barometer: 1015.5  hPa
Last 24h Sailed Distance: 144
Last 24h Decrease Distance on rhumb line: 141 NM
Sailed distance since departure: 1084 NM
Time since departure: 7d 20h 0m
Average Speed since departure: 5.65      kt
Average VMG since departure:   5.49  kt
Average VMG speed last 24h:    5.86 kt
Intention: sail to St. Thomas
Distance to End on rhumb line: 327 NM
ETA: Monday May 23, 2015 @ 24:00

Detailed Track (50 is the maximum number of point, i.e. once the last point reaches 50, the last point always is 50):
http://share.findmespot.com/shared/faces/viewspots.jsp?glId=0EIVGO9oiEYLjqAfRxhderm34cEEF9dMP

Riccardo and I while kids back in San Vincenzo in Italy we  used to spend many valuable
hours during the summer fishing for Muggini, not even a tasty fish.
We fished from an old dock just close to a sewage dumping pipe using bread as bait :(

Now, few years later and few years wiser, we fish for Mahi Mahi in the deep clean blue waters of the Atlantic.

Today we cough a 3ft 5 inches 13 pounds Mahi Mahi and Riccardo did all by himself.
He set the lure in the water, he occasionally cleared it from Sargasso and when the fish struck he took him in.
Fed the fish some cheap vodka to peacefully forced him to offer himself to our  table. He then skinned and fillet the fish.
Probably Riccardo would not have thought that possible few days back during his sea-sickness time.
  
Sailing is great for the last 24 hours, a beam reach with 15 kts of winds and blue sky.
We expect to arrive during the night between Monday and Tuesday depending if the winds hold or become
weaker as the forecast predicts.
Just in time to call Yael ha yafa for celebrating her birthday.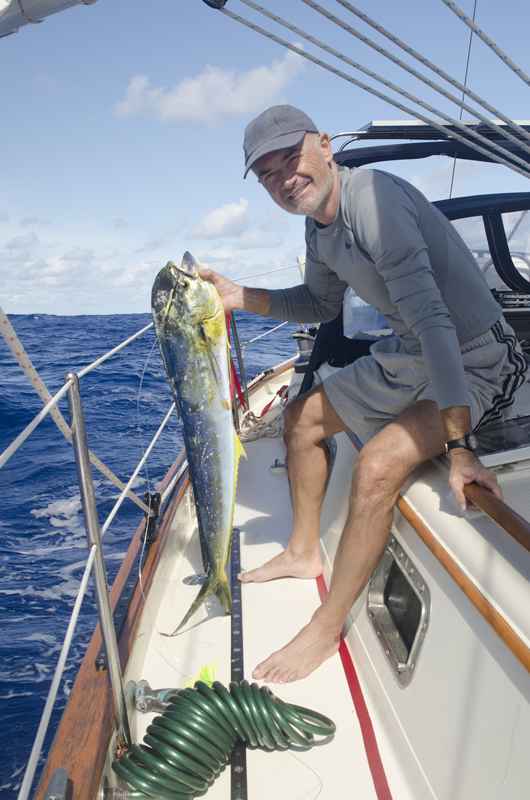 Riccardo with his catch of the day: A Mahi-Mahi of 3 ft 5 inches 13 lbs.



Riccardo cleaning the fish.




---