Day 1 - Left Antigua and past between Nevis and Montserrat

Blue Note
Marco M.
Tue 6 Feb 2018 16:40
Date:  Tuesday 6/2/18   - Time:  12:00 Atlantic Time
Position 16:13.74N  63:47.38W
COG 232T SOG 6.8kt, Wind 72T 20 kt,
Temperatures: Air 29 C
Barometer: 1016.6  hPa
Sailed distance since departure: 127 NM
Last 24h Sailed Distance: --- NM
Last 24h Decrease Distance on rhumb line: --- NM
Time since departure: 0d 19h 00m
Average Speed since departure: 6.65      kt
Average VMG since departure:   6.28  kt
Average VMG speed last 24h:    ---- kt
Intention: sail to Obaldia, Panama
Distance to End on rhumb line: 919 NM
ETA : Monday Feb 12, 2018 @ 16:00

Detailed Track:
https://share.garmin.com/svBlueNote

We left Antigua around 5pm after stopping at the fuel dock for filling up the water tanks, diesel and gas for dinghy to explore the
San Blas Islands. Lucia and Etienne are joining us for the sail of the San Blas. We met them in St. Pierre in Martinique last December.
They had hitch-hike sailboats from Europe across the Atlantic  and they were looking for a boat heading south.

Since we left we have been sailing with only a full main in about 18-20 kts of wind.
Until Nevis we sailed on a starboard tack and right before Nevis we jibed and change tack.
Sailing is quite comfortable with only an occasional roll due to a wave in the stern.




Leaving Jolly Harbor. Lucia (from Spain) and Etienne (from France) are joining us for the sail to the San Blas




Crossing of a cruise ship at sunset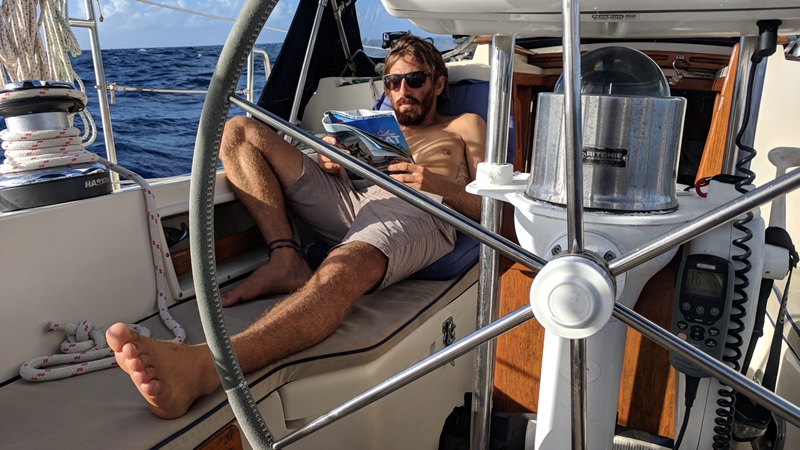 Etienne relaxing with a sailing magazine













---