Day 4.5: NYC-STT

Blue Note
Marco M.
Wed 9 Nov 2011 15:59
Date: Wednesday 09/11/11 - Time: 15:52 UTC
Position 29:35.89N 74:01.7W
COG 180M, SOG 6.4 kt, Wind 30M 20 kt, Barometer 992.9 stable
Temperatures: Air 23C, Sea 20.7C
Last 24h Sailed Distance: 169NM
Sailed distance since departure: 697NM
Time since departure: 4d 11h 42m
Average Speed since departure: 6.47 kt
Intention: sail to STT
Distance to End on rhumb line: 843NM
ETA: Monday 11/14/11 22:00
Detailed Track (50 is the maximum number of point, i.e. once the last point reaches 50, the last point always is 50): http://share.findmespot.com/shared/faces/viewspots.jsp?glId=0pmBzXKinDhgKpLRvqq8VUCrbr9VSkRpL
Blog: http://blog.mailasail.com/bluenote

The tropical storm Sean has been pretty much stationary but with the fast speed of Blue Note we are catching up to him,
but still on his west side at a safe distance. Last night we had sustained wind between 30 to 35 kt with gust up to 40kt.
But the sailing was good and fast, just a bit bumpy because of the 12-17 ft waves. This morning the wind are down to
20kt and after morning showers we see blue sky ahead of us. The barometer in the last 6 hours has been stable around 993
since we are probably sailing now along an isobar of the low.
By late this evening or early tomorrow morning we will probably jibe to adjust to the west wind shift of the south-west
quadrant of the low pressure and start to follow a rhumb line for St. Thomas.
Today is Michiel birthday but we put on hold the celebration with cake and champagne to tomorrow with probably calmer
wind and sea.

Speaking of food: So far due to the rough weather Blue Note could not offer the famous cousin she is famous for. However, do not think that this means canned-food. We have been eating sandwich with oven toasted French baguette and Prosciutto di Parma, then last night
we decided to have "Braciola di manzo alla Fiorentina" (following my cousin recipe) however the crew how prepared the provision for Blue Note had forgot the "salvia", so the braciola was far from the taste of the one Maurizio made for us last August. For breakfast we are having Lavazza coffee and "cantucci" offered by Renee.
The fishing again must wait calmer water and slower boat, hopefully tomorrow ..

Speaking of speed: The peak of "last 24h sailed distance" was reached last night at 10pm with a last 24h distance of 180nm.
Right now we are a bit "slow" and have last 24h of about 170nm. Engine has been running only to charge the battery since, due to the cloudy conditions the solar panel have not been too helpful. For the next boat upgrade I might look into a water-generator since it would have been perfect in these conditions.





Nov. 9 @ 8am - Grib file with wind. Sean is 200nm South-East of Blue Note.




Nov. 9 Michiel the birthday boy at the helm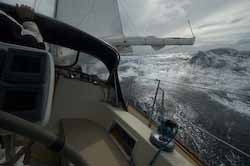 Nov. 8 Waves going by Blue Note
---