Day 1.7 - From Gibraltar to La Gomera

Blue Note
Marco M.
Sun 12 Oct 2014 23:37
Date: Sunday 12/10/14 - Time: 23:00 UTC
Position 34:01.168N  7:41.33W
Last 24h Sailed Distance:  115 NM
Last 24h Decrease Distance on rhumb line: 94 NM
Sailed distance since departure: 194 NM
Time since departure: 1d 16h 00m
Average Speed since departure: 4.84  kt
Intention: sail to La Gamore
Distance to End on rhumb line: 601 NM
ETA: Friday Oct 17
Detailed Track (50 is the maximum number of point, i.e. once the last point reaches 50, the last point always is 50):
http://share.findmespot.com/shared/faces/viewspots.jsp?glId=0EIVGO9oiEYLjqAfRxhderm34cEEF9dMP

An update on Blue Note progress.
It looks like the winds have veered to the west allowing Blue Note to follow a course much closer to the rhumb line.
Still unclear why the brief tack at about 19:00z - perhaps due to thunders or to keep a distance from the coast.
According to GRIB files from now on it should be an easy sail on light winds along the rhumb line with periods of motoring.




Track of Blue Note as Oct. 12 23:00 UTC



Boat speed of Blue Note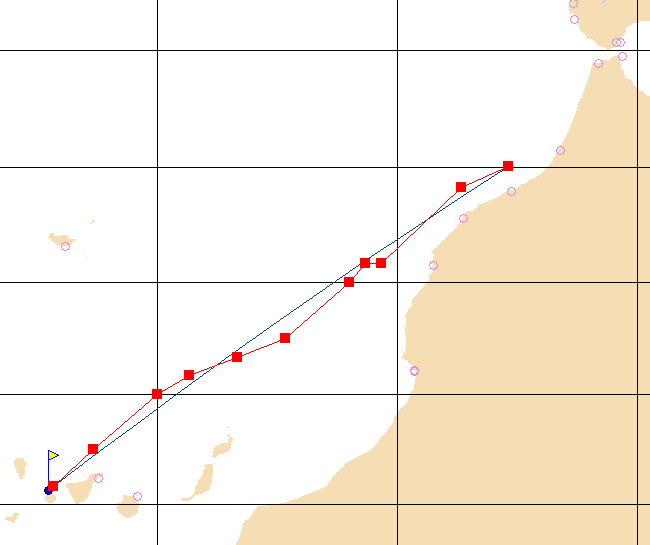 Simulated course to La Gomera - ETA 5d7h
Metarea next 24h forecast of Casablanca area:

CASABLANCA.
Northwest 2 to 4, gradually increasing West or Southwest 4 to 6, from
north, later.
Moderate or rough.
Thundery rain or showers.


---